Water Meadows Swimming and Fitness Complex
Address

Titchfield Park, , Bath St, , Mansfield , NG18 1BA

Link
Water Meadows attracts over 500,000 visitors a year, making it a leading visitor attraction in Nottinghamshire. Known as the seaside indoors, it has developed over the years to offer customers a unique experience with it three water slides, large leisure pool, with wave machine and rapids. It has recently introduced further toddler slides, water features, tipping buckets and play panels to enhance the younger child excitement.
Visitors come from far and wide for a spectacular day out at Water Meadows. Located within North Nottinghamshire, the whole family can enjoy three swimming pools as well as a recently refurbished state-of -the-art fitness suite kitted out with the latest equipment, a workout studio offering over spinning and express classes.
Water Meadows Swimming and Fitness Complex is proud to hold the Quest kite-mark of excellence. Quest is a Quality Scheme for Sport and Leisure UK, for demonstrating best practice. Quest is used as a tool for continuous improvement for the management of leisure facilities and leisure development.
The teams of qualified lifeguards, gym and swimming instructors are on hand to ensure your visit is a safe one as well as an enjoyable one.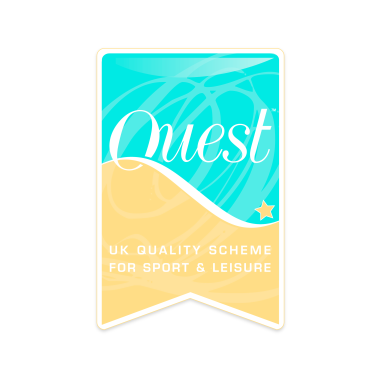 IFI Mark
Accredited by Quest as Good until May 2020