Charter for Change
Our Charter for Change was unveiled on Tuesday 24 February 2015 at the Houses of Parliament. The session was hosted by Gerry Sutcliffe MP (Chair of the Disability Sports All Party Parliamentary Group) and Baroness Tanni Grey-Thompson, our Honorary President.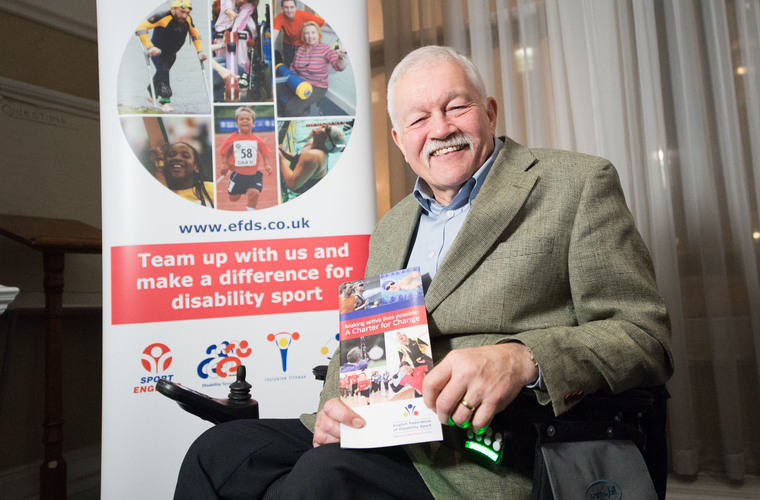 The launch marked a starting block for change, which our charity hopes will lead to many more disabled people being active for life.
Disabled people should have every opportunity to be as active as non-disabled people. Almost one fifth of the population is disabled. Activity can make a fundamental difference to disabled people's quality of life. It can increase independence and benefit our economy and yet disabled people's activity levels remain low.
We are calling upon those involved in providing opportunities and supporting disabled people to commit their support to the Charter.
We believe that everyone, especially those within Government, sport, fitness, health, third sector and the media as well as those involved in communications, has the power to change minds and increase the number of active disabled people.
The charity and our partners have listened to disabled people. The Charter sets out what disabled people say they need to make this possible.
The Charter outlines three asks:
Everyone involved in providing sport or active recreation will support disabled people to participate.
Disabled people will have the same opportunity as non-disabled people to be active throughout their lives.
All communications about sport and active recreation will promote positive public attitudes towards disabled people's participation.
The Talk to me principles
We produced the Talk to Me report in October 2014. The report outlines ten principles which supports providers to deliver more appealing activities for disabled people. Following on from this research, we collated a 'principles in action' support document to show you how others have applied the Talk to Me principles.
Find out more on the Talk to Me ten principles page.
Support the Charter
Please tell us how you plan to support the Charter for Change, by contacting us. Download the Charter for Change- accessible PDF here.