Together We Will: "Keeping fit gives you a power – you can do things!"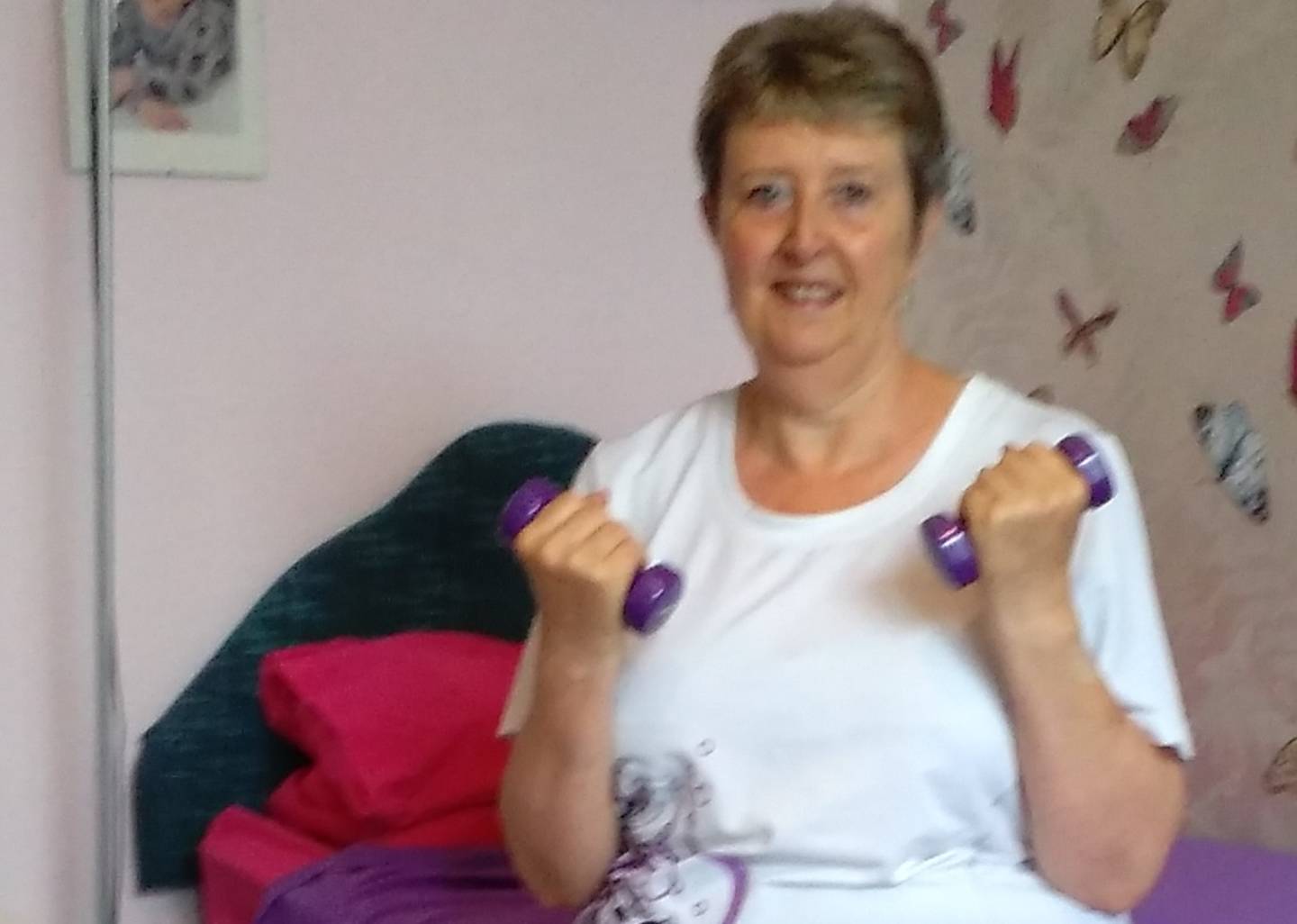 Denise Powell from Northampton has had multiple sclerosis (MS) for seven years. Here, she discusses how a regular keep-fit class and sessions at home have helped her retain her mobility as well as make new friends.
I attend a keep-fit class, and have done so for four years.
It's called Madge's Pathway to Activity – it exists thanks to Madge, a lady from the area who wanted to stage an activity for others with MS. In her will she left a sum of money which could be used to form some sort of get-together group.
We're all told at the start just to complete what we can.
We're encouraged not to push ourselves too much. The whole class is a 45 minute session and it's full of all sort of basic keep-fit, using our arms, shoulders, legs and feet.
Prior to my diagnosis I used to enjoy exercise and keeping fit.
After getting my MS I felt motivated to keep as mobile as possible, because of course with the condition you never know when there might be a further deterioration. I do use a three-wheeled stroller for walking. I have had to give up a yoga class because of balance issues, but I continue to follow exercise DVDs at home.
The class has created huge and lasting friendships.
I do meet up with some classmates outside of the class, during the week. I've developed some fantastic relationships, and of course we can discuss our MS, shared experiences and recommendations.
It's tremendous, to still be active.
A class like mine encourages you to carry on doing things, rather than sitting in a chair all day. I'm sure the social aspect has been a big factor, and my continuing determination to continue to exercise both at home and at my weekly class.
Keeping fit gives you a power – you can do things, you can achieve.
While I can't exactly run around and kick a football with my grandchildren, which is sad, I still can be there for them in many other ways, such as reading or helping them paint or play. It's really noticeable, the difference, if you can manage even minimal exercise. It keeps your mind and body healthy.
For more information about Together We Will and support on how to become more active, visit the Together We Will campaign page.

Join the conversation on social media using #TogetherWeWill and share your personal stories and photos of being active this summer.
Together We Will is brought to you by the National Disability Sports Organisations in partnership with EFDS and is supported by Sport England.