Together We Will ambassador follows in great-grandfather's footsteps
Meet Special Olympics Great Britain athlete and Together We Will ambassador Daniel Wolff, who since joining his local Special Olympics club in 2008 has gone from strength to strength both on and off the track.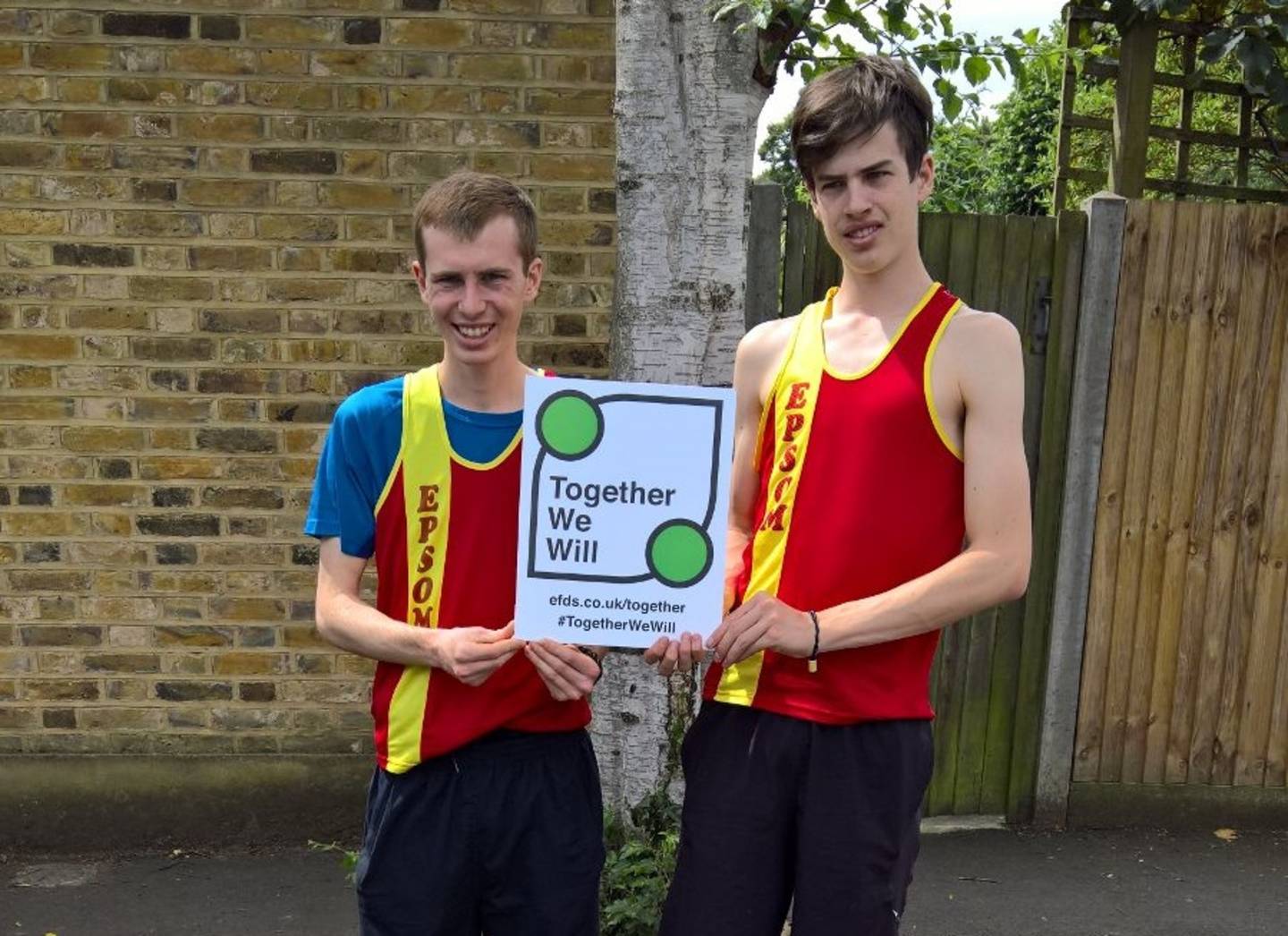 As a teenager, Daniel (pictured above on the left) who has autism, lacked self-confidence and faced challenges in developing his academic skills such as reading, writing and mathematics.
The 22-year-old from Surrey, has also found communicating with others difficult at times, but this hasn't stopped him from finding opportunities to be active. With his family's support, he turned to his local Special Olympics club to focus on something that he knew that he could excel in - running.
For the last eight years, Daniel has been a member of his local Special Olympics club in Surrey. The club provides him with a welcoming and accessible environment where he can regularly train and run alongside other athletes with learning disabilities. Knowing that the club welcomes people of all abilities, reassured Daniel and his family that he would feel comfortable and confident to participate and enjoy being active.
With 150 clubs around the country, Special Olympics Great Britain provides children and adults with learning disabilities with year-round sports training and competition in a wide range of sports and activities. Each club supports participants to improve their fitness, develop social skills, build friendships and have fun through sport.
Daniel's Special Olympics club has provided him with much more than just the opportunity to improve his athletic ability and physical fitness. Daniel has developed his social skills at the club and enjoyed many new experiences, including cycling, swimming and golfing sessions. Being a member of Special Olympics Great Britain has helped Daniel to raise his self-confidence and establish a strong support network and friendship group at the club.
Daniel's increased confidence has meant that he has been able to move out of his family home. He now lives independently and works voluntarily at Deen City Farm on Tuesdays and at Point Café on Thursdays each week.
Speaking about his independence and love for running, Daniel said:
"Although I live on my own now, I still see my parents each week. Thanks to my busy schedule, I get to spend a lot of time with friends and family either at the gym, at training or at competitions.
"Having the support of my Dad and others helps to motivate me. I'm focused on achieving my personal best and continuing to approve ahead of my next major competition."
Speaking about the changes he has observed in his son, Paul, Daniel's dad commented:
"As a family, we're delighted that Daniel has been chosen as an ambassador for the Together We Will campaign.
"Luckily, Daniel has the support of his family but this is not the case for everyone with a disability. If we can encourage others to help locate and access opportunities for their disabled friends and family and demonstrate that support is available to them within their local area, we will have succeeded with the campaign.
"We know from first-hand experience that being active has helped Daniel in so many ways. He really benefits from being in environments where he meets new people and has the opportunity to be sociable as this in turn develop his self-confidence.
"In particular, running helps Daniel to relieve stress and being active certainly makes Daniel's life more fulfilling."
Daniel's local Special Olympics club has also played a vital role in improving his running technique. With support from the club, Daniel has gone from strength to strength on the track. Last year, he was delighted to be selected to run for Great Britain at the 2015 Special Olympics World Games. Daniel took the opportunity in his stride and went on to win gold in the 400 metres at the Games in Los Angeles.
Having experienced success at the Special Olympics World Games and emulating his great-grandfather's victory at the 1936 Olympic Games in Berlin. Daniel was motivated to push himself even further and recently joined his local running club, Epsom & Ewell Harriers.
Commenting on Daniel, Karen Wallin, CEO of Special Olympics GB, said:
"We are thrilled at the progression and success that Daniel has enjoyed in recent times through the power of sport and the environment created by Special Olympics and his club, coaches and volunteers.
"We are delighted Daniel and his supportive family have embraced him becoming an ambassador for the Together We Will Campaign.
"Daniel has decided to channel his talent and ability through Special Olympics and he continues to go from strength to strength.
"His golden achievement at the Special Olympics World Games is just the start for Daniel. It will give him self-belief and confidence in all other areas of his life."
Daniel now trains with the Harriers each Tuesday evening and enjoys training in a new environment with non-disabled people. Here, Daniel can take his training to the next level and test his technique against lots of other talented runners.
Speaking about his work with the young athlete, Dave said:
"As his coach, I am a familiar face that Daniel can trust and it's important that he feels comfortable.
"Daniel is a very gifted athlete and an ideal role model. I enjoy working with him – watching him improve.
"He is a great ambassador for the Together We Will Campaign as he is a leading example of how sport and keeping active can help improve your everyday life.
"Daniel appears to get a real buzz from meeting, training and running alongside people of all abilities and it is exciting that he now has the opportunity to encourage others to do the same."
Daniel's ever-increasing exposure to athletics at both his Special Olympics club and Epsom & Ewell Harriers has given him the confidence to run new distances. Daniel is now training and competing in both 800 metres and 1500 metres and in cross country running in the winter months.
As part of his training Daniel and his dad Paul take part in parkrun every weekend together, running 5 kilometres through Nonsuch Park each Saturday morning.
To find out more about Special Olympics Great Britain and activity opportunities for people with a learning disability please visit Special Olympics GB website or call 020 7247 8891.
The Together We Will campaign has now come to an end, but you can continue to find lots of information about the National Disability Sports Organisations, support available and opportunities to be active here.
Together We Will was brought to you by the National Disability Sports Organisations in partnership with EFDS and was supported by Sport England.