Wendy motivates people in West Midlands to get active and have fun
Meet Wendy, Together We Will's latest campaign ambassador - who after recovering from a spinal cord inury, now encourages disabled and non-disabled to be more active in her role as a fitness instructor.
Wendy is actively supporting the Together We Will campaign to promote the mental and physical benefits of exercise and encourage us all to be more active.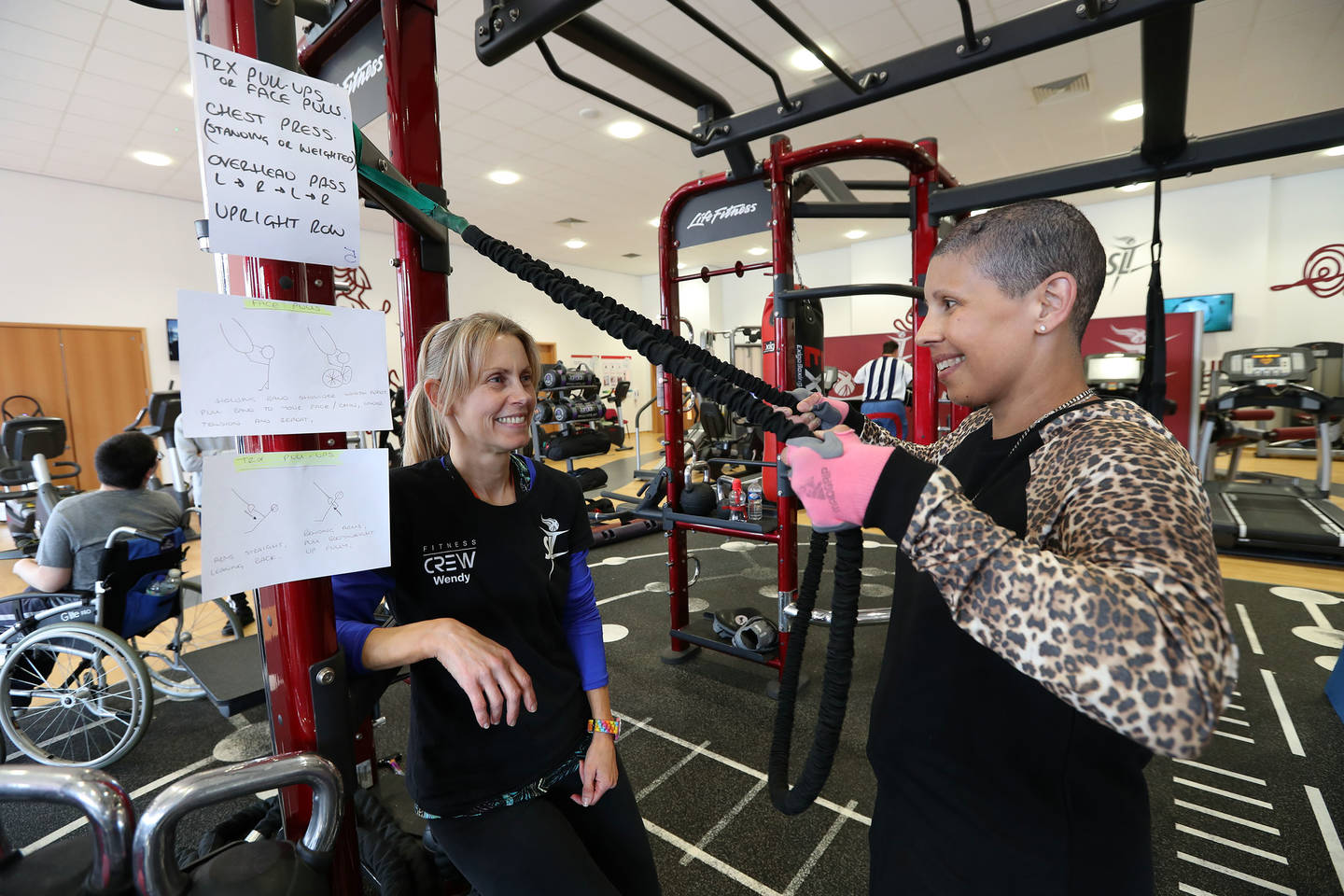 Keeping active has always been a part of Wendy's daily routine. As an emergency call-taker at West Midlands Ambulance Service, Wendy's job was quite static and so she found keeping herself fit and healthy vitally important. She enjoyed regular gym workouts and also taught aerobics at her local gym.
In 2008, whilst on duty with the West Midlands Ambulance Service, Wendy fell down a flight of stairs and fractured her neck.
Wendy recalls her time at the Midlands Spinal Injury unit following the accident as if it was just yesterday. She said:
"Looking back, I know that I was very lucky with my recovery. At the time, they advised me to aim to recover from my injuries over a three-year period but it wasn't clear whether I would even walk again.
"Over time, it was crucial for me to set small goals that I could achieve more easily to feel like I was making progress. It was the small things like being able to fasten shoelaces that felt like major obstacles then, that later became milestones when I was able to overcome them."
After the fall, Wendy initially wasn't able to move the left side of her body and had limited mobility of her right arm and right leg.
During her recovery, Wendy received support from Aspire, a charity that supports people with spinal injury. They provided her with a support network and funding for a laptop so she could keep in touch with friends and family more easily.
The donation of the laptop, was vital to helping Wendy get active again, as she explains:
"I really struggled to get back to the gym again because of my injuries. Having always been active prior to my accident, it was a huge frustration.
"However, one afternoon I spotted a course that was being advertised on Aspire's website that was just perfect for me. It was an eight week gym instructor course with the YMCA, which gave me something to focus on.
"The course was delivered by an organisation called InstructAbility. I'd highly recommend their courses to any disabled person looking to engage in the fitness industry as gym instructors and gym users."
Wendy also received support from her family and friends who helped to adapt her home, so she could focus on her rehabilitation.
Wendy now aged 40, has made a remarkable recovery, regaining feeling and movement throughout her body – and in the process completed the eight week gym instructor course.
Today, Wendy is Sandwell Leisure Trust's first-ever disabled fitness instructor. She teaches at Portway Lifestyle Centre in Oldbury on a voluntary basis every Wednesday, hosting 'Wendy's Wednesdays' circuit class and one-to-one sessions for disabled and non-disabled people.
Portway Lifestyle Centre is a health and wellbeing centre for the whole community and a centre of excellence for disabled people. It is one of few facilities in the country to be awarded the top level of 'Excellent' by the Inclusive Fitness Initiative (IFI), which is something that Wendy is very proud of:
"Since having my accident, I became really aware of the limited opportunities and restricted access that disabled people have when trying to get active.
"Portway Lifestyle Centre is just fantastic. We host a range of tailored activities, such as walking football, alongside group classes for mixed abilities, which are open to all.
"It's also proving to be a unique meeting place for disabled and non-disabled members to exercise together, help each other improve and socialise together."
Wendy's weekly circuit fitness classes (pictured above), are a great opportunity for disabled and non-disabled people to train together in an accessible environment. They take place on Wednesday mornings from 10am.
To find out more about the Inclusive Fitness Initiative please visit www.efds.co.uk/get-active/inclusive-gyms.
The Together We Will campaign has now come to an end, but you can continue to find lots of information about the National Disability Sports Organisations, support available and opportunities to be active here.
Together We Will was brought to you by the National Disability Sports Organisations in partnership with EFDS and was supported by Sport England.