Amanda's journey brings Together We Will campaign to a finale
Over the last three months, Together We Will has followed busy mum of four, Amanda Worne's every move. Now, as the campaign reaches a finale, Together We Will is delighted to share Amanda's journey - to motivate and encourage disabled people and their friends and family to be active and stay active all year round.
Together We Will - Amanda's journey
Watch this video without background music on EFDS's YouTube channel.
Amanda's story
Amanda is a loving wife to husband Vic and proud mum to Megan, Jacob, Amelia and Joseph. She lives with her family in Yapton in Sussex and has always had a passion for keeping fit and healthy. When she wasn't out and about with her family, she was training with her running club, the Bognor Tone Zone, or out pedalling across the Sussex countryside.
In 2014, Amanda signed up to do her first half Ironman challenge, which was set to take place this month (September 2016). She trained hard and after a few months was in the best physical shape that she had ever been in.
On 9 August 2015, while out on a training ride, the rear brake on Amanda's bike failed. She lost control her bike and crashed into a nearby bush, hitting an obscured road sign. Amanda was rescued by a passer-by and rushed to hospital, where she learned that she had a spinal cord injury and was unable to walk.
In the immediate hours afterwards, Amanda's positivity shone through, and she posted a heartfelt message to her friends and family on Facebook, sharing the news of her accident. Speaking about that day, Amanda said:
"I've realised that I wasn't training for a half Ironman, I was training for my accident. Had I not been as physically fit and strong as I was, I wouldn't have survived my crash. I had two very big back operations that night and it was my strength and positivity that carried me through."
Amanda received overwhelming support throughout her recovery. On 29 January this year (2016), after spending six months in hospital Amanda discharged herself, a month early. So she could spend her 45th birthday at home with her family.
Amanda was determined not to let her accident have a negative impact on her passion and spirit. She embarked on a mission to rebuild her fitness and physical strength. Amanda said:
"Keeping active isn't a hobby, it's a way of life when you're in a wheelchair. It's essential because your arms become your legs and without some form of physical fitness, day-to-day tasks would become even harder."
On 9 August 2016, to mark the first anniversary of her accident, Amanda took keeping fit and healthy to the extreme, by doing a sky dive and jumped out of a plane with her daughter Megan.
Since her accident not only has Amanda completed a sky dive, she has also taken part in numerous triathlons and regularly goes horse riding with her daughters. Amanda is currently learning to scuba-dive and is working towards her PADI qualification in open water diving. She has also given sailing and kayaking a go. Willing to try her hand at anything, Amanda is a beacon of positivity, she said:
"Some days I feel really strong and positive and others I want to hide away in bed all day. It's on these down days that I've found it is most important to get myself up and do something active. Never have I ever not felt better for getting up and doing something."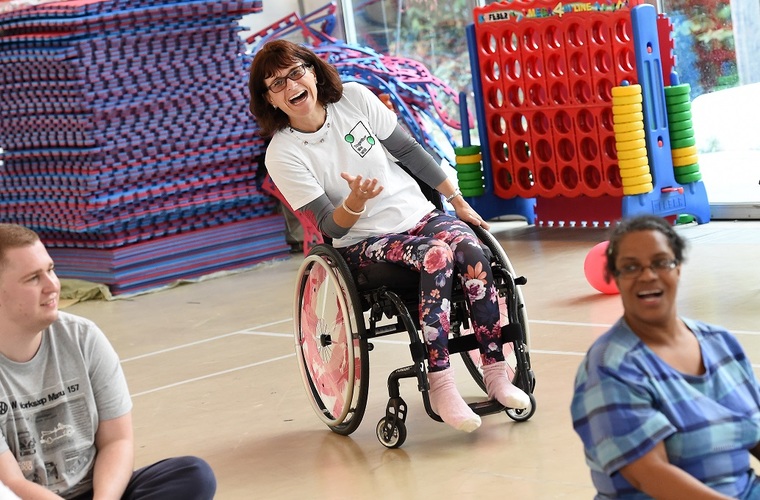 As well as aiding Amanda's physical and mental recovery, getting involved in lots of activities has introduced her to a new network of friends, groups and support available. Amanda said:
"Events like the Paralympics are fantastic to showcase the incredible things that people can achieve. But I worry that your average Joe, like myself and other people in my position, can't relate!
"What I've found the most inspiring has been meeting like-minded people who share similar experiences to myself. Which is why National Disability Sports Organisations, like WheelPower, are so important.
"To anyone in a similar position to me, looking to get more active, I urge them to get in touch with WheelPower.
"I have two metal rods to support my spine, four bars across my vertebrae, I lost half a rib, I have a plate attached to the front of my spine and six metal screws attached to a second plate on my collar bone. Sometimes it does hurt and sometimes it is hard, but if I can do it, anyone can."
To find out more about WheelPower and activities for children and adults with a physical impairment please visit www.wheelpower.org.uk.
The Together We Will campaign has now come to an end, but you can continue to find lots of information about the National Disability Sports Organisations, support available and opportunities to be active here.
Together We Will was brought to you by the National Disability Sports Organisations in partnership with EFDS and was supported by Sport England.