Quin ready to seize the day in Sheffield
When Scott Quin was born he was given just a three percent chance of survival.
Edinburgh-born Quin was diagnosed with Crouzon syndrome, which causes the brain and skull to fuse together, and he underwent hours of surgery. His childhood years were marked by visits to hospital with parents Eileen and Jimmy, one of three children along with older brother Jason and twin Simon.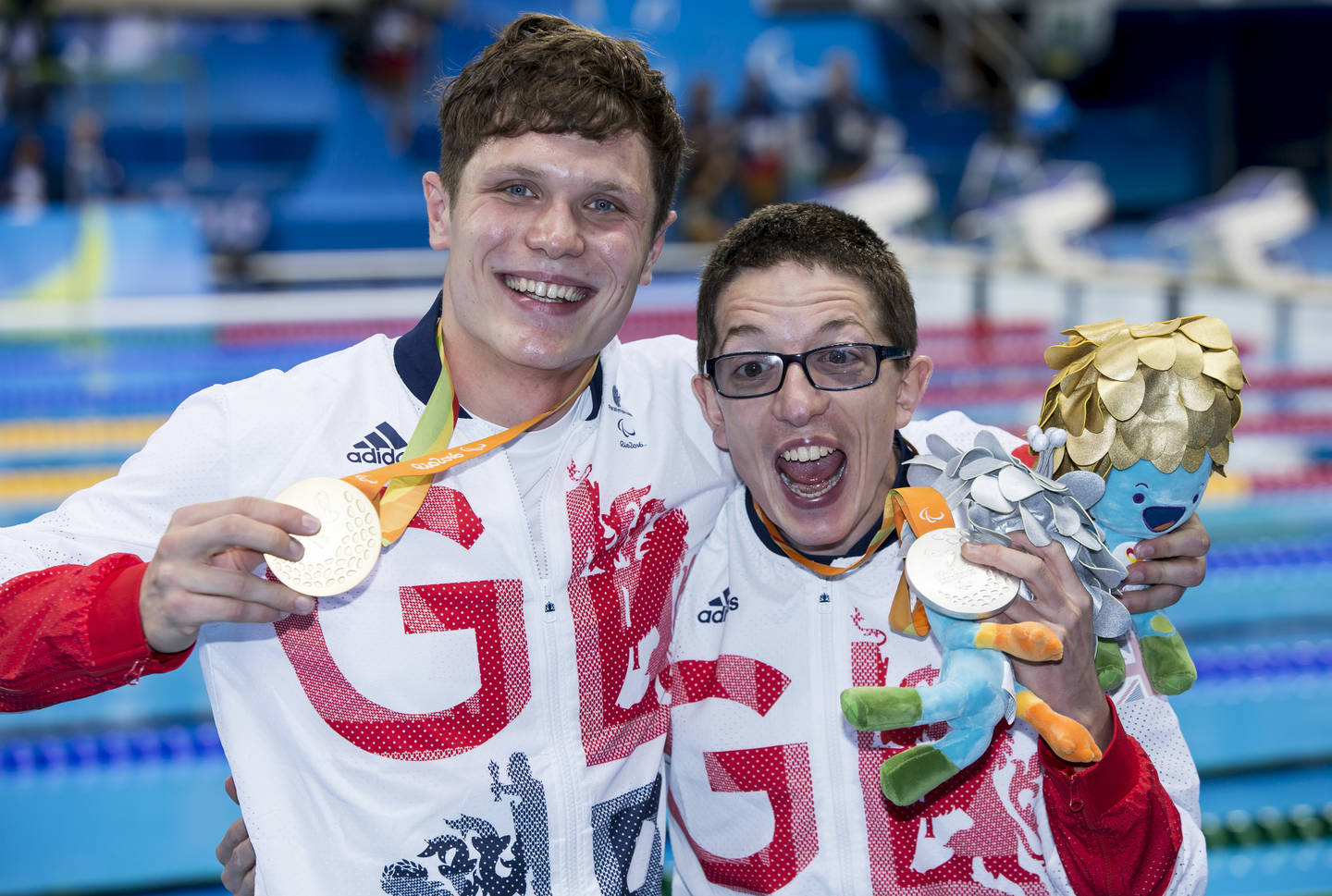 Fast forward 26 years and Quin stood on the podium at the Paralympic Games in Rio de Janeiro with a silver medal around his neck following a thrilling SB 100m Breaststroke tussle with team-mate Aaron Moores (pictured above - Quin on the right).
He has a seize-the-day attitude, one that he attributes to what he went through in his early years. He said:
"My parents were told 'your son has only a three percent chance to live'. The way I look at it is the other 97% of me is just pure luck.
"And I think that is where I am quite self-motivated and always want to keep myself going because having the head surgeries and then growing up as a kid in hospital getting check-up after check-up – you'd be sitting there for a good three or four hours, even the whole day.
"I have gone through quite a lot with all the surgery but then my parents have not wrapped me up in cotton wool. They have always been positive with me."
Quin missed out on the Paralympic title to Moores by just three-hundredths of a second in the Brazilian capital after a stellar year in which he upgraded his silver medal from the IPC European Championships two years earlier to gold in Funchal, Madeira in May.
However, rather than disappointment, there is only pride for Quin at being in such a close, exciting spectacle which concluded a great campaign. He said:
"Looking back at last year's performance, it was some season. The emotion for me – I'll be perfectly honest – I'm not heartbroken about missing out by three hundredths of a second. I would rather be close to a race like that than know someone is going to win the race by 25m.
"The way I look at it is spectators pay good money to come and see a good race. It was quite nice to have friends and family that watched it say 'oh you had me on the edge of my seat'."
If there were any twinges of regret, they were prompted by the knowledge that his working relationship with coach Kris Gilchrist was coming to an end, the former Olympian taking up a role in Singapore after four and a half years at Warrender:
"It was more mixed emotions because it was Kris Gilchrist's last time coaching me. So that was our last swim meet and being athlete and coach. I was a wee bit 'agh, all this hard work we have put in over the last number of years and it was like this is it'. It wasn't until after the race when I did the interviews it all kind of sunk in and I was a wee bit emotional – but not too bad."
There was no post-Paralympic holiday for the 26-year-old who returned to a new coach in Kostas Kalitsis alongside Laurel Bailey. Instead he was ready to get back in the water only for Kalitsis to urge him to take time away from the pool to recover from his exertions.
That was something that did not come easily for Quin, who believes that an integral part of an athlete's recovery and ability to stay at the top is to maintain the routine which has taken them there. He explained:
"The way I looked at it was I had six days after my race where I was exhausted, I had no energy, my head was all over the place. So when I came back I was like right I've had my six-day break, that will do me but then my new coach Kostas said 'no Scotty boy, you are not ready to get back in yet'.
"I'd be in the living room at home saying 'oh, I'm going crazy, I need to train, I need to train, I need to train'. I went out and did a nice light run and did things to keep myself occupied but I literally only took a week and a half off."
His twin brother Jason, now 28, swam for Midlothian and Quin would go and along watch, kick-starting his own swimming career. His initial breakthrough came in 2011 when he finished fifth in the MC 100m Breaststroke at the British Championships in Manchester and qualified for his first international team, placing fifth at the IPC European Championships in Berlin. He claimed his first British title in 2013, European silver a year later and world silver in 2015 before last year's success.
Next up is the British Para-Swimming International Meet at Ponds Forge, Sheffield before Mexico host the IPC World Swimming Championships.
Quin also has his eyes on next year's Commonwealth Games on Gold Coast, Australia, although with no SB14 100m Breaststroke, he has been working on his 200m Freestyle in a bid to qualify. He said:
"This season is quite a challenging one. My new coach said to me that we would try and stick with the normal routine I've been through most seasons.
"Worlds this year, next year maybe Commonwealth Games. That is why I wanted to get back into training as quickly as possible – new coach, new chapter, new ideas. Not play catch-up or anything."
Quin is the latest in a long line of fine Scottish breaststrokers and he has had the opportunity to swap skills and tips with many of the current crop.
"For me it has been a positive thing having a lot of breaststrokers around. Training with and learning from them.
"At the start of last year in January, me and Michael Jamieson (2012 Olympic 200m silver medallist) did a training session together. I got some breaststroke tips from him and some of his skills and I gave him one or two of my skills. As you could say we had a nice, wee bromance having a session.
"I've also had sessions with Ross Murdoch (Commonwealth 200m champion) and Craig Benson (double Olympian) when they have been training with Stirling on some camps so I learn a lot from other people around me, not just a coach telling me.
"I like to learn from athletes that are really good. Learning from athletes like that and getting to know them better: I think it helped me as an athlete, but it also helped me that yes I might be a para-athlete but it shows able-bodied athletes show (me) the respect."