Magnificent seven for record-breaking Weir
David Weir became the most successful athlete in the event's 37-year history today when he won his seventh wheelchair title at the 2017 Virgin Money London Marathon this morning.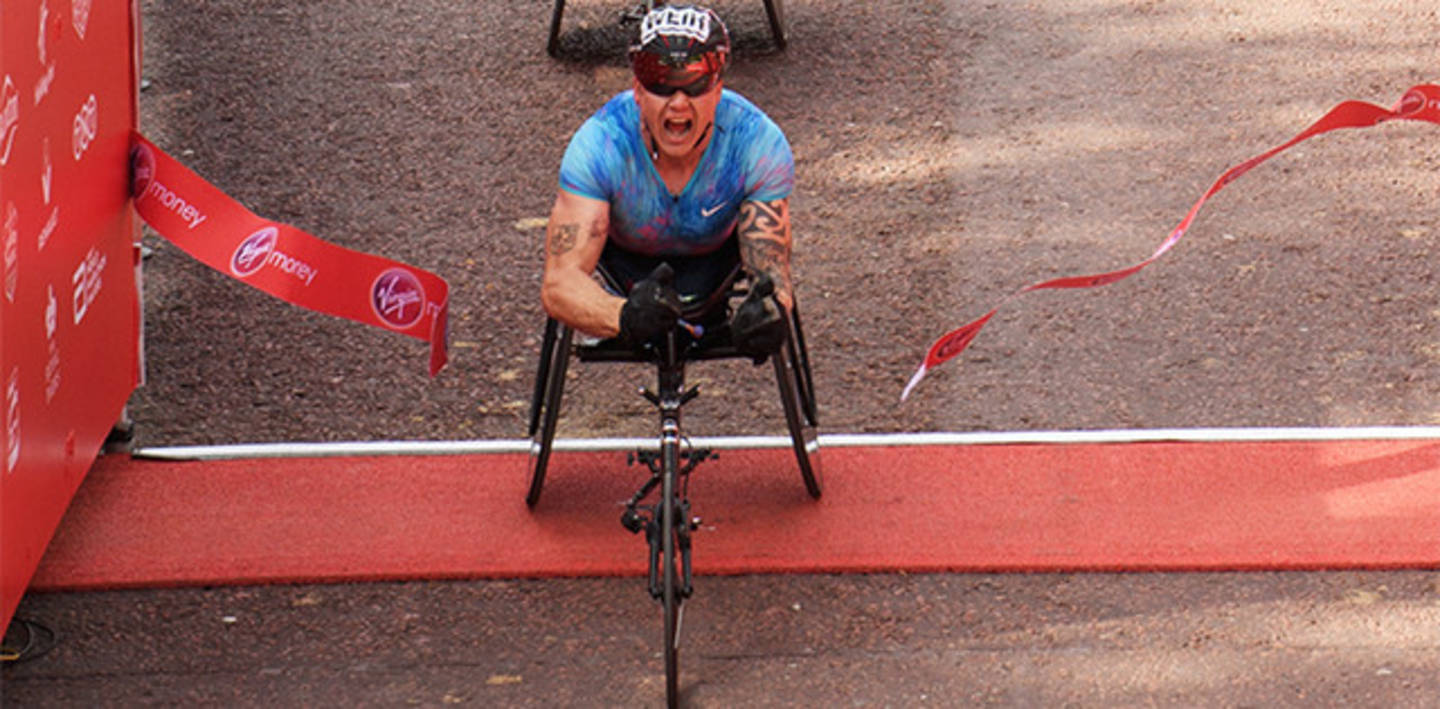 The Briton, who first won the race in 2002, finally moved ahead of Tanni Grey-Thompson at the top of the all-time London Marathon winners' board as he sped clear of defending champion Marcel Hug to cross the line in 1:31:06.
He had shared the record of six wins with Baroness Grey-Thompson since 2012, finishing second, second and third over the last three years.
But today he felt different following his recent Paris victory and unlike his counterparts he did not compete in the Boston Marathon, meaning he could concentrate on this race.
"It hasn't really sunk in yet," said an emotional Weir afterwards. "It's the first time I've felt comfortable for years to be honest."
It's been a turbulent few months for the 37-year-old, who announced his retirement from track athletics in January.
Determined to return to his favourite marathon for what he hinted could be the last time, Weir showed everyone today that he still has the passion and talent to be among the world's best on the road.
Poignantly for Weir, this year's marathon has focused on mental health, and he openly admitted he has had his own mental health issues recently.
"It's been a tough four months personally," Weir said. "Mentally, it's been the toughest it's ever experienced since Rio and other problems. I've got a lot of people to thank and to sort my head out.
"I've kept it quiet that I've been suffering from depression for a few months. This marathon has allowed me to channel my anger. It's been nice to get out in the park and kill that negative pain."
This morning the conditions were perfect for wheelchair racing. With so many top athletes from across the globe on the Start Line, there was a high chance of the customary sprint finish and for many miles the leading pack was the biggest it has been for years.
Usually around five turn into The Mall to fight for the top prize, but today 16 approached the tape together. Weir moved out of the pack and with Hug on his tail, pushed hard for his record-breaking crown.
"I knew I had it coming around the corner," said Weir. "We made a break after about three miles and I wasn't strong enough to pull away.
"To be honest I didn't do hardly any work first of all as I was just thinking 'the wind, the wind, the wind, stay on Marcel's wheel', as he's the fastest."
Hug was going for his third London win but had to settle for second, just one-second behind, while Kurt Fearnley was third in the same time.
"The finish just shows what wheelchair racing has become in the last five or six years," said Weir. "I want to thank the London Marathon for doing so much for us."
"I've had a couple of tussles with Weir over the years," Hug said. "But he was just too strong for me today."
Fearnley agreed. "That was a really handy result," said the Australian course record holder. "I wasn't sure what to expect and it was a brilliant finish from Dave."
Weir will next appear in the Vitality Westminster Mile and Vitality London 10,000 at the end of May. As for defending his Marathon title next year, he said:
"We will see. I've got a few meetings this week with my management and coach and I want to talk to my family.
"I'm going to have a summer off and it will do me good. It's been five years since I've won, so I'm going to enjoy the moment for now."