Great Britain team celebrates successful Deaflympics 2017
The Great Britain team is celebrating their success at the 23rd Summer Deaflympics 2017. A delegation of 92 athletes, coaches, officials and support staff travelled to Samsun, Turkey for the Games that took place from 18-30 July. Their final medal tally of nine (three gold, one silver and five bronze) smashed the pre-Games target of five.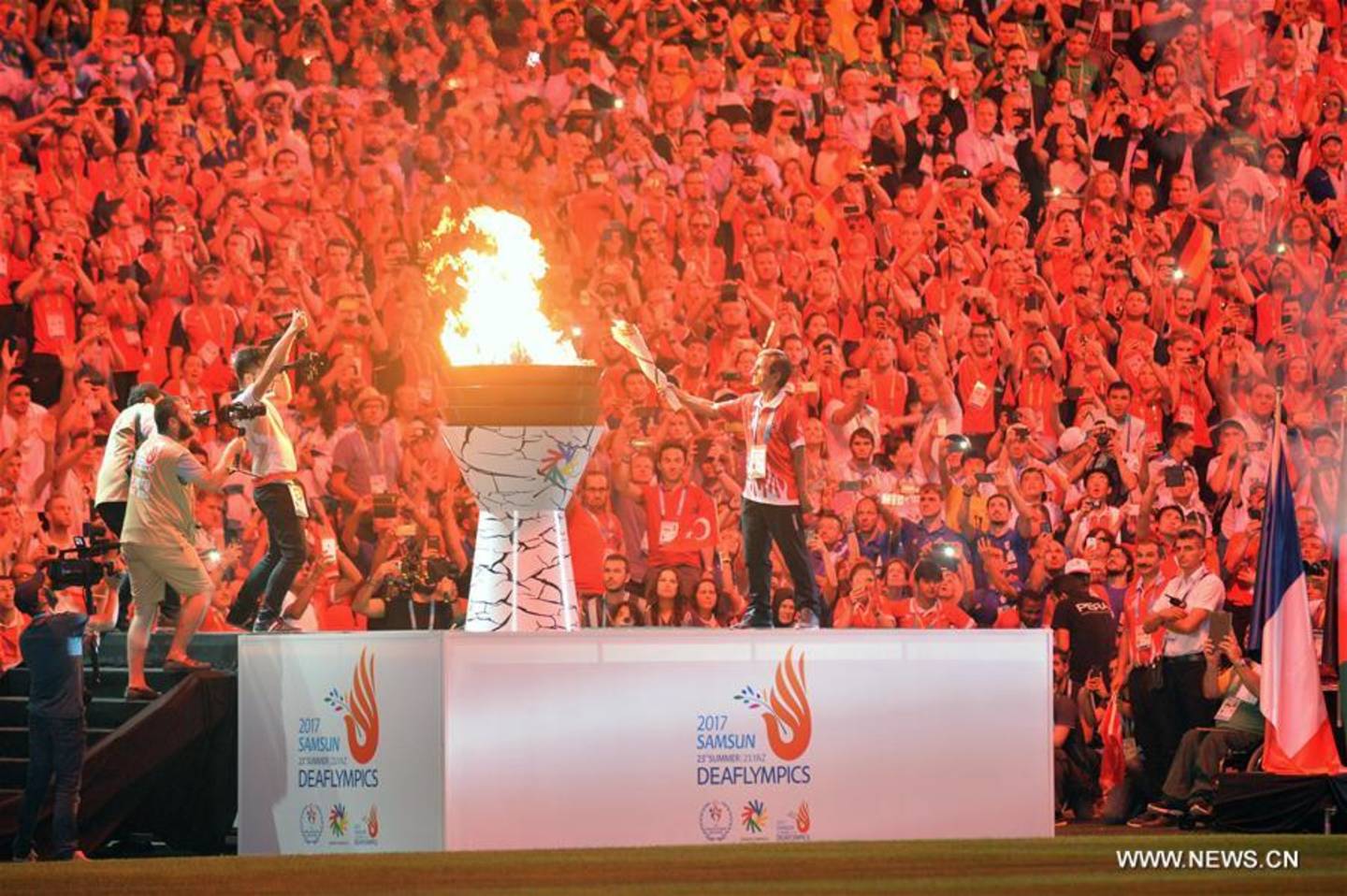 Swimmers claimed the three gold medals for Great Britain- one for Jack McComish and two for Danielle Joyce, the team's flag bearer.
The Games brought together more than 5,000 participants and 3,000 athletes from six continents and 97 countries, making it the biggest Deaflympics and event in Turkish sports history. It ended with a grand closing ceremony in Yaşar Doğu Sports Hall.
The closing ceremony began with a cortege of participant country flags. Then, a video compilation with Games memories.
Samsun Metropolitan Municipality Mayor Mr. Yusuf Ziya Yılmaz reiterated their joy of hosting their guests in Samsun:
"Our guests made our city colourful. They increased our joy of living. They made us happy. I sincerely thank them. Please don't forget our Samsun".
After the speeches, Deaflympics Samsun 2017 General Coordinator Mr. Serkan Baltacı handed the ICSD flag to Turkey Deaf Sports Federation President Mr. Yakup Ümit Kihtir, who in turn handed it over to ICSD President Mr. Valery Rukhledev.
The closing ceremony concluded with folk dances and a concert from Turkish singer Murat Dalkılıç, simultaneously translated into sign language.
Previously known as the World Games for the Deaf, The Deaflympics is in International Olympic Committee (IOC) sanctioned event for deaf athletes to compete at an elite level. At this year's Games, competition was across 21 disciplines, with 16 individual sports and five team sports.
The DeaflympicsGB delegation, led by Chef de Mission Christof Niklaus competed in five sports - athletics, football (men and women), golf, swimming and tennis. Full details of DeaflympicsGB squad are available on the UK Deaf Sport website.
As the country's National Disability Sports Organisation for deaf people, UK Deaf Sport supported the DeaflympicsGB squad in Samsun this summer. They aim to create more opportunities for deaf and hard of hearing people to lead, participate and perform in sport at an elite level.
UK Deaf Sport hopes the Summer Deaflympics 2017 will encourage more deaf people to take part in regular sport and physical activity in their local area. Find out more about UK Deaf Sport's work on their website. For more information on Deaflympics 2017, visit deaflympics2017.org.