Blog: "My ultimate ambition is to set a new world record"
The English Federation of Disability Sport (EFDS) website features a blog post every Friday throughout the year. In 2017, we'll be sharing the experiences of disabled people, and those who support disabled people, on their journey to being more active. Ahead of the National Athletics Championships 2017, Abbie Hunnisett talks about competing in club throw.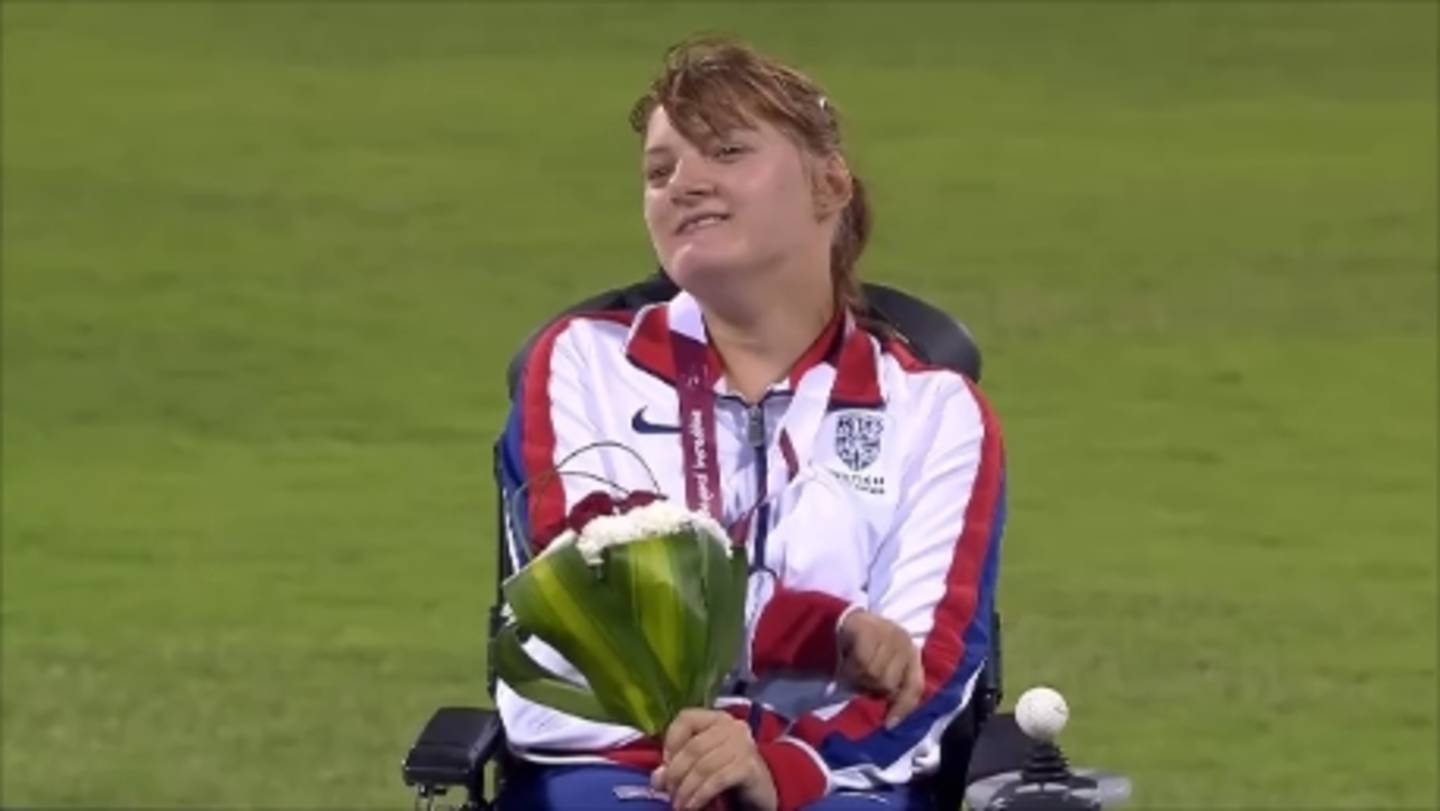 My name is Abbie, I am 21 years old and I compete in the club throw, which is a specialised event for my level of disability. I have moderate to severe cerebral palsy which affects all of my body so I find it challenging to do everyday activities that most people can do. Despite this, in 2016 I represented Team GB at the Paralympic Games in Rio.
My sporting journey began at the early age of 4 when I started horse riding for the disabled. I rode every weekend and only stopped when I was about 14. I really enjoyed the riding and became quite good, and competed at dressage events across the county. At the age of 11 I first tried throwing the club in a PE lesson at school and enjoyed the challenge of throwing it further.
In the summer of 2012 I took a club on holiday with me and practiced a bit more. I found I improved over the two weeks and threw it around 12 meters. When we got back from holiday we went to the Paralympics in London and I watched the woman's club throw and was inspired by what I saw. I also realised I was in fact quite good at throwing the club even without lots of practice. Later that year I went to a "throwing chair event" where I met my first coach, Camilla, who then introduced me to the Weir Archer Academy, the athletics club which I am a member. From then onward I started taking things more seriously and the rest is history.
Sport has had such an amazing impact on all aspects of my life. It's given me something to focus on and succeed in, and I belief that even though I have a disability nothing can stop me! It's helped me become fitter and stronger. I used to find it hard to gain weight and looked quite skinny and fragile, but now I have muscles and am much fitter and healthier. Becoming successful has led to me completing talks and presentations at school and motivating others to take up sport and be the best they can. Without sport I don't know what I would be doing with my life, it has given me a real focus and goal.
I have been competing in the Cerebral Palsy Sport Athletics competitions for six years, which has given me lots of regular competition practice in the Javball and club throw. I've also travelled around the country and made lots of friends. From 2013, I competed at the Kingston Open and Surrey County Championships, where I set my first huge personal best at 17.79m and became Surrey Champion. This helped me get picked for the British Athletics Futures Programme for developing athletes, and I started to get support directly from British Athletics. In 2014 I was selected for the World Class Performance Programme and I went on to compete at the European Championships, where I won my first senior GB vest and finished fourth.
In 2015, I qualified for the Anniversary Games and threw my first throw over 21m, in fact 21.01m, and set a new PB. Later that year I went to the World Championships in Doha, which was a great experience and I won my first international medal for Great Britain – a bronze. 2016 was an amazing year for me, I set a new PB of 21.23m and was selected to go to the Paralympic Games in Rio. This was a great experience, and I had achieved one of my dreams to become a Paralympian. Sadly I finished fourth, but not bad for my first Paralympics and at only 20, which for a thrower is a young age.
In the long-term, I aim to get to another Paralympic Games and win a medal. My ultimate ambition is to set a new world record at a Paralympic Games and win the gold medal. I know this is going to be a really tough ask, but if you don't aim high…
Cerebral Palsy Sport's National Athletics Championships take place in Nottingham on Saturday 23 September. The closing date for entries is Friday 1 September. Find out more and enter on the Cerebral Palsy Sport website.