Barnsley YMCA wins inclusive sport equipment
Barnsley YMCA is reaping the benefits from attending a Sainsbury's Inclusive Community Training workshop. Following their training, they were also the lucky winners in a draw for equipment vouchers. Here, we talk to Andrea Battye from the centre. We find out how their staff, volunteers and members are using their new equipment to put what they learnt into practice.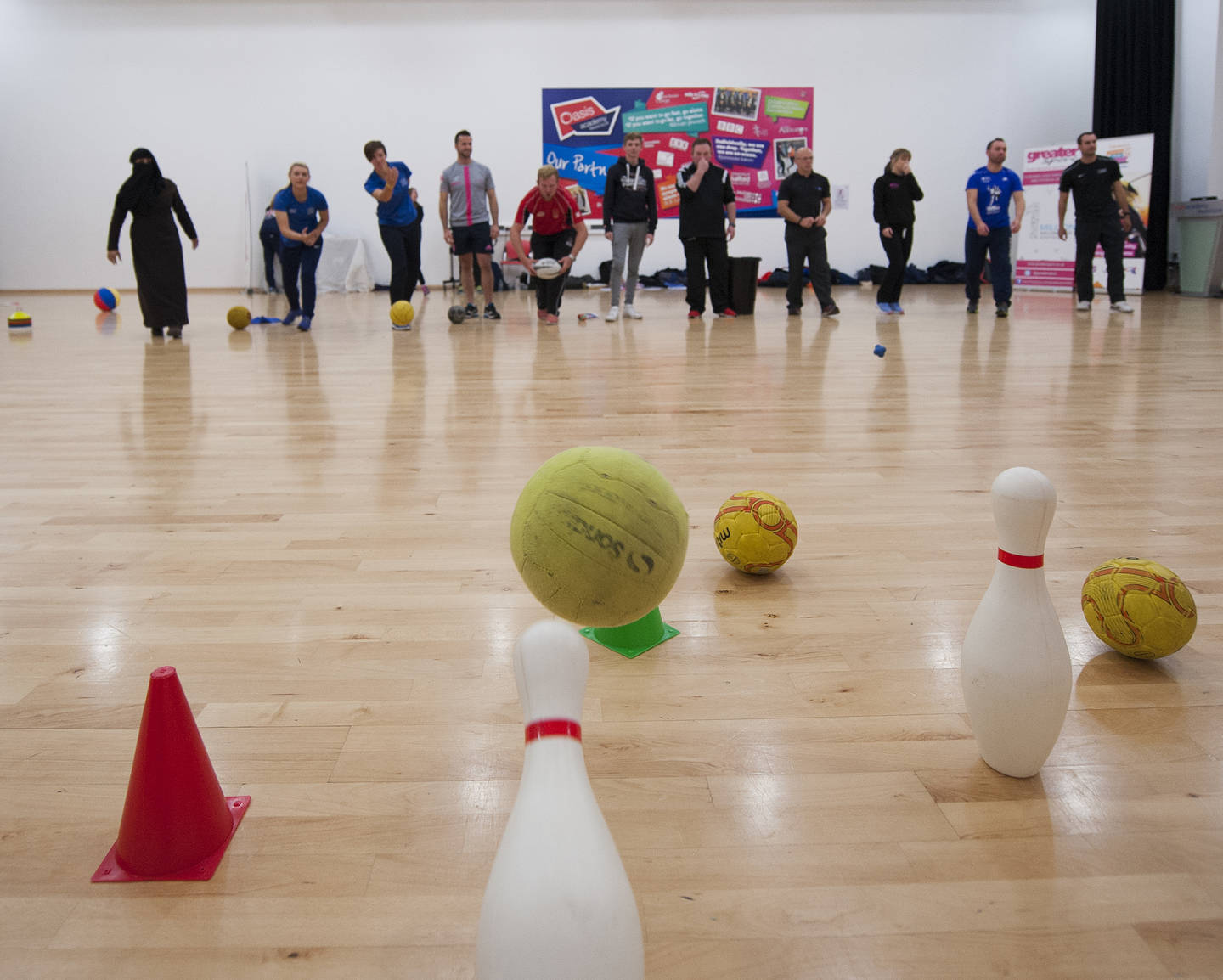 Andrea Battye and Michelle Cooper were among a group of staff and volunteers from YMCA Barnsley who attended a Sainsbury's Inclusive Community Training workshop hosted by The Yorkshire Sport Foundation last year. They wanted to learn new skills and games for delivering activities to disabled members, share ideas and gain knowledge from other participants.
The Sainsbury's Inclusive Community Training Programme is a creative, informal and informative three-hour practical workshop, supported by online resources, designed to improve the skills and confidence of those who support disabled people to be more active.
Five months after attending the workshop, Michelle completed a questionnaire about the impact of the training on her and the disabled people she supports. She won the prize draw- a voucher for £50 worth of inclusive sports equipment. The centre bought sensory balls and equipment to run blind football sessions.
YMCA Barnsley's special educational needs and disability (SEND) group has used the new equipment on numerous occasions as well as young non-disabled people. Andrea explains they believe all their young people should have the opportunity to experience trying out different sporting activities. She added:
"By integrating all young people to work alongside each other, the centre can expand the experiences and challenges for all our disabled and non-disabled young people."
Being able to use and play with the new equipment in sessions has benefitted the volunteers and members at YMCA greatly. Not only has it helped to raise their awareness of sport for disabled people, it has also given their volunteers the experience, skills and confidence to deliver inclusive activities to all young people.
When asked about her experience of the Sainsbury's Inclusive Community Training, Andrea said:
"The training has enabled the staff and volunteers to increase their knowledge and skills around delivery of sport and activities with SEND young people. It has consequently enhanced the participants' experience of sports and activity at YMCA Barnsley."
Michelle continued:
"Giving young people the opportunity to participate in a wide range of physical and fun activities is a great way to build skills confidence and self-esteem."
Data collected 3-6 months after attending a workshop shows the positive longer-term impact of the initiative. 92% of participants continued to feel confident providing sport to disabled people. Furthermore, 63% of workshop participants believe that disabled people they support are more active than before and 79% say that all the disabled people they support are included in their sessions.
You can read a full report on the long-term training impact.
Since 2014, over more than 9,500 people from a range of backgrounds who support disabled people in the community have benefitted from the training. The programme has been funded through £1 million of National Lottery funding from Sport England and was delivered in partnership with UK Coaching until the 30 September 2017.
We are currently in discussions about the future of the Sainsbury's Inclusive Community Training programme. If you are interested in attending or hosting a workshop, please sign our register of interest here. You can also email the team or call 01509 227750.