Wrexham welcomes Wimbledon champion to upcoming tournament
Ten-time Grand Slam champion and four-time Wimbledon champion Jordanne Whiley is among the world class stars headlining the star-studded entry for the new Wrexham Indoor wheelchair tennis tournament, which takes place this week, from Thursday 14 to Sunday 17 February.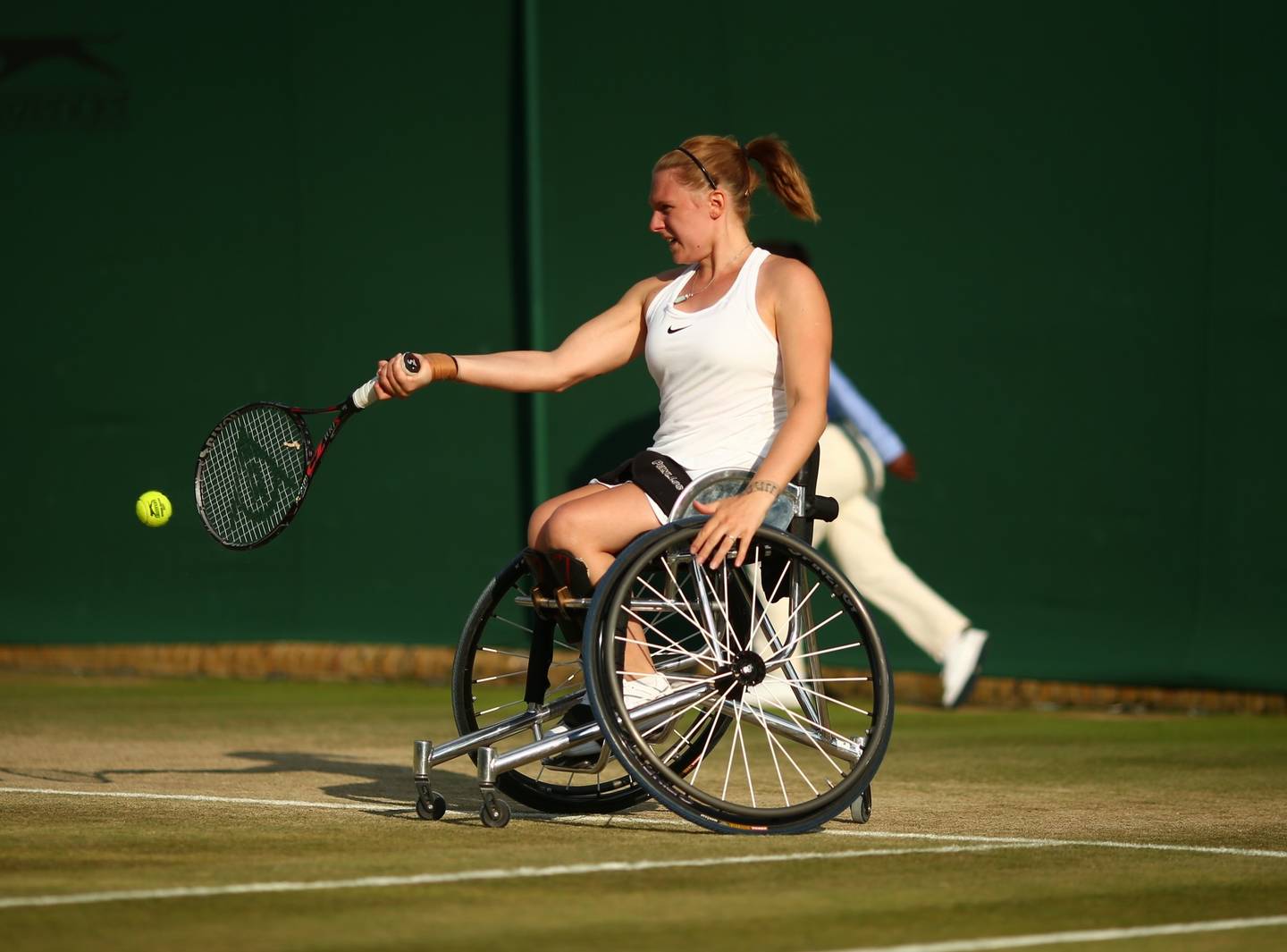 The venue is no stranger to international wheelchair tennis having hosted the British Futures tournament for the past six years, but this week's new event will see Wrexham welcome the most high-class field ever assembled for a wheelchair tennis event in Wales. A total of 72 players from 23 countries will feature in the draw, including a host of current and former world Top 10 ranked players.
Jordanne Whiley is among the former Top 10 players as she plays her first ITF-sanctioned tournament since winning her fourth straight Wimbledon women's doubles title in July 2017 and then giving birth to her first child in January 2018.
Two-time Paralympic bronze medallist Whiley, whose initial return to action following her maternity leave led to her fifth National Championships women's singles title in December, said:
"I'm super excited to get back on tour, I've been in training for four months now and I feel really confident in my game. The only thing I'm not looking forward to is leaving (baby son) Jackson. I've never played in Wrexham, either, so I'm looking forward to that, too."
Jordanne, former three-time National champion Lauren Jones and two-time Paralympian Louise Hunt will lead the domestic challenge in the women's singles draw. Current world No. 9 Katharina Kruger of Germany is set to be top seed. Also among the entries will be Dutchwoman Donna Jansen, the women's champion at the Futures event in Wrexham last October.
Players from the Netherlands, France, Chile and Australia head the entries for the men's singles. They include Dutchman Ruben Spaargaren, the current world No.16, and former world No.1 Laurent Giammartini of France.
Leading the Brit entry in the men's singles will be Dermot Bailey, a former two-time men's singles champion at the Wrexham Futures tournament.
A strong international entry is also assembled for the quad singles, with Canada's world No.11 Rob Shaw returning to the UK to try and defend ITF 3 Series ranking points he won this time last year at the event's previous home in Preston.
Former National champion James Shaw and Rio Paralympian Antony Cotterill head the Brit challenge for the quad singles alongside former National champion Richard Green.
Players are eligible to compete in wheelchair tennis's quad division if they have a permanent physical impairment that results in significant loss of function in three or more limbs, while also fulfilling the sport's minimum disability criteria.
Tournament Director Kirsty Thompson, said:
"This is the start of a vitally important season for international wheelchair tennis as players begin to think about qualification for the Tokyo Paralympics. It's extremely exciting for Wrexham to be hosting two international tournaments in such a big year and we are thrilled by the depth and quality of this year's entry.
"Anyone who has yet to watch wheelchair tennis can expect an extremely high level of competition and I would encourage all local sports fans to come down and join us for free to enjoy the action."
The Wrexham Indoor tournament forms part of the International Tennis Federation's UNIQLO Wheelchair Tennis Tour, and is first of seven world ranking wheelchair tennis tournaments to be held in Great Britain in 2019. When the sport returns to Wrexham in October for the newly renamed British Futures tournament, it will do so within year long qualification window for the Tokyo 2020 Paralympics.
Many of those competing in Wrexham this week, including all the top Brits, will be aiming to qualify for Tokyo and will therefore be looking to build a firm foundation ahead of the sport's qualification window beginning in June.
More information including the tournament schedule and results are available on the International Tennis Federation website.