Engagement in the south: bringing partners together
Activity Alliance and Get Berkshire Active joined forces to host an engagement day focussed on promoting the benefits of physical activity for disabled people and people with long-term health conditions. The day brought together key people from the disability, sport and physical activity sectors, and highlighted the importance of inclusive communications in getting more disabled people active across Berkshire and beyond.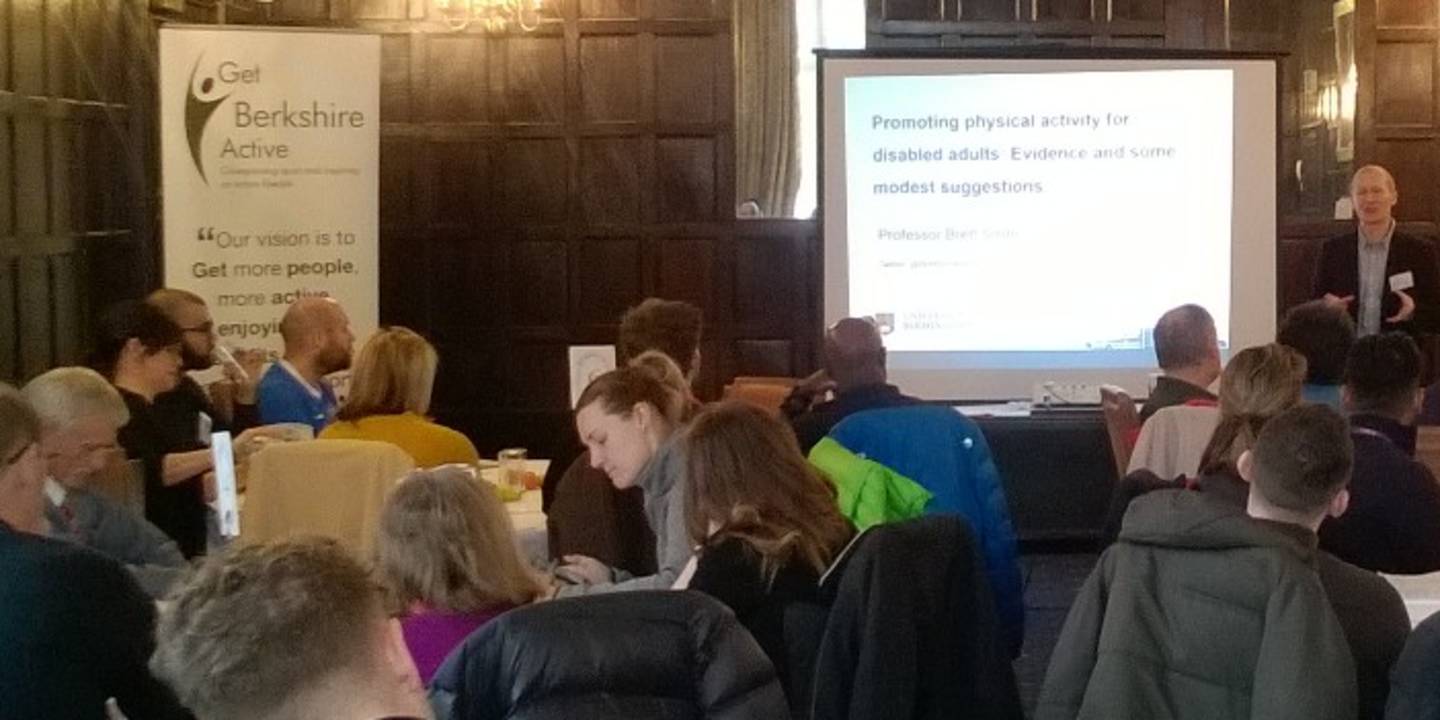 The engagement day, held at Sindlesham Court in Berkshire, saw our Engagement Advisor for the South West, Helen Newberry, hold an inclusive communications session for attendees focussing on the importance of effective marketing and communications to reach and engage disabled people.
Hosted in partnership with Get Berkshire Active, the rest of the day was an exciting blend of presentations and networking. Key presentations came from Dr Nick Tupper and Jo Metcalfe of Think for Wellbeing, who spoke about the health benefits of activity and behaviour change. Workshops also took place from West Berkshire RunTogether group, who spoke about their wellbeing sessions led by the group's Mental Health Ambassadors. Steph Johnson from Reading Rockets Basketball club delivered a workshop on coaching disabled people.
The event also gave the opportunity for cross-sector discussions on how to improve future activity sessions and services to be more accessible and inclusive.
James Craggs, Head of Sport England Programmes at Get Berkshire Active, said:
"The event was successful in creating conversation between the physical activity and disability sectors across the Berkshire region. Helen's inclusive communications session was useful and prompted a lot of feedback and discussion. It was valuable to learn more about disability and the language we should be using.
"Our aim is to help support more partners across the disability sector, and the people they work with, become more active. The networking opportunities this day proved invaluable in forming collaborative approaches to help achieve this."
Activity Alliance has five Engagement Advisors who work across nine regions over England, their role is to enable more organisations to engage disabled people effectively. Helen worked with Get Berkshire Active to set up this important event.
Engagement Advisor, Helen said:
"Disabled people face a number of barriers when it comes to participation, and communication is something that can either enhance a disabled person's experience or restrict them from being active.
"The regional engagement day was a great way for all partners across the region to better understand the ways in which disabled people access communication and how to market to people who have different impairments.
"We all know how important collaboration is in supporting disabled people to be active, and this day was a valuable opportunity for different sectors to come together and look at ways to form a collaborative approach in supporting disabled people and people with long-term health conditions to be active as much as they want to be throughout Berkshire and beyond."
To find out more about our Engagement team's work visit our engagement and partnerships page. If your organisation is interested in being part of any upcoming South West regional forums, please email Helen or call 01509 227750.