Reaching a wider audience: Sarah, Marketing and Communications Manager
Last month we heard from our Head of Engagement, Ray Ashley, on how we enable organisations to engage more disabled people to be and stay active for life. Today, we hear from our Marketing and Communications Manager, Sarah Brown-Fraser, on how inclusive marketing is key in supporting the delivery of this.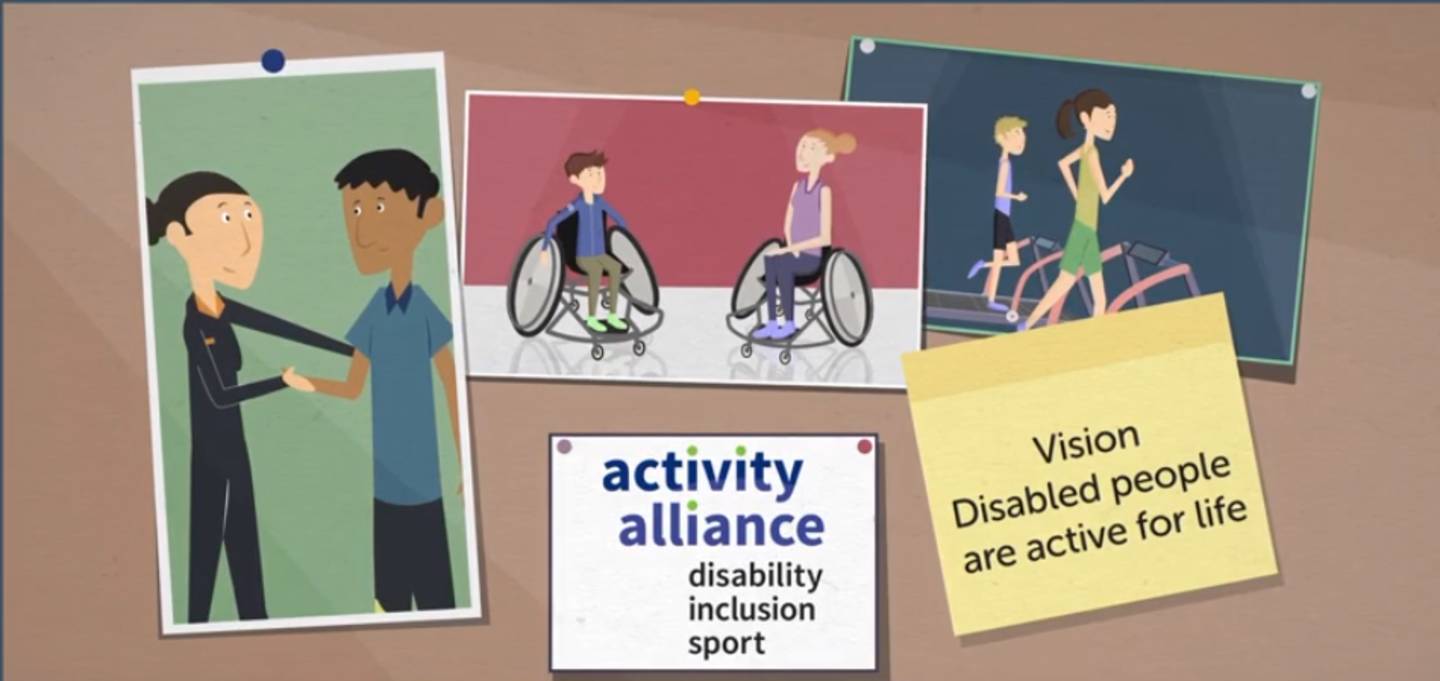 Inclusive and accessible planning and delivery can help everyone reach more people, including disabled people. Here, Sarah calls on other marketing professionals to drive change in their work to address the communication barriers that their audiences may face.

Explain your role as Marketing and Communications Manager and your team's role in supporting organisations to embed inclusive practices.
My role is two-fold. Firstly, I'm the Marketing and Communications Manager for our national charity. So along with two others in my team, we develop and deliver a packed programme, which reaches our stakeholders and satisfies their needs.
Secondly, we support organisations to think inclusively and accessibly about their own marketing communications. From 2014, we've been leading the way and driving change in this area in sport and leisure. We're so proud of the improvement we've helped organisations to make when considering people within campaigns and programmes.
That year we released a guide to inclusive communications which supports providers in reaching a wider audience, including more disabled people. It addresses the main communication barriers many people experience, potentially preventing them from taking part. But the principles of inclusive communications work for everyone, whatever sector you work in.
We didn't stop there because sometimes digesting information can be the hard part, but ensuring it transfers into action is the hardest. We developed animation guides and workshops on inclusive communications. Then, last year we released a set of factsheets on communication topics, making the information more bitesize.
I now can't look at any form of marketing communications without thinking about inclusion and accessibility.
Watch our animation guide on inclusive communications below:
https://www.youtube.com/watch?v=9_tB_NEDKnM
What is the concept of inclusive communications?
This is an important point and one, which we can all often misunderstand in our business. As much as it is about the barriers that a large number of disabled people face in marketing, it is about all consumers. If you take impairment out of the equation for a moment and we break people into having permanent, temporary or situational barriers, you'll see what I mean.
The Microsoft Inclusive Design resource is a great read. Think touch, see, hear and speak. Let's take touch. A person can be permanently restricted from using your new website as they have one arm and the site's navigation is too tricky. But making your website easier to navigate will benefit people who may have a short-term impairment, say with an arm in a sling, or perhaps they are a parent holding a baby. The solution is universally beneficial.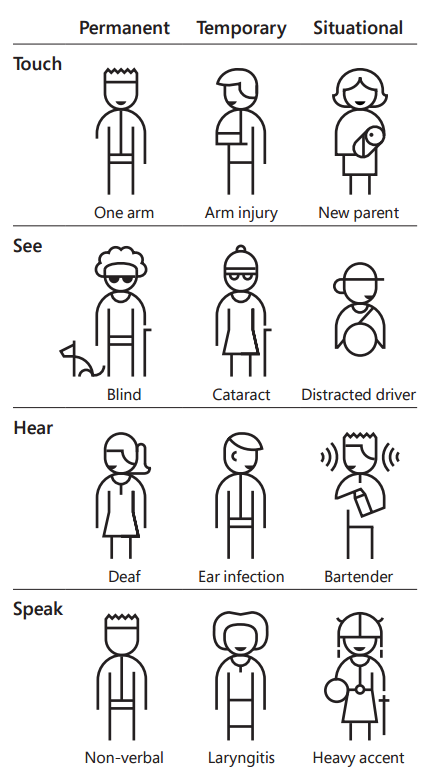 The same applies if we think about the growing trend for voice recognition apps. How many times does Alexa (or other well-known products!) misunderstand a strong accent or annoy us when we are poorly and can't shout? If we consider people who have impairments that affect listening to or giving commands, it supports wider usage.
We all have busy lives. During a normal day we might be working long hours, looking after our family and even trying to fit hobbies in. But while we're awake, thousands of messages are being thrown at us to entice us to take action, like being active.
Now, imagine if you have barriers to those messages. You may end up thinking – they're not considering me, so it's obviously not for me.
Despite advances in technology, there are still a number of different factors preventing groups of people or individuals from receiving communications. There are approximately 13 million disabled people in the UK. As marketing professionals, we are potentially missing out on customers and in sport – participants.
As with any other large group, there can be no one-size fits all approach to how to communicate with disabled people. The way in which some disabled people access communications may be different to non-disabled people. People with different impairments have different needs or experience different barriers to accessing information.
If we consider our audiences' communication needs a little more, it helps campaigns, websites and us to produce better messages and content. An after-thought in communications can also mean bad PR, more money spent, or loss of custom.
What do you think needs to change in the communications world to support more disabled people to be more active?
Inclusive marketing communications is just good marketing - ensuring we identify needs, adapt our communications and reach audiences in the way they prefer. I would like to see marketing leaders and professional qualification bodies drive change as part of their work.
You can save time and money by involving disabled people in developing campaign ideas, testing and delivery. Word of mouth among disabled people is huge, especially if things go right. And it's important to publicise your accessible features – it not only helps disabled people to know about them, it gets you ahead of competitors.
Finally, as a marketing manager, who happens to be disabled, we need to improve the diversity within our profession. Disabled people's representation is so low across our sector and that's not good enough because if you can't see me, you can't be me. I see so many bodies talking about their push for diversity, but their monitoring doesn't include disability. According to research, while 90% of companies claim to prioritise diversity, only 4% focus on making offerings inclusive for disabled people.
We need a more diverse representation in leadership or the workforce, on panels and within campaigns. Why would we not want to reflect the diverse society we are trying to reach?
We're happy to talk to organisations about your needs in marketing and how you can utilise our resources. Please get in touch and see if we can help. Email Sarah@activityalliance.org.uk or call 0161 200 5446
We have a bank of inclusive communications resources that support you to be accessible and inclusive with your communications visit our inclusive communications page on our website to find out more.