Brits make history on first night of London 2019
The British team enjoyed an outstanding opening night at 2019 World Para Swimming Allianz Championships in London. With a clean medal sweep for Great Britain in the Men's S14 200m Freestyle topping the billing.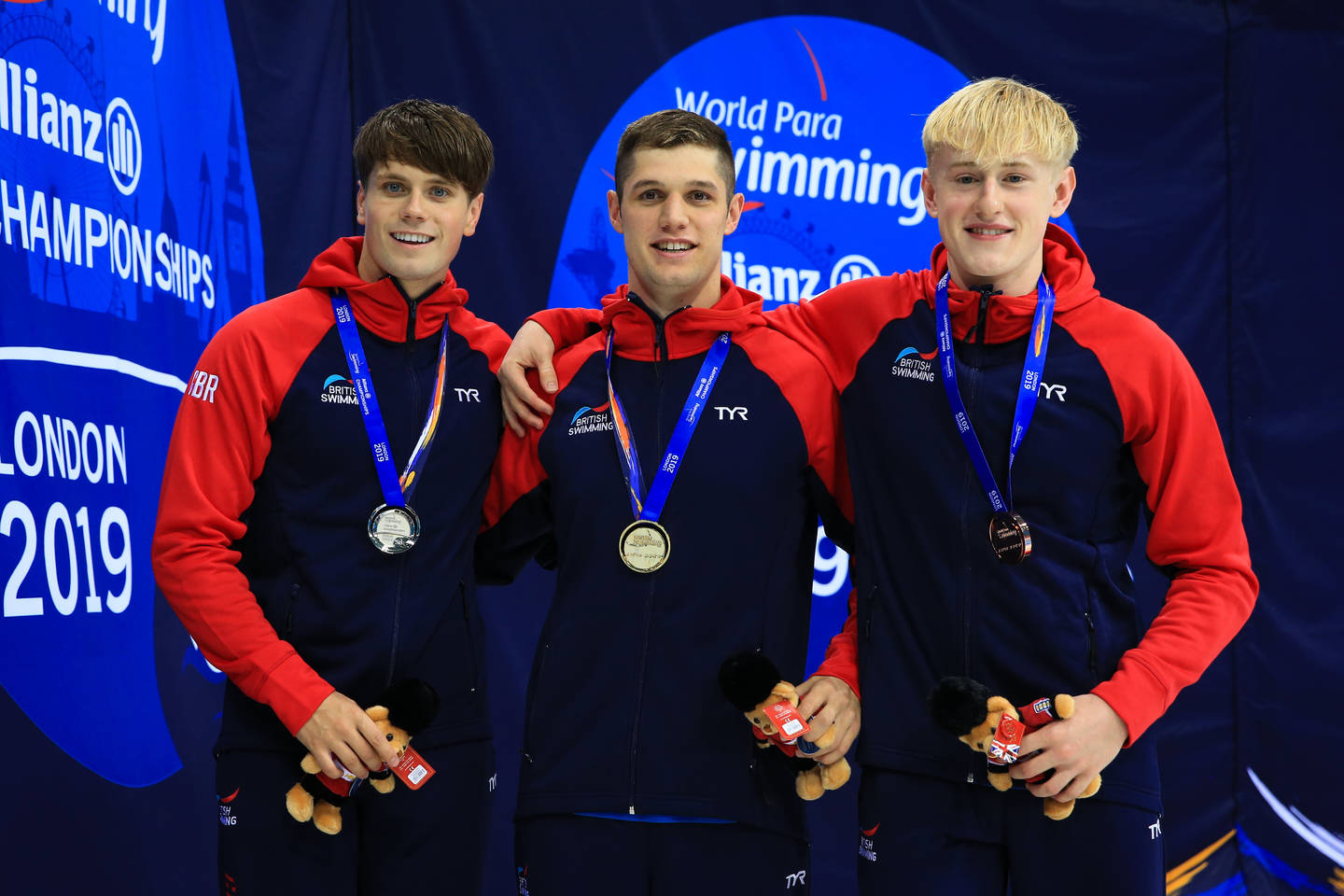 Great Britain's swimmers gave the home crowd plenty to cheer about as they won 11 medals in the first finals session of the London 2019 World Para Swimming Allianz Championships.
In the Men's 200m Freestyle, Reece Dunn broke his own world record to bring home a British clean sweep of the medals. The Plymouth-based athlete led from the off and increased his advantage at every turn. He touched home in 1:52.96 to take the World Championships crown and set a new World record.
Reece Dunn said:
"I went into that final with a massive attitude and was just trying to improve on the time from Berlin a few months ago. I'm training alongside some big guys now and my training regime has probably doubled in terms of metres and I've moved from sprints to mid-distance, which helps with my 200 a lot more. It was important to make a big impression at my first major international with the team."
Teammates Tom Hamer and Jordan Catchpole looked keen to join the celebrations. Both men finished strongly, with Catchpole moving from seventh to third place over the final 50m. Hamer finished in a personal best time of 1:55.19 for silver, while Catchpole touched in 1:56.23 setting another PB for the event.
Alice Tai once again demonstrated why she is ranked number one in the world in the Women's S8 100m Freestyle by powering to gold in a time of 1:03.77. Jess Long (USA) who Tai had cited as her nearest rival after the heats, could not respond to Tai's pace and finished with silver in 1:06.08, whilst Claire Supiot (FRA) took bronze.
Alice Tai said:
"I'm pretty ecstatic. The swim was a little bit slower than I hoped for and I messed up my turn but I'm really happy to come away with gold. Looking ahead, Tokyo is always the big one so it will be nice to take what I've done here and progress that and hopefully swim faster there.
"I love swimming here in front of a home crowd so much. It's strange as my family are sitting right in front of where we exit the pool so as soon as I finished the race and I was getting out I could see them cheering."
The third gold of the night for Great Britain came courtesy of Tully Kearney in the Women's S5 50m Freestyle. She stormed to victory in 36.28, breaking the British record she had set earlier in the heats. Teammate Suzanna Hext made it a double celebration, coming home in 37.13 for silver at her first international championships as a swimmer.
Tully Kearney said:
"I'm speechless. I've been through so much in my career and in my journey as an athlete, with multiple injuries, health issues and there have been so many times when I didn't think I'd make it. I've been out the pool more than I've trained this season, so it's absolutely amazing to do that in front of a home crowd."
The Women's S14 200m Freestyle final produced another thrilling race with Russia's Valeriia Shabalina spoiling the chance of a second GBR clean sweep. She won gold in 2:02.28 ahead of Bethany Firth, Jessica-Jane Applegate and Louise Fiddes. Firth won silver in 2:06.18, touching just ahead of teammate Applegate who took the bronze in 2:06.27. Fiddes finished just shy of the medals in fourth.
Zara Mullooly also added her name to the GBR medal roster with silver in the S10 50m Freestyle. Mullooly, who celebrates her 17th birthday this week, finished in a new S10 British record time of 28.22.
Britain's Ellie Simmonds won the bronze medal in a record breaking S6 400m Freestyle final, which saw Yuyan Jiang (CHN) break the World record on her way to gold, finishing in a time of 5:13.32. Paralympic gold medallist from Rio, Yelyzaveta Mereshko (UKR), won silver in 5:17.49, while Simmonds hit the wall in 5:21.78. Maisie Summers-Newton finished just outside the medals in fourth with a time of 5:23.65.
Ellie Simmonds said:
"I knew it was going to be a fast time. This morning was a really good swim; training has been going really well and I was nice and relaxed. It was a bit slower tonight than I had expected, I don't know why, it was really hard swimming but I just went in wanting to enjoy it, get in there and race and I'm happy to come away with a medal."
Toni Shaw looked thrilled and surprised in equal measures as she picked up bronze in the Women's S9 100m Freestyle, whilst teammate Stephanie Millward finished eighth.
In other final with British interest Stephen Clegg finished in fourth in a closely fought Men's S12 100m Backstroke, agonisingly close to a medal.
Photo credit: Georgie Kerr Photography/British Swimming