Disabled women take to the race track with Team BRIT
A group of female disabled drivers have had a taste of racing on Britain's most iconic race track, after a track day with Team BRIT. The women, who all drive adapted road cars, were invited to test Team BRIT's world-leading hand controls as part of an Academy Day at Silverstone.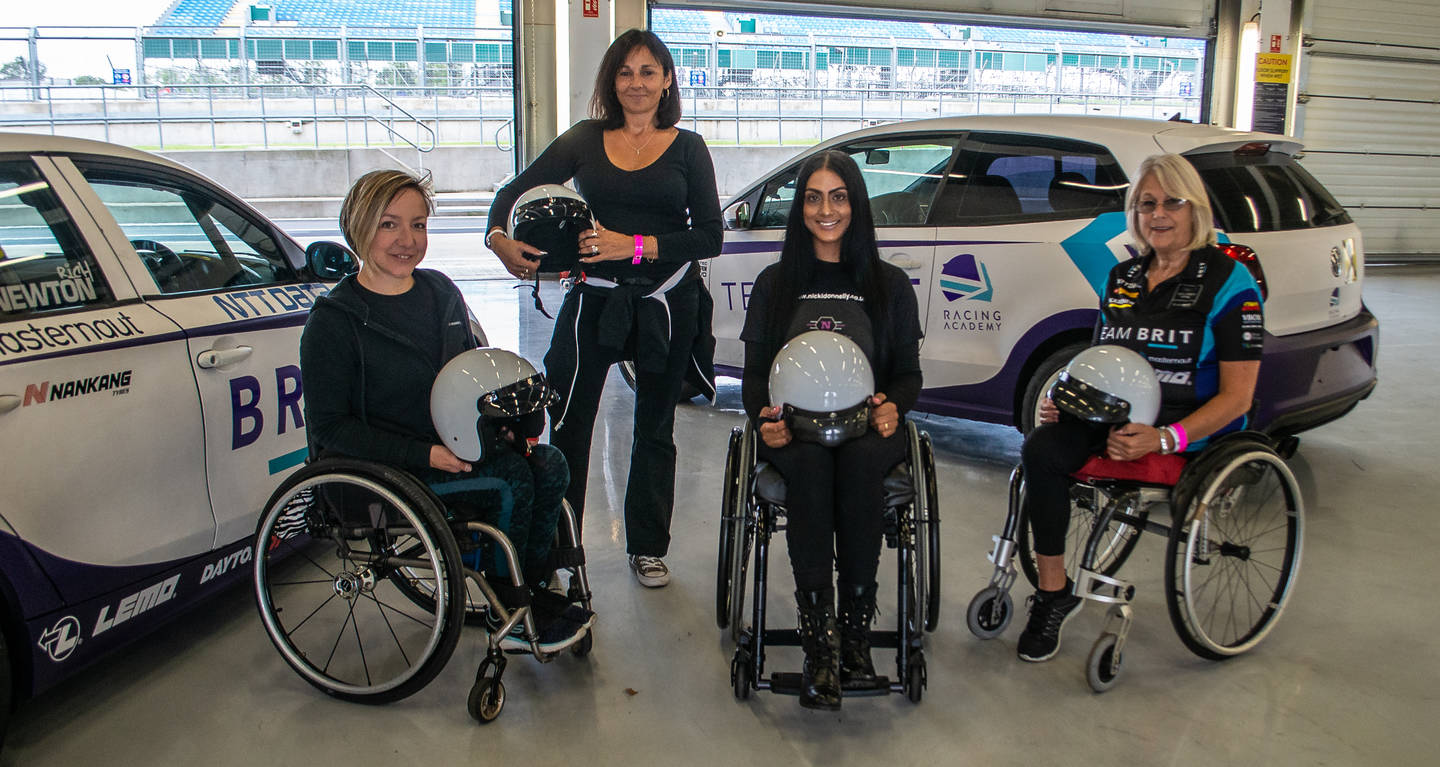 Team BRIT is a competitive racing team of disabled drivers. It aims to be the first all-disabled team to race in the Le Mans 24 hour, and through its Racing Academy, it supports drivers with a range of physical and psychological challenges in accessing motorsport.
The team is yet to find a female driver to join its ranks and on Monday 30 September, four women tested out the team's cars and learnt more about life as a racing driver.
Team BRIT for the day included:
Nicki Donnelly, 36, from Birmingham - Nicki joined West Midlands Police at the age of 18. When training within the Specialised Firearms Department in 2009, she was hit by a speeding car while driving on duty and was subsequently attacked. Nicki was left paralysed from the chest down. She received a bravery honour from the police and Pride of Britain award. Nicki is a self-made businesswoman as a motivational speaker, life coach psychologist, disability rights inclusion consultant, model, social media lifestyle influencer and ambassador to charities close to her and her daughter's heart.
Anna Turney, 40, from Leamington Spa - Anna sustained a spinal injury during snowboarding accident when she was a competitive snowboarder. After three years of training to be a Paralympian, Anna came 6th at the 2010 Vancouver Paralympics. Four years later she won 6 World Cup medals for Great Britain and finished 4th, 6th and 8th in Britain's most successful Winter Paralympic Team at the 2014 Sochi Paralympic Games.
Lorraine Pooley, 49, from Crowborough, East Sussex - Lorraine lost her right leg in a motoring accident at the age of 21. She took part in BBC2 show 'Beyond Boundaries' in 2005 where, along with a group of 10 other disabled people, she walked from the Atlantic to the Pacific.
Tracey Pahel, 55, from Coventry - Tracey was diagnosed with soft tissue cancer in the back of her thigh in 2004, then again in 2007 and 2009. She elected to have the leg amputated as it was so heavily damaged. Tracey attended one of Team BRIT's first ever Academy track days this year and returned five times. She is now working as part of the Academy management team, acting as a host for guests at track days. She hopes to race next year.
Each of the ladies spent time on the team's simulator, fitted with the hand controls to let them get used to the technology before hitting the track. They were then taken out for passenger rides in the team's Volkswagen Polo before taking to the wheel themselves, supported by the team's experienced instructors.
It is hoped that each of the ladies will return for further track sessions and consider trying out as new rookies for the 2020 season.
Team BRIT CEO and founder, Dave Player said:
"Women are hugely under-represented in motorsport, and disabled women even more so. We're working to level the playing field for disabled drivers, making it easier for anyone with a physical or psychological challenge to access the sport.
"We're making huge progress, but we're yet to have a female driver on our team and we want to change that. It was fantastic to spend the day with the ladies on Monday, who each have incredible stories of overcoming their own physical challenges.
"They were fantastic out on track and thoroughly enjoyed the experience so we hope to find them the support they need so we can welcome them back into the driving seat very soon."
Anyone who would like to learn more about driving with Team BRIT or who is interested in becoming a partner should email info@teambrit.co.uk or visit Team Brit website.
Photo credit: Scruffy Bear Pictures