RDA Awards celebrate 50 years of enriching lives through horses
Clare Balding, Alastair Stewart and racing driver Damon Hill were among the special guests celebrating Riding for the Disabled Association's (RDA) 50th anniversary in the grand surroundings of Draper's Hall, London, for this year's Gala Awards.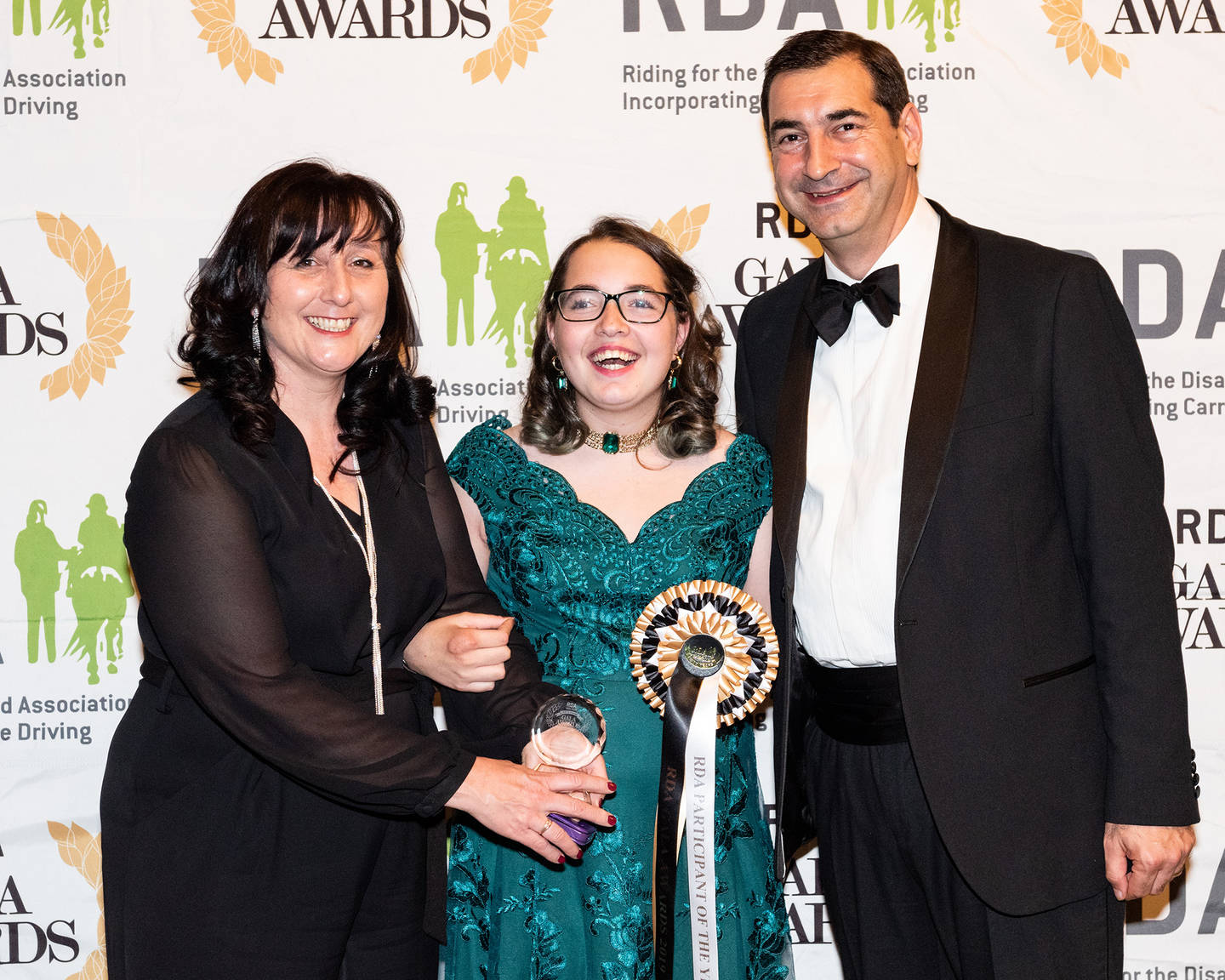 The evening, hosted by Clare, featured an after-dinner interview with Damon Hill and W-Series driver Alice Powell, and an auction led by Bargain Hunt regular Philip Serrell.
Each year the RDA Gala Awards celebrates the achievements of its riders and carriage drivers, and the outstanding contribution made by its volunteers and horses. In this milestone year for RDA, the 2019 awards was extra special. As RDA celebrates 50 years as a leader in disability sport, Damon Hill and Alice Powell joined Alastair Stewart on stage to talk about the vital role sport can play in shaping lives.
Ahead of the event, 1996 Formula 1 World Champion Damon Hill said:
"I'm delighted to be attending the RDA Gala Awards evening. It's a fantastic charity that currently enhances the lives of more than 25,000 disabled adults and children, so I'm really looking forward to finding out more about it and to meeting some of the people with and for whom it does so much excellent work."
Although the event is an important fundraiser for RDA, the focus of the evening was most definitely the four winners. Guests were treated to a short film about each winner, before meeting them in person as they collected their award and spoke to Clare about their achievements. Sadly, the Horse of the Year couldn't be there in person!
Meet the winners
Participant of the Year: Isabella Theophanous (pictured above)
Isabella (Bella)'s recent visual impairment diagnosis has impacted every aspect of her life, and yet she continues to bring a positive, cheerful attitude to her weekly RDA activities.
Her nominator, Jess Dunne of Beechley Stables, wanted to ensure the nominee was a group choice – and the group unanimously chose Bella. Jess said:
"Once she turned 14, she also started volunteering with us, and now comes every week after school to water and feed the horses, and prepare the yard."
Young Volunteer award: TJay Wilson
TJay had watched from the rider sidelines from the age of 10, desperately wanting to become a volunteer. Finally achieving his goal a few years later, at age 14, he now puts body and soul into volunteering, and will do anything and everything he's asked to do by the RDA team.
His nominator, Jane Lawrence of Vale Mill Lane Stables, said:
"He simply wants to give back all the time."
Volunteer of the Year: Jo Rutherford
Jo is involved at every level of group activities, as a coach, organiser, trustee and fundraiser. Her fundraising efforts have included a 50-mile challenge, a 3-peaks challenge – and she's now in training for a 102-mile Cotswold Way ride.
Jo's nominator, Kady Chatman of Saxon Group said:
"Jo is the unsung hero of the group, and we would struggle to do what we do without her."
Horse or Pony of the Year: Cracker
Cracker recently celebrated his 20th year with the Lincolnshire Wolds group. As a registered fell pony, Cracker's full name is Heltondale Bracken V11, and he's the subject of a book written by his proud owner, whom he also took to church (as a driving pony) for her wedding. In addition to achieving driving pony status, Cracker has also helped numerous children to ride, and continues to be unfazed by any rider screaming or throwing themselves about.
Cracker's nominee E. Marshall said:
"Cracker still manages to

create a little bit of havoc if he's in the mood.

Lincolnshire Wolds would simply not be the same without our Cracker."
More than 25,000 disabled adults and children enjoy the benefits of riding and carriage driving each year with the RDA. Through a network of around 500 volunteer groups throughout the UK, RDA provides opportunities for therapy, achievement and enjoyment, improving health, wellbeing and self-confidence, and benefiting mobility and co-ordination.