Team Ladybugs take on AJ Bell World Triathlon Leeds Virtual Challenge
Father and daughter pair from Warwickshire, Stephan and Chloe Couture, have raced at events across the UK and around the world and have now conquered virtual racing.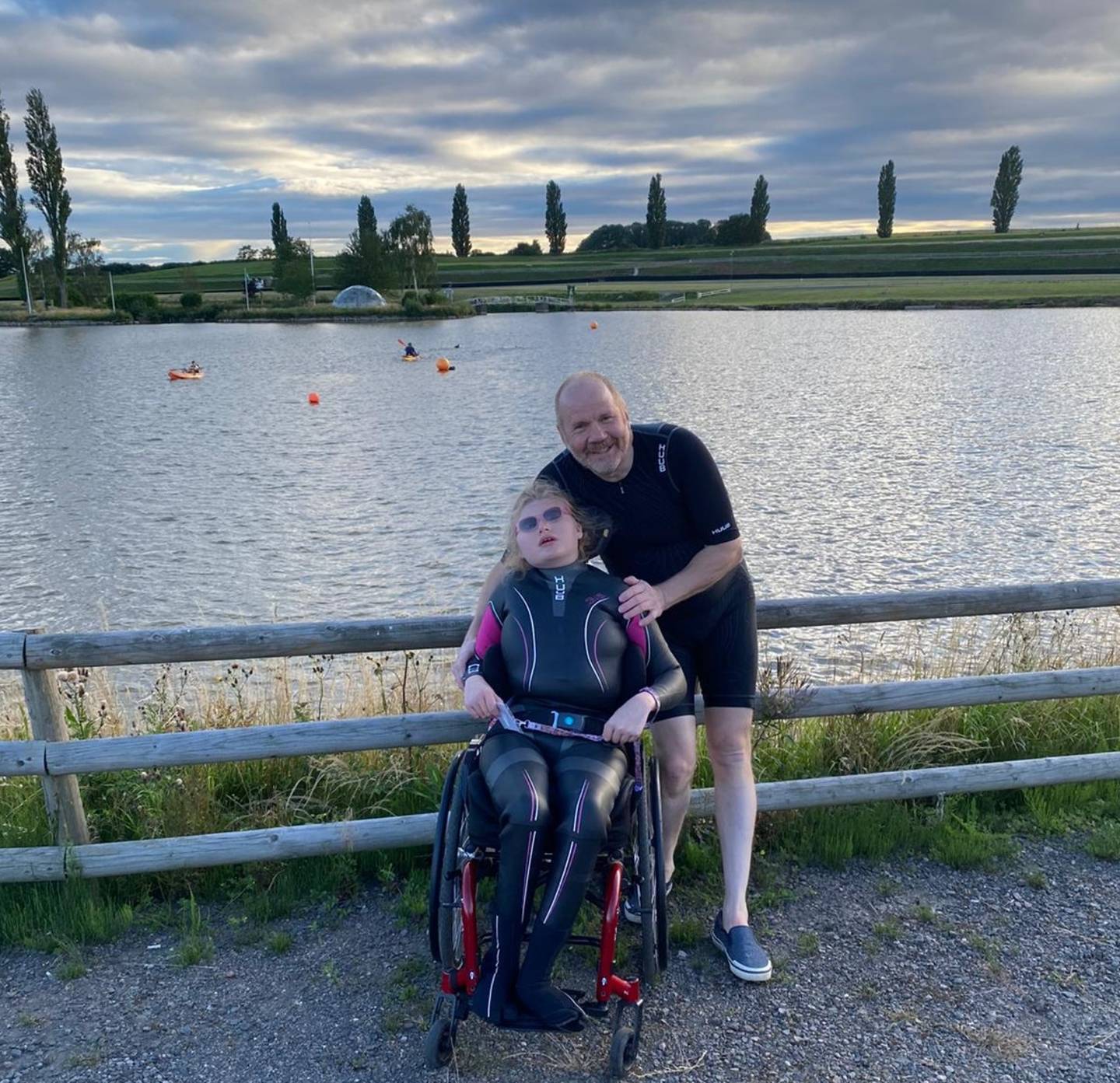 Chloe, who was born with cerebral palsy and is registered visually impaired, takes part with the help of her dad Stephan, who tows her along on the swim and bike, whilst pushing her racing wheelchair on the run.
They've raced at World Triathlon Series races around the world and were due to return to Leeds this year to take part once again.
The Covid-19 pandemic seeing events cancelled, but also meant that Stephan and Chloe, alongside mum Diane, have been shielding at home. This has seen the usually very active Team Ladybugs limited to safer, shorter running and riding on the quiet lanes near their home in Warwickshire.
"With having events cancelled and needing to shield at home, it's been a lot quieter summer than usual," Stephan said. "Chloe gets a real buzz from being out in her chair and also from seeing everyone at events, so it's been sad for her to have missed that.
"We've been going out where we can safely and, knowing that the lanes around our home will be quiet, gives us the opportunity to keep active which Chloe loves even though we haven't been able to swim."
The AJ Bell World Triathlon Leeds Virtual Challenge provided a home duathlon challenge once the physical event had to be postponed until 2021. Having been entered into the event, Team Ladybugs took on the challenge and made it a swim, bike, run with a local venue supporting them along.
"We've been able to use Mallory Park Racing Circuit since restrictions have been lifted," added Stephan. "To have the opportunity to take part in the virtual event has given us something to train for, whilst using Mallory has meant we can make it a full triathlon on a safe, closed circuit.
"This was our first timed triathlon since lockdown, and it was a great experience and something we thoroughly enjoyed. Chloe loved being back out on the water in her kayak and we did a 1600m swim, 40km ride and 15km run in a total of four hours and twenty-six minutes.
"We split it up so that we did each discipline separately on consecutive days, cycling on Monday, running on Tuesday and swimming on Wednesday with the support of Race Rapid. It was great to be able to get out together in a safe, managed environment."
They've done the challenge in aid of three charities, Kendall and Wall, who provide wheelchair accessible days out to promote social inclusion; Midland Free Wheelers, who provide medical deliveries across the West Midlands and the Children's Air Ambulance.