CP Sport and Quest 88 launch pilot equipment rental service
CP Sport in partnership with design and manufacturing company Quest have launched a brand new pilot rental service to support people with cerebral palsy and associated impairments. The equipment available to hire will help to enable individuals of all ages and abilities to participate in sport and recreational activity.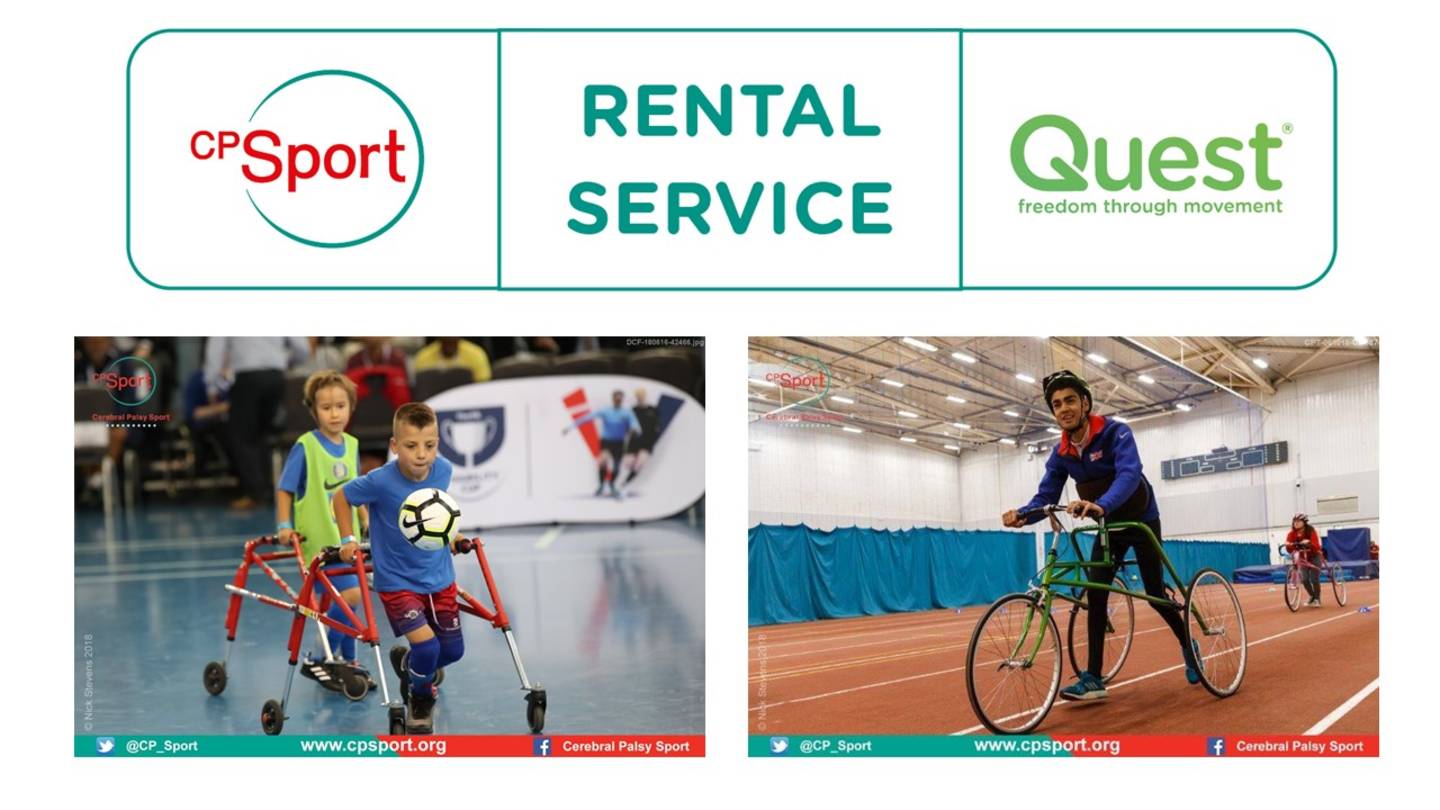 There are a range of GameFrames to rent which are used for playing Frame Football and for RaceRunning Frames which provide support assistance for users to be upright and walk or run.
Adapted sports have had recent increase in popularity with more Frame Football and RaceRunning clubs developing across the country. RaceRunning has seen a big increase in interest since being included on the World Para Athletics programme in 2018.
Quest has over 30 years of experience in the design, manufacture and sourcing of activity based therapy products for children and adults. Quest 88 began manufacturing tricycles for children with Cerebral Palsy in 1991 and have developed and introduced additional products and accessories over time.
CP Sport is the country's leading national disability sports charity supporting people with cerebral palsy to reach their sporting potential.
Frame Football is an adapted format of football for those who use a frame or walker. GameFrames are more mobile than a frame and enhance player experience. Frame Football is growing and proving very popular, with a number of affiliated clubs running sessions. CP Sport are working with the FA and partners to further support the future development of the sport.
RaceRunning is an adapted sport for those who cannot functionally run and rely on sports aids for mobility and balance. The RaceRunning frame supports the user to be in an upright position and supported by the 3 wheel frame design.
RaceRunning provides opportunities to experience running, jogging or walking activity. RaceRunning is an official recognised discipline in Athletics, and features within all CP Sport Athletic events.
Hire is for a minimum of three months. Quest will arrange to deliver each frame, and assist with setting up, and give practical advice in regards to this. Accessories will be provided as well as a 1-2-1 coaching session.
Adi Fawcett, Cerebral Palsy Sport Chief Operating Officer, said:
"This is an exciting pilot programme for us at CP Sport and an opportunity for us to learn how we can develop our services and activities for the benefit of our beneficiaries. The service will enable us to take sport to our community and overcome the barrier of access to equipment for individual and provide support through one to one coaching sessions. Our aspiration during this challenging time is to enable as many people as possible to get moving, be active and have some fun being physical."
Tom Henshaw, Commercial Manager at Quest, said:
"With access to all-important club activities and events now being severely limited due to COVID-19, we've been actively searching for new and innovative ways to support the continued rehabilitation and supported activity that CP Sport embodies. The rental service is a safe way for children and adults alike to explore their potential for movement, at their own pace, in their own home, but fully supported by both Quest and CP Sport."
The cost of the service:
RaceRunners - £30 non-member, £15 member per month.
Frame Football Frame - £20 non-member,£10 member per month.
You can access the booking form through CP Sport's membership page.
For further enquiries please contact CP Sport – jennifer.basford@cpsport.org, 07955 119 018. Or Richard.kerr@cpsport.org, 07762 739926.