British wheelchair tennis stars excel in dramatic team battle
Great Britain's elite wheelchair tennis players fought out a richly deserved draw at the inaugural LTA Wheelchair Team Battle. The event came to a dramatic close on Thursday 17 December at the National Tennis Centre with both teams, The Lionhearts and The Knights locked together at 12-12.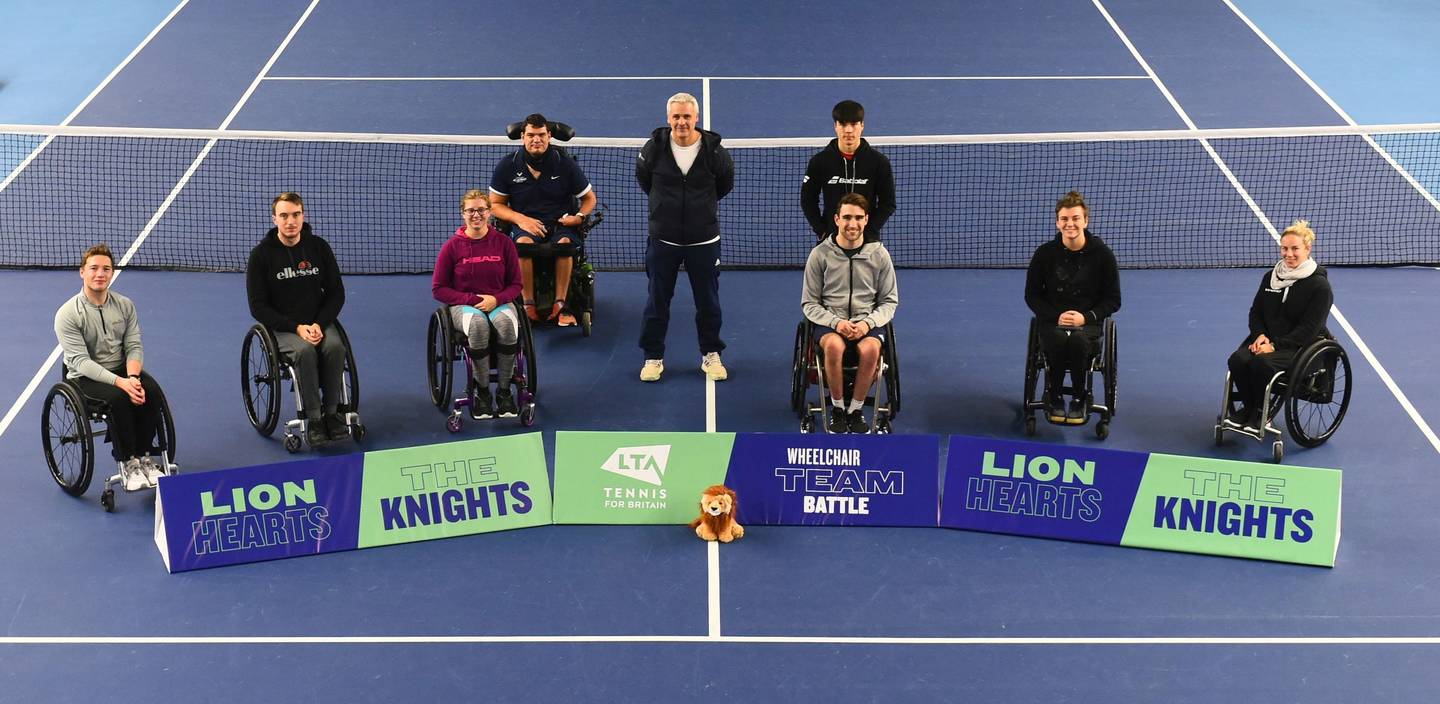 Pictured above: The Lionhearts team
Only once during Thursday's eight contests did more than one point separate the two teams. British men's No.1 and world No.3 Alfie Hewett getting the better of British No.2 and reigning Paralympic champion Gordon Reid 6-2, 7-6(2) to see the Lionhearts take the lead 11-9.
However, with both players later involved in the last of the event's 24 matches to be completed, Reid and world No.2 ranked junior Ben Bartram put together six games in a row to wrap up a 6-1, 6-3 win over Hewett and Dahnon Ward to ensure The Knights levelled the overall team score.
Reid, who beat Hewett 6-4, 6-4 in their first singles head-to-head on Wednesday, said:
"I think it's been a great idea. It's nice to get all the players from the LTA's wheelchair programme together, which doesn't happen very often. It's great to be able to watch some of the younger guys coming through and seeing them play so well. Hopefully we can have more of these in the future."
Fifteen of the LTA's Podium and Podium-potential players and rising stars from the LTA's National Age Group Programme assembled for the three days of men's, women and quad singles and doubles matches, with a selection of mixed doubles contests adding to the excitement on each day of play.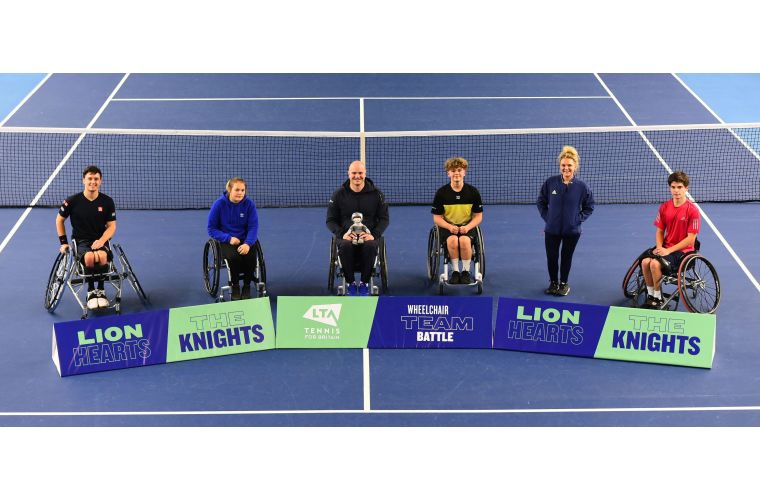 Pictured above: The Knights team
With The Knights holding a narrow 4-3 lead after Tuesday's first day of play and the first seven of 24 matches, the Lionhearts edged Wednesday's nine matches to leave the team scores finely poised at eight points apiece to ensure an epic third and final day of play.
Thursday's early exchanges continued to confirm that the future of British wheelchair tennis is bright as junior players Ben Bartram and Abbie Breakwell secured straight sets victories over Ward, recently named winner of the International Tennis Federation's Junior Player of the Year Award, and Ruby Bishop, respectively.
Breakwell, who recovered from a set and a match point down to beat Bishop in a deciding match tie-break on Tuesday's first day of play, said:
"I was more confident than I was on Tuesday and I learnt from my mistakes and made slight alterations, which made my game better. Things like giving myself more time and being more positive when I was hitting my shots."
Seventeen-year-old Breakwell, Britain's top ranked junior female, went on to partner Lauren Jones to a 6-4, 6-4 doubles victory over Greg Slade and Bishop in the penultimate match, giving the Lionhearts a narrow 12-11 lead.
Grand Slam champions Hewett, Reid, Jordanne Whiley and Andy Lapthorne headed up the cast of stars from the LTA's Wheelchair Tennis World Class Programme. Whiley beat her two-time Paralympic bronze medal-winning doubles partner Lucy Shuker 6-1, 6-3 midway through Thursday's schedule to add to The Knights' points total.
Twelve-time Grand Slam champion Whiley, who also partnered Bartram to a mixed doubles victory earlier in the week said:
"It's been really good to have a team event where you can mix different divisions, especially at the end of the year in the off-season, so I've really enjoyed myself."
Whiley had added motivation to perform well for The Knights with her fiancé Marc McCarroll, former Paralympian and now the LTA's Wheelchair National Age Group Programme Coach, captaining her team. McCarroll said:
"I thought it was a brilliant event and I really enjoyed being the captain for the juniors and the seniors. It was great to get a chance to get on court with everyone and give them feedback. It's been so good to see Ben, Dahnon, Ruby and Abbie step up and it's really good for Gordon and Alfie to see how the young guys are developing. In that last doubles there was a great level of tennis, so I think it's been great for everyone."
With the Covid-19 pandemic having vastly reduced the number of international tournaments in 2020, Antony Cotterill and James Shaw were among the few Brits to have competed internationally since early November, when they both reached the quad singles final at the Prague Cup Czech Indoor.
Cotterill beat Shaw 7-5, 2-6, (11-9) in the last singles match on Thursday at the Wheelchair Team Battle and the only match on the final day to go to a deciding match tie-break. He said:
"I thought I started really with an early lead at 4-0, but then I didn't play with the same intensity and James played better in the second. Luckily I managed to get through the match tie-break. James and I train and play a lot against each other, so he knows how to beat me and I know how to beat him, but it's always nice to play him."
For more about the inaugural Wheelchair Team Battle, including all the results, visit the LTA website.