Adapted cycle loan scheme available in West Midlands
Out on Your Loan is a new inclusive cycling programme that will support disabled people from across the West Midlands who want to travel and be active by making cycling journeys in their local area.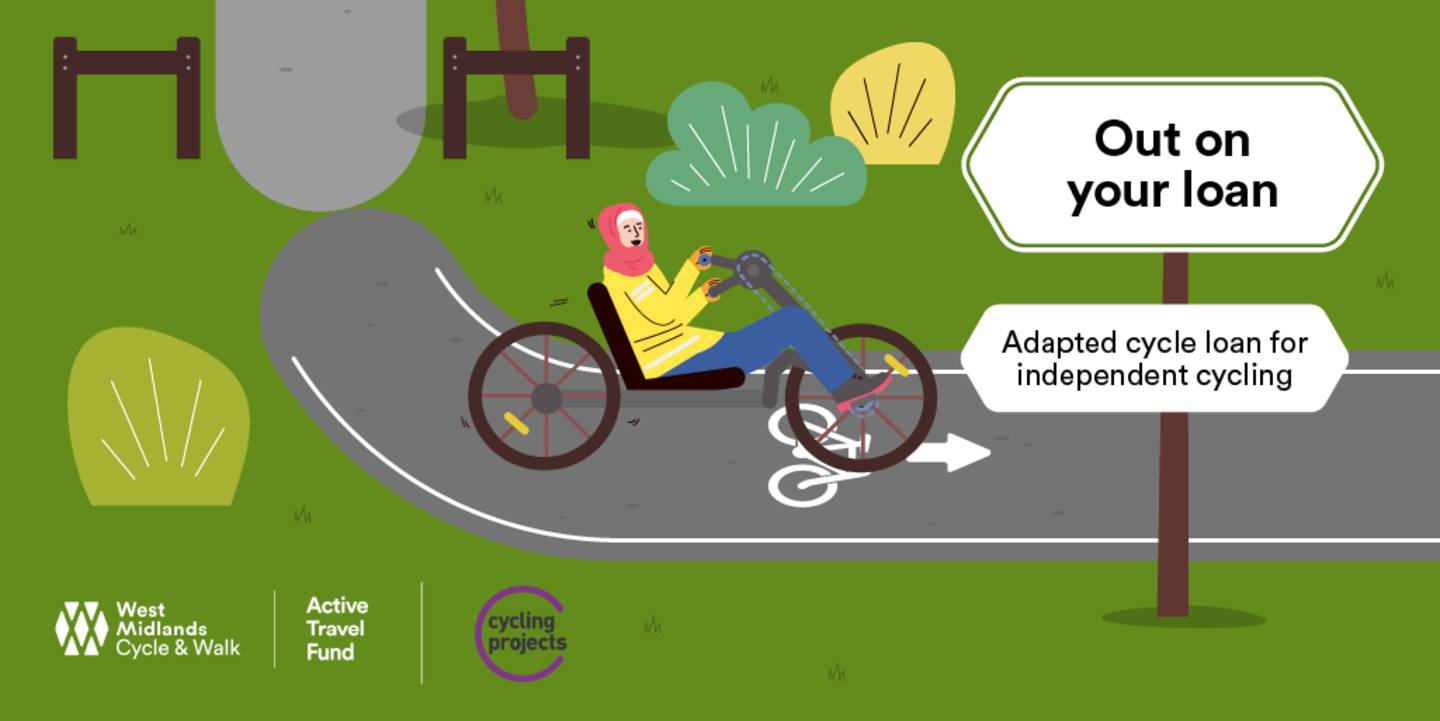 This programme will empower disabled adults and people with long-term health conditions to cycle freely across their region, with the loan of an adapted cycle for up to six months. Supported with training and mentoring packages, all programme attendees will be equipped to complete active travel journeys on their own terms.
This is an innovative approach to increase cycling uptake and engagement for all. It has been made possible through a partnership with Transport for West Midlands (TfWM), part of the West Midlands Combined Authority (WMCA), and the Include Me West Midlands campaign, making it the largest programme of its kind in the country.
Mayor of the West Midlands Andy Street, who chairs the WMCA, said:
"The health and environmental benefits of cycling and active travel are clear for all of us and we are doing all we can to get more people out and about on two or three wheels and two feet. That is why we are delighted to support the On Your Loan scheme to make it easier for disabled people to enjoy the benefits of cycling. Alongside this we are also investing in safer cycle routes and paths through our Starley Network to ensure people keep cycling long after lockdown ends."
Ian Tierney, Charity Director at Cycling Projects, said:
"This is a very exciting project that will focus on enabling people of all abilities to be active, especially through the challenging times of the pandemic, whereby we know disabled people are more likely to be more isolated and less connected than ever before.
"Out on Your Loan will give people the skills, knowledge and confidence to eventually complete independent cycle journeys and weave cycling into their lifestyles for the long term. We are really proud to be involved with the largest adapted cycle loan scheme in the country."
Include Me West Midlands is a regional approach that aims to make the West Midlands an exemplar region for engaging disabled people and people with long-term health conditions to be physically active.
Mark Fosbrook, Include Me West Midlands Manager, said:
"This is such an amazing opportunity. It not only helps disabled people become more active and independent by giving an opportunity to explore the fantastic cycling networks across the West Midlands. It also helps the WMCA learn about what works or where improvements need to be made. Include Me is working towards the West Midlands being the best region at engaging disabled people and this is a part of that fantastic social movement of change."
Encouraging more people to get the cycling habit and swap cars for bikes on shorter journeys around our towns and cities can also play a part achieving the #WM2041 target of becoming net zero carbon region over the next 20 years.
If you would like to know more about the Out on Your Loan programme and how you can access an adapted cycle, or how to get involved as a partner organisation or volunteer, visit Out on Your Loan page on Cycling projects website.
Or contact Chris Watts, Programme Coordinator. Email Chris Watts or call 07971 476520.