What to expect at an Inclusive Activity Programme workshop
Hi, I am Josh, Finance Apprentice at Activity Alliance. I recently took part in the Inclusive Activity Programme and I'm going to tell you all about it. What better way to find out about the workshop, than to read about someone's experience first-hand. Right, here goes…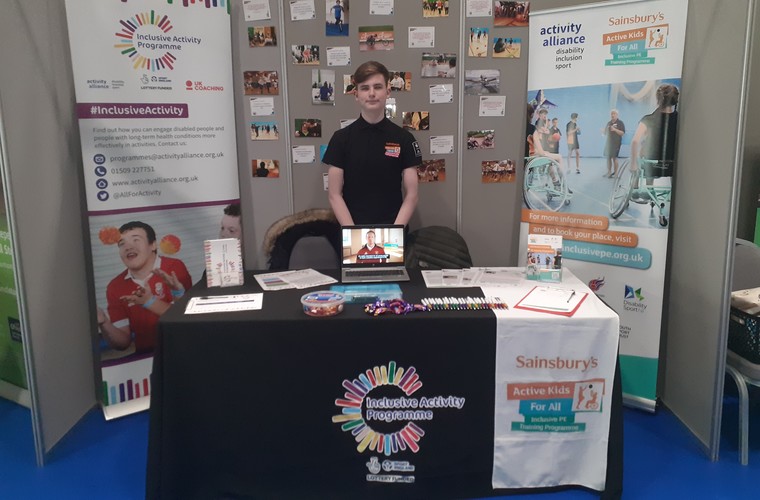 So, as I mentioned I am a Finance Apprentice at Activity Alliance. I don't have a background in inclusion or sports delivery, unless you count playing football with my mates. I am a complete novice!
As I walked into the venue our inclusion expert and workshop tutor, Pete, greeted me. I told him I was a bit nervous and not sure what to expect, and he just replied "oh even better!" I think he could tell I had the potential to learn a lot.
There were a variety of people at the workshop, including: a trampoline coach, an occupational therapist, community volunteers and me. Our job titles didn't matter; we were all there to learn about how to make activity sessions more inclusive for disabled people. I instantly felt very comfortable in my surroundings and ready to engage in the workshop.
After we had done some icebreakers to get to know each other, our tutor introduced us to the theory behind the Inclusive Activity Programme. The first model we explored was the Activity Inclusion Model (AIM) and the second was the STEP tool, which stands for: space, task, equipment and people. I'd never heard of these before, but after Pete talked us through the various elements, I could see how they provided a simple and effective framework to make activities more inclusive.
After the theory, Pete set about helping us apply our new knowledge with some practical exercises. He set up a number of activities, and as a group, we made changes using STEP and AIM to make them more inclusive. We looked at how we could change the equipment used and space available to make it suitable for people with different impairments and long-term health conditions. Next we split into small groups and created our own inclusive activities using STEP and AIM.
Don't worry, the practical exercises weren't too physically demanding! Everyone at the workshop was able to get involved at a level appropriate for them. Without us realising it, Pete was putting the Inclusive Activity Programme training into practice for us, so that we were all able to get active and feel challenged at the same time!
Towards the end of the workshop, we spent some time learning about Activity Alliance's 10 Principles. One of the principles that struck a chord with me was principle 3: Me, not my impairment. It encourages us all to focus on the individual, not their disability. I think this is important throughout life, not just in sport.
At the start of the workshop we were given a handy-sized workbook. I made lots of useful notes in this on the 10 principles, STEP, AIM and the various activities we did. Having the workbook was great as I now have something to refer back to!
Following the workshop, I have found myself thinking about how to make everything I do more inclusive. Whether it's having a kick-around with my mates or entertaining my little brother with different games in the back garden. The training has also helped me at work, I am more confident when engaging and supporting disabled people. For example, I recently attended the Kidz to Adultz Middle event and used my learning from the training to explain to a range of people how they can make activities more inclusive in their home and work environments.
Overall, I think the Inclusive Activity Programme is a fantastic training opportunity for people from a variety of different personal and work-related backgrounds – including carers, volunteers, sports coaches and healthcare professionals. Anyone who works with disabled people or people with long term health conditions and wants to support them to be more active – the Inclusive Activity Programme is definitely for you!