Football Focus: "Football provides me a way to bond with my family"
June is a big month for English football, with the hopes of a nation heading out to Russia in search of World Cup glory. While back on home soil, some of the country's top grassroots teams get ready to face each other in the FA Disability Cup Finals at St George's Park on 16-17 June. All this week, to celebrate the beautiful game we're sharing player experiences in our Football Focus blog series.
Hi, my name is Martin Sinclair and I am 31 years old. I live with my beautiful wife and three children in Basingstoke – they are the reason I keep striving to be the best I can be.
I was diagnosed with hemiplegia cerebral palsy at birth. However, this has never stopped me pursuing my goals and dreams - one of these being the great game of football.
I currently don't play for a football club but I do play for teams who are short at the local goals in Basingstoke. I do this at least twice a week, and it keeps me in good match shape. I also train quite frequently to keep my fitness levels up. I have a polar flow watch so I can keep track of my cardiovascular and strength conditioning data. It also helps to show how I am improving with both of these too.
Football has always been a part of my life. My dad was a semi-professional footballer and I used to watch him every Saturday. I always wanted to be like my dad. There was nothing quite like watching my dad get ready for his game on match days.
Football provides me a way to bond with my family and friends. I also love how inspiring the sport is. I feel it gives people a lot of hope in feeling they can achieve anything they want, if they're willing to come out of their comfort zone. There's something wonderful about the game itself and I get excited about matching up against certain teams and individuals because I like to test myself physically and mentally.
My proudest moment so far is getting selected for the London Paralympics 2012 GB team and walking in front of 80,000 people into the Olympic Stadium. The reason for this is because I didn't think anything like this would happen to me. I dislocated my hip at 15 years old and I've been in out of hospital for nearly eight years, and in a wheelchair for four years. So, I had to learn how to walk again. Going through this, to then walking out into the Olympic Stadium taught me anything is possible.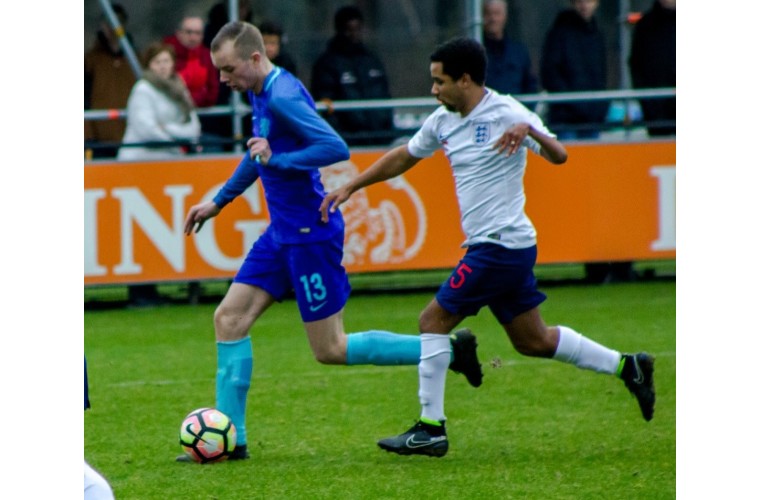 Representing England and Great Britain has been a dream. I was very excited when I first found out there was and England CP and GB football team; putting on the shirt is an absolute honour and there is no better feeling than playing for your country. It's also great being able to tell my children and grandchildren that I have played football at the top level.
My support network has been so important to my success. Especially the support from my wife, Kath, I wouldn't know where I would be if I didn't have her by my side. She has sacrificed a lot in keeping the family together and bringing up our three children while I was training or playing in another countries. I even went away to a tournament for two weeks after my little boy was born. So, she really has been my superwoman.
I'm a massive Manchester United fan and my favourite players growing up was Andy Cole and Dwight Yorke.
I came about supporting Manchester United at six years old because of my Uncle Tony. He was driving past a MacDonald's and said if I supported Manchester United he would buy me a Happy Meal. I was obviously more excited to get a Happy Meal at six years old.
I am really looking forward to the World Cup this year to see how far England go. I also love seeing so many people coming together with different backgrounds and cultures - this is why I love football, it's powerful all over the world. Of course, I keep up to date with the FA Disability Cup and pathways on social media, that's where it all started for me and why I owe so much to the disability pathways.
I definitely feel there are a lot more opportunities now than 15 to 20 years ago. There are so many fantastic charities and organisations out there who are trying to provide a platform for disability sport, but sometimes you might not get the answer you are looking for at first. Just remember it doesn't matter how many times you fall, it's how you react from that fall. I believe everyone will go through a challenge that they must overcome, whether it's physical or emotional but everyone has it in them to succeed. I believe there is no such word as can't and you can make your ability stronger than your disability.
For more information about cerebral palsy football opportunities, visit CP Sport National CP Football League.
Find out more about the FA Disability Cup Finals weekend at St George's Park on 16-17 June 2018.