20 sites to receive funding for accessible pool facilities
Swim England has revealed the 20 sites across the UK, which are receiving funding to create inclusive swimming environments for people with long-term health conditions, impairments and rehabilitation needs. The London Marathon Charitable Trust (The Trust) provided a £750,000 grant to allow Swim England and partners - Activity Alliance, Community Leisure UK and GLL – to enhance the swimming amenities at these community pools.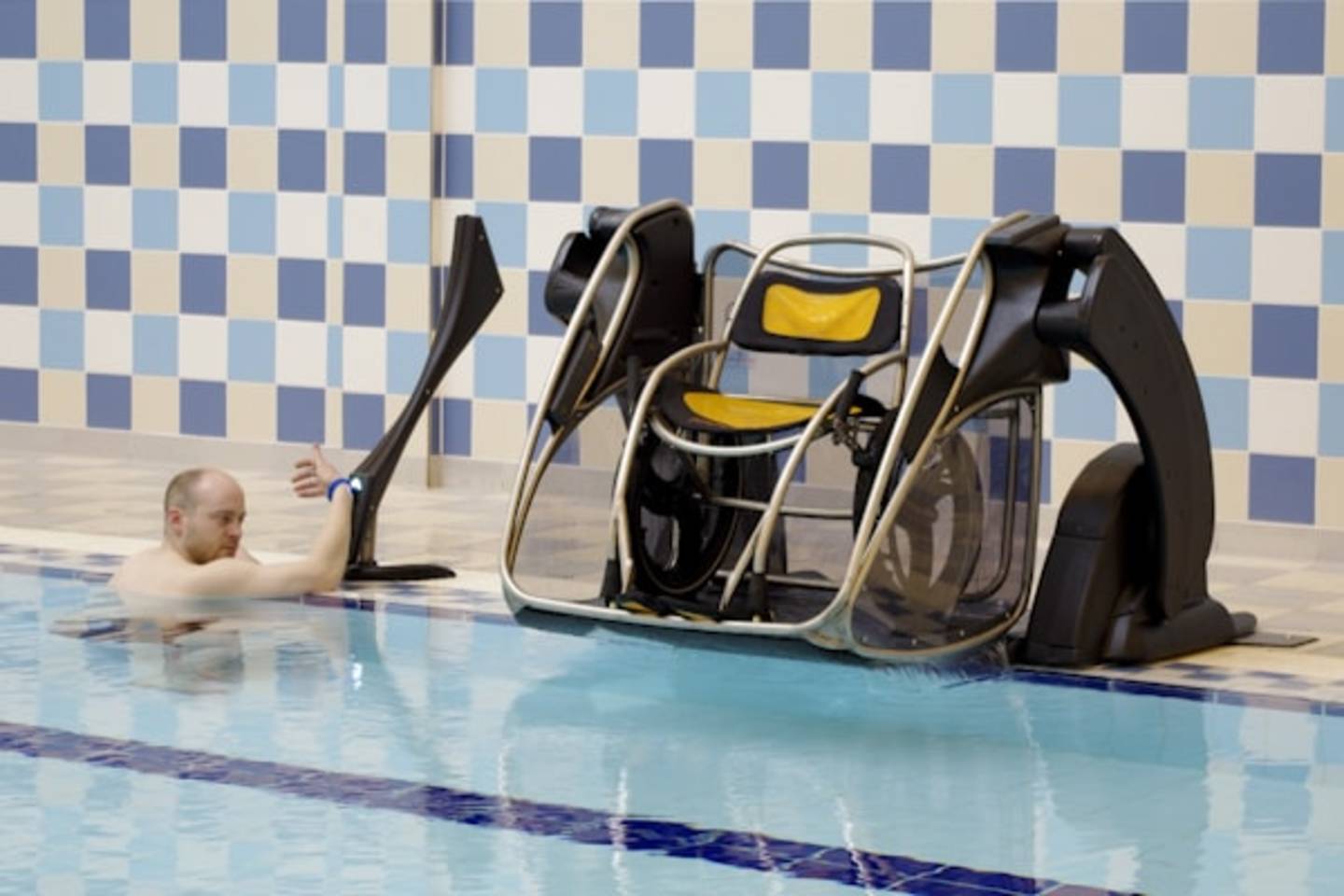 All organisations receiving funding for their pools are community leisure trusts who, as registered charities or societies, reinvest all profits into those community facilities and services.
The funding is being used for training, to provide accessible pool sessions, to implement facility changes and to install a PoolPod at each site.
A PoolPod is a sliding, submersible platform designed to provide those with mobility limitations with a dignified access to swimming pools. PoolPods were created following a design competition organised by The Trust as part of the legacy of the London 2012 Olympic Games.
Sites selected to receive funding from The London Marathon Charitable Trust and Swim England
Life Leisure's Barrow Park (Barrow-in-Furness)
Bath Sports and Leisure Centre, managed by GLL (Bath)
Mytime Active's The Spa at Beckenham (Beckenham) and Biggin Hill Swimming Pool (Biggin Hill)
Grove Wellbeing Centre, managed by GLL (Belfast)
Western Leisure Centre, managed by GLL (Cardiff)
GLL's Rainbow Leisure Centre (Epsom)
Fusion Lifestyle's Glass Mill Leisure Centre (Lewisham)
East Ham Leisure Centre, managed by Active Newham, and Newham Leisure Centre (London)
Finchley Lido Leisure Centre, managed by GLL (London)
Kentish Town Sports Centre, managed by GLL (London)
Thornton Heath Leisure Centre, managed by GLL (London)
Clissold Leisure Centre, managed by GLL (London)
Your Leisure's Ramsgate Leisure Centre (Ramsgate)
LED's Sidmouth Swimming Pool (Sidmouth)
Active Nation's Bitterne Leisure Centre (Southampton)
Workington Leisure Centre, managed by GLL (Workington)
GLL's Energise Leisure Centre (York)
Glasgow (TBA)
Swim England CEO, Jane Nickerson, said:
"We are pleased to be seeing the benefits of this grant from The London Marathon Charitable Trust. It is very important to reduce the barriers to aquatic activity for people with long-term health conditions or disabilities, and this funding is helping to make being in the water more accessible for all. We hope to see these provisions spread to as many centres as possible across the country."
The implementation of the PoolPods are already underway at a number of centres, with the remainder to be completed by Spring 2020.
The 20 selected pools have been spread throughout England, Scotland, Northern Ireland and Wales.
Sir Rodney Walker, Chair of The London Marathon Charitable Trust, said:
"The Trust funds work which challenges inequality of access to physical activity. We want to help create a society in which everyone is physically active, contributing to their health and wellbeing.
"We know that people who benefit most from aquatic activity – including disabled people, people with long-term health conditions, older people, people with mobility issues and pregnant women – often face the biggest barriers to accessing a swimming pool. This exciting initiative is making swimming pools across the UK more accessible and ensuring a more inclusive customer experience for all."
The substantial grant from The Trust has boosted Swim England's Water Wellbeing model, which aims to help leisure centres remove barriers to accessing the water.
Water Wellbeing's 'whole facility' approach encourages centres to understand and improve the customer experience, through a wide range of resources available on the Swim England website.
Barry Horne, Chief Executive for Activity Alliance, said:
"One in five people in our population are disabled or live with a long-term health condition. Yet the stark reality is that disabled people are twice as likely to be inactive. For many, as with non-disabled people, being active begins with leisure centre-based activities, including swimming and other aquatic activities.
"So, we welcome initiatives like this and are proud to collaborate to improve community access and increase participation. It is fantastic to share our in-depth knowledge and experience of helping organisations to support disabled people."
Cate Atwater, Community Leisure UK CEO, said:
"We're delighted to be a partner on this programme, and for our members to be the delivery partners with The London Marathon Charitable Trust and Swim England.
"It is important that this grant funding is being invested in swimming pools managed by charitable organisations, who exist to support everyone in their local community."
Colin Coughtrey, National Community Participation Manager, GLL, said:
"As a social enterprise, we believe in the importance of providing accessible leisure facilities for all, with the aim of improving people's health, fitness and wellbeing through physical activity.
"We are delighted to be partnered with organisations that share these values and we are excited to see the positive impact the new PoolPods will have for pool users across the country."