New Studio You PE platform provides inclusive lessons for teen girls
Funded by Sport England, Studio You is a free online video platform, designed to engage less active girls aged 13-16 in PE lessons. Powered by the award winning This Girl Can campaign, Studio You is designed to be fun, inclusive, and empowering. It is packed full of content designed to get students of all activity levels inspired, excited, and energised by their physical education.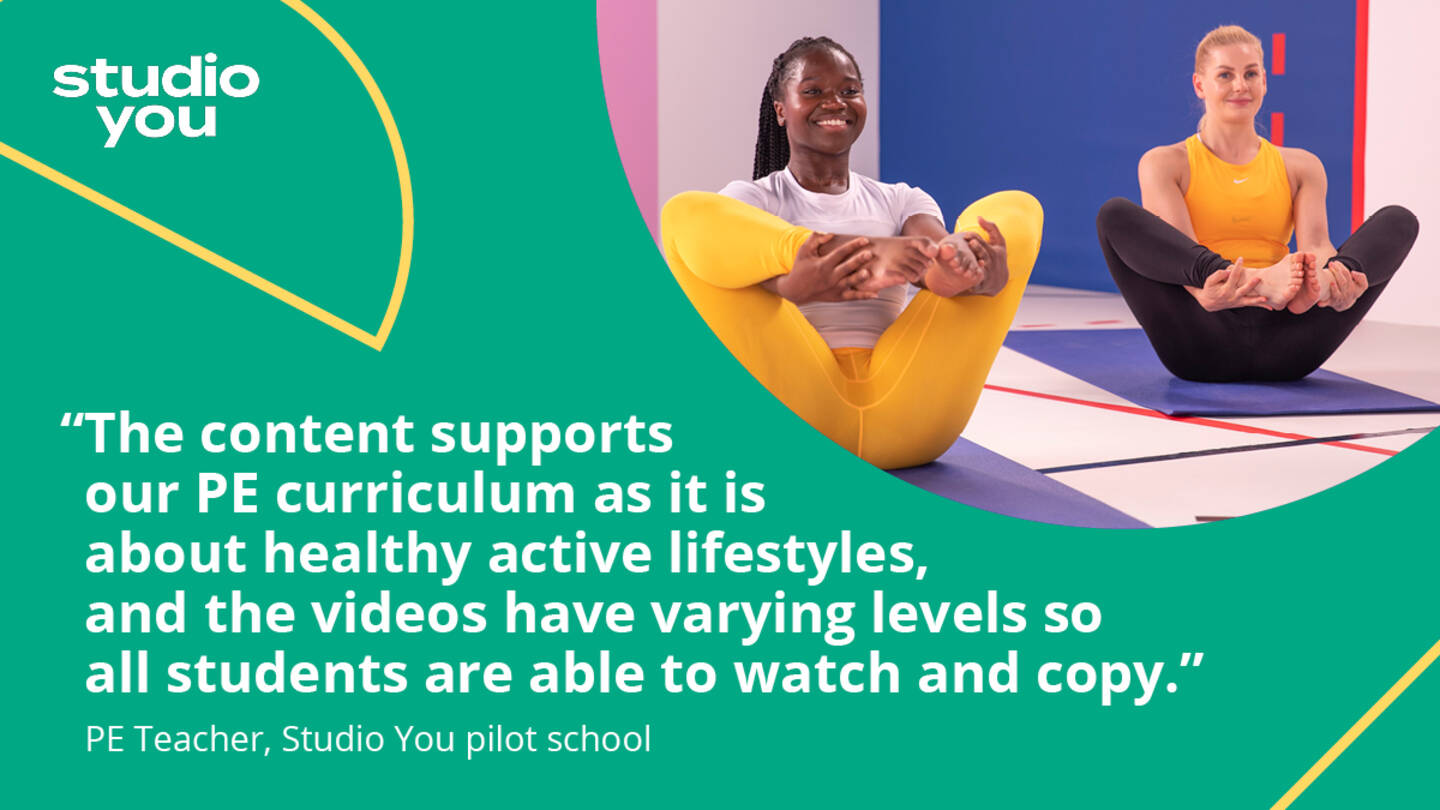 Created and piloted with PE teachers and students across the country, Studio You features curriculum-linked videos led by on screen experts covering yoga, dance, combat and more. It aims to boost students' development by improving their fitness levels, strength, flexibility, and overall confidence. The platform is supported by governing bodies and associations including Activity Alliance, the Association for Physical Education (afPE), and EMD UK.
On the platform, a dedicated teacher hub provides teachers with the support and resources they need to give all students a positive PE experience. The hub is packed with handy insights and resources including schemes of work, discipline cards, and tips on getting every student moving.
Creators of Studio You, Hopscotch Consulting, worked with Activity Alliance to ensure the platform is inclusive and accessible for all students. As the leading organisation on disabled people's inclusion in sport and physical activity, we supported them to embed inclusive practice into their content and resources. In each video lesson instructors use the STEP inclusion tool to demonstrate how to adapt activities or use different moves to meet the varied needs of students. We also supported the development of discipline cards for each activity that help teachers deliver inclusive PE lessons for disabled and non-disabled girls. These can be found on the Studio You Teacher Hub.
Kat Southwell, Head of Programmes at Activity Alliance said:
"Every young person's experiences of PE at school has a significant impact on how active they go on to be in adulthood. High quality, inclusive PE is essential to inspire and encourage young disabled people to lead a full and active lifestyle. That's why we're proud to support the development of Studio You. Every lesson and every resource on the platform encourages teachers to provide inclusive and accessible activities for all their students.
"Studio You is a big step in the right direction to improving PE and school sport experiences for disabled girls. We hope this leads to more fully inclusive programmes and initiatives for all disabled children and young people in the future."
Schools and PE teachers can register for free and explore all that Studio You has to offer from today. Sign up at www.Studio-You.co.uk.
STEP inclusion tool
STEP stands for Space, Task, Equipment, and People. Is it a simple tool that can be used to change an activity to make it more inclusive. STEP is a key feature of Activity Alliance's successful training programmes for teachers and community groups.
Find out more about our inclusive activity training opportunities here