World Deaf Golf Federation President backs Together We Will campaign
Simeon Hart from Liverpool has been selected as an ambassador for nationwide campaign, Together We Will.
The three month campaign – which is active until September – is encouraging and motivating deaf and disabled people, along with their friends and families, to become more active and promote positive physical and mental wellbeing.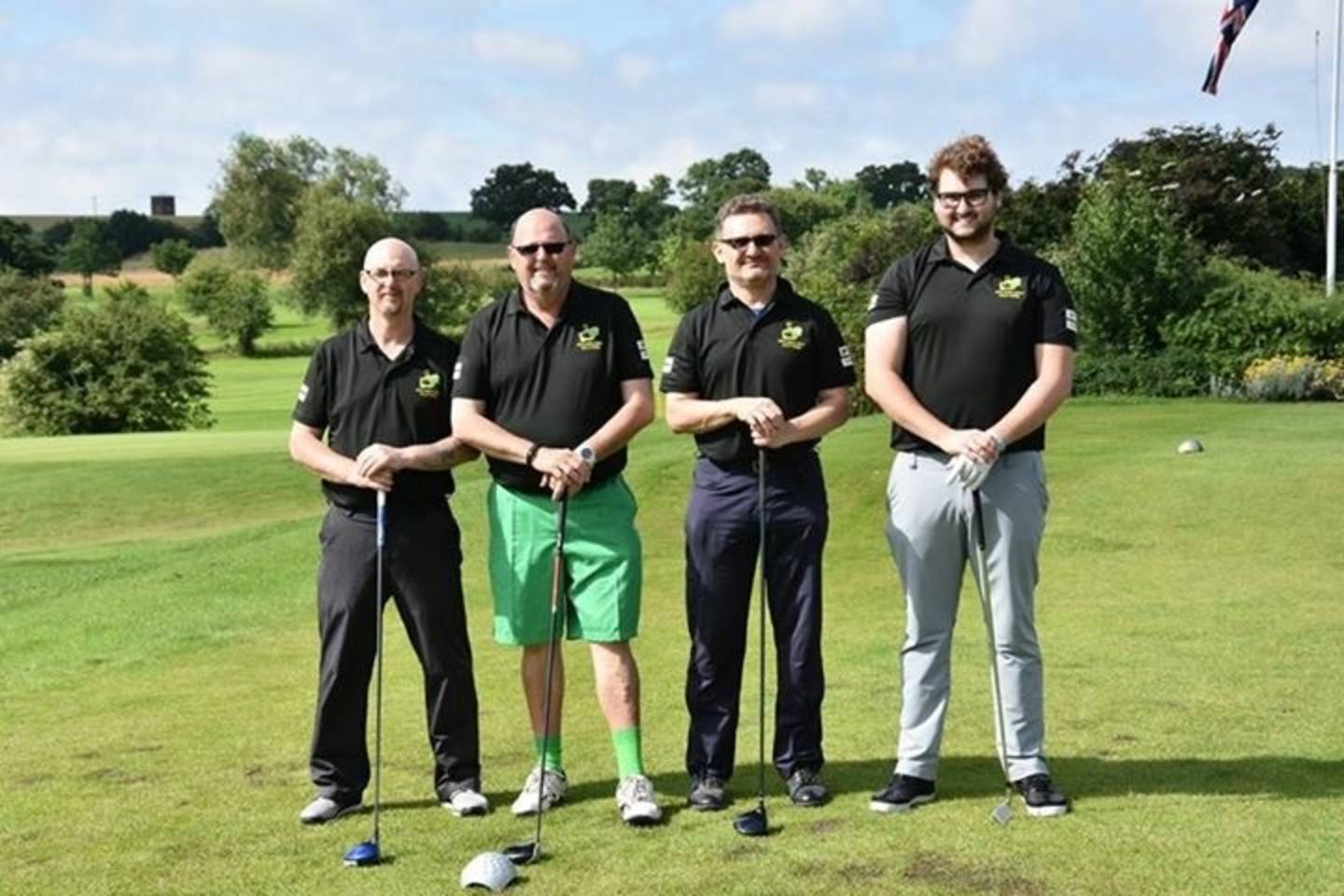 Keeping active and healthy has always been a priority for Simeon, pictured above (third from left) with his team mates out on the golf course.
Growing up, he attended Burwood Park School, a school for the deaf in Surrey. Attending the school meant that Simeon could develop a passion for sports amongst likeminded peers. This gave him confidence to try a range of activities without experiencing various barriers to communication. Barriers which can often knock confidence and self-esteem of deaf children taking part in mainstream schools.
In addition to good school support, Simeon and his family were involved with the British Deaf Sports Council (before UK Deaf Sport was established in 2003), who were able to offer support, advice and information about local activities and sporting events.
UK Deaf Sport is the National Disability Sports Organisation supporting deaf and hard of hearing people to participate and reach their full potential in sport. They support organisations and groups at all levels to develop participation opportunities for deaf people to take part in regular sport and exercise.
Simeon's parents, who were also deaf, were keen to ensure that he didn't experience barriers to being active growing up and encouraged him to maintain a healthy lifestyle. His late father was especially passionate about keeping active, allowing him to try his hand at any sport he liked – in the end he naturally gravitated towards football.
Speaking about his younger years, Simeon said:
"My father was a great support growing up. He took me to different competitions, like badminton, football, athletics and tennis – he was my hero and role model. When he faced barriers in sport and employment he never let it stop him from achieving his goals – I learnt a lot from him."
After leaving school, Simeon set his sights on pursuing a career as a professional footballer. He went for trials at Tottenham Hotspur and Woodford Town FC but faced challenges at both clubs due to his impairment.
However, like his father, he didn't give up. Simeon called for change and has since dedicated his life to deaf rights, promoting accessible participation in sport and doing all he can to help the deaf community. After the initial setbacks, Simeon was successful at trials for Kiveton Park FC, where he joined the club, playing in the reserves team part-time.
With first-hand experience, Simeon fully understands the importance of promoting accessible sport and exercise opportunities for deaf and disabled people. So, he began working as a deaf instructor in schools across the country. Speaking of his time as a deaf instructor, Simeon, said:
"I saw PE teachers excluding deaf students all too often from physical activity, I had to regularly challenge teachers to include them, which I find staggering. It is so important that schools encourage deaf children to be involved in sports alongside hearing children. As equals."
Firmly living by his inclusive mantra, Simeon has since turned his hand to golf. Now a member of England Deaf Golf and with a handicap of 20, Simeon tries to play a couple of times a week. He has competed in various competitions and was recently elected as the President of the World Deaf Golf Federation. However, as with football, his journey hasn't been without its challenges. Speaking of his golfing passion, Simeon said:
"Although golf is an incredibly accessible sport for people with hearing disabilities, I have come across many communication barriers in my pursuit to play. At first I found it hard to communicate with hearing golfers during the round and especially at the 19th hole.
"But that didn't stop me, nothing stops me. The enjoyment – socially, mentally and physically – is so great that I wouldn't ever stop being active.
"Most crucially perhaps, activity allows us to learn from one another – both deaf and hearing."
Simeon has instilled his passion for inclusive and accessible activity upon his family. Now a parent to two hearing boys, Zachary and Reuben, who play football with Woolton FC. Where they train and play matches a few times a week. Simeon said:
"They are hearing but I feel it's incredibly important for them to learn how to be good at teamwork with people of all walks of life."
Simeon's dedication to the deaf community is unrivalled, he now teaches sign language classes and is a visiting lecturer at the University of Central Lancashire, Liverpool Hope University and University of Chester. He also runs sign language interpreter training and works as a bank support worker for deaf people with mental health issues or illnesses.
Talking about the importance of being active for deaf and disabled people, Simeon said:
"If you're lacking the confidence to get active, bring your friends or family along or join a club where you know someone, so that you feel more comfortable.
"I tend to find out about activities and sports through friends, but I would advise people to do a web search for National Disability Sports Organisations, like UK Deaf Sport, to see which accessible activities and clubs there are in your area – these organisations are brilliant at offering advice.
"Having a disability isn't going to stop you from doing something you want to do. Nothing is impossible, just do it!"
The Together We Will campaign has now come to an end, but you can continue to find lots of information about the National Disability Sports Organisations, support available and opportunities to be active here.
Together We Will was brought to you by the National Disability Sports Organisations in partnership with EFDS and was supported by Sport England.