Powerchair footballer Amir becomes Together We Will ambassador
Coach and captain of Villa Rockets Powerchair Football Club, Amir Ali, 31, becomes ambassador for nationwide campaign.
Together We Will is encouraging and motivating disabled people, along with their friends and families to become more active and promote positive physical and mental well-being.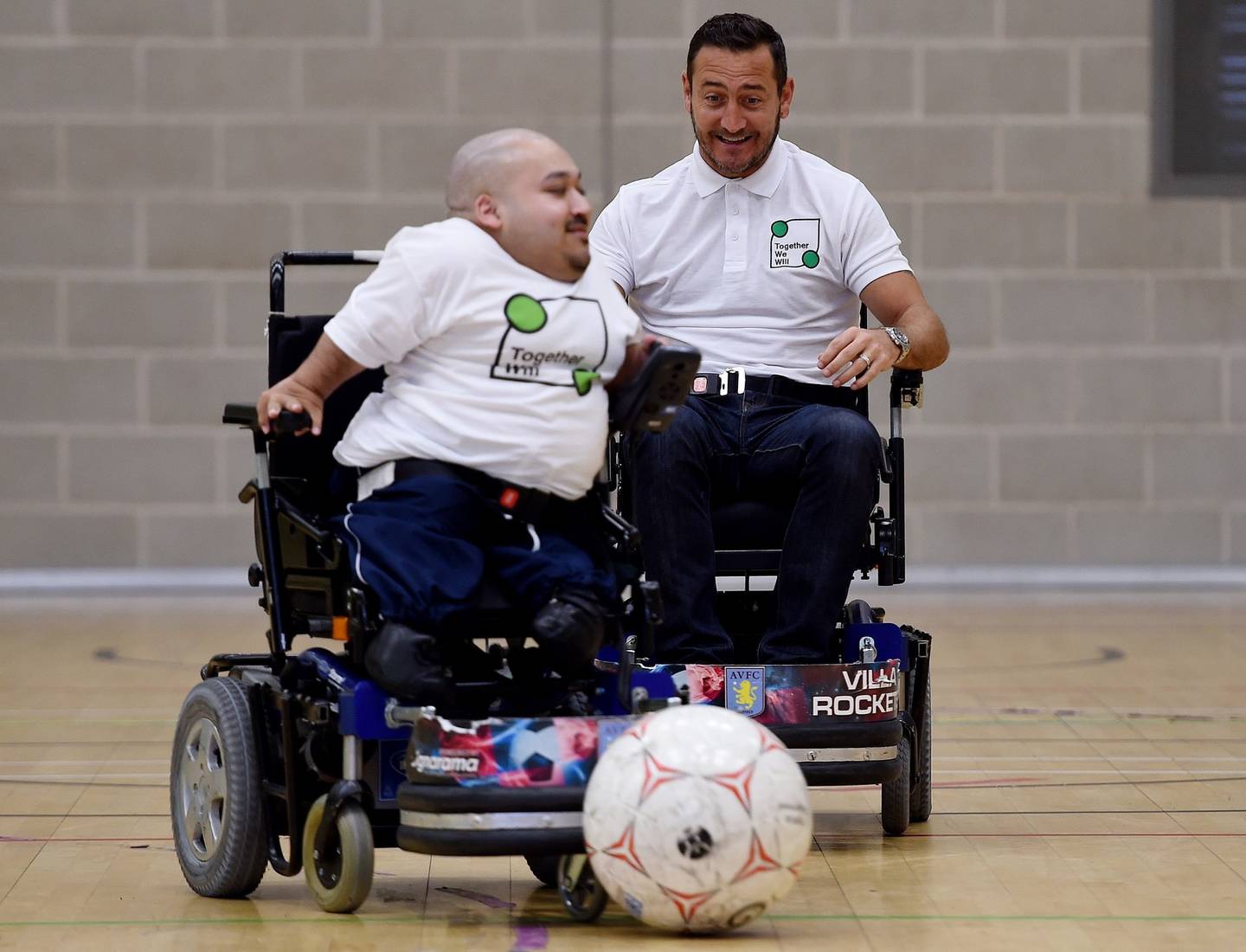 Amir (pictured above playing football with actor Will Mellor), who was born with dystrophic dwarfism and scoliosis, has used a powerchair all of his life. He is a great advocate for those who lead an active lifestyle.
Growing up, he attended Wilson Stuart School in Birmingham, a specialist school for young disabled people. At school, Amir regularly took part in a range of sports and activities, which really whet his appetite for competition and allowed him to build his confidence from a young age.
When speaking about his school years, Amir said:
"I benefitted immensely from attending a specialist school. I was able to try my hand at a bunch of different sports and received great support from my P.E. teachers. They really believed in me, which gave me the confidence to try anything – I learnt so much from them."
When he left school in 2001, Amir was offered a position by his teachers to coach 'the Rockets' – an after school club where young people with a range of impairments were able to take part in games and activities.
After running the club for a few years, he demonstrated a true passion for helping young people to get active. A friend asked him if he would like to coach a new powerchair football team, also named 'the Rockets'.
Interested, he agreed and began helping the team. After a short while his co-coaches asked him if he would like to play – and he hasn't looked back since. Speaking about joining the team, Amir said:
"When they asked me, I said yes straight away. I was young and it meant a lot to me. One of my coaches, Martin Mills, has always backed me which has given me immense confidence to play, coach and lead the team.
"It's really good exercise, you're driving around for 40 minutes a game and your body is very tense – not to mention it's great fun!"
With support from Aston Villa FC, the Rockets were able to join the Wheelchair Football Association National League, where the team were re-named the Villa Rockets. As well as competing in the East Midlands Regional League, the Villa Rockets secured themselves a spot in the Wheelchair Football Association National League Premiership Division in 2010, with Amir as their captain.
Now 31, Amir has truly dedicated his life to sport. He has been coaching and playing with the Villa Rockets for 10 years and has helped to run the after school club for the last 15 years. Amir is motivated to help others and endlessly encourages disabled people to get active.
Amir said:
"Having received overwhelming support from my family, teachers and coaches while I was growing up. I always try to give my students and teammates the same level of support."
Talking about the importance of being active, especially for people with multiple impairments, Amir said:
"The greatest benefit is confidence! You get to meet people who may have similar conditions and interests to yourself which helps you learn and grow.
"I tend to find out about activities and sports through friends and teammates, but I would advise people to do a web search for National Disability Sports Organisations, like WheelPower or Dwarf Sports Association UK, to see which accessible activities and clubs there are in your area – these organisations are brilliant at offering advice.
"Once you take the first step to joining a club and meeting like-minded people you'll find out about so many more fun activities – be bold, be brave and go for it!"
The Together We Will campaign has now come to an end, but you can continue to find lots of information about the National Disability Sports Organisations, support available and opportunities to be active here.
Together We Will was brought to you by the National Disability Sports Organisations in partnership with EFDS and was supported by Sport England.