Together We Will...have fun
Taking part in sport and exercise isn't something you have to do alone. With friends and family it can be much more fun. And when it's fun, you are more likely to carry on being active too. As well as helping us be happy and healthy, being active is a great social activity.

The campaign partners for Together We Will have released five top tips to support and encourage disabled people, their friends and family to have more fun and get active.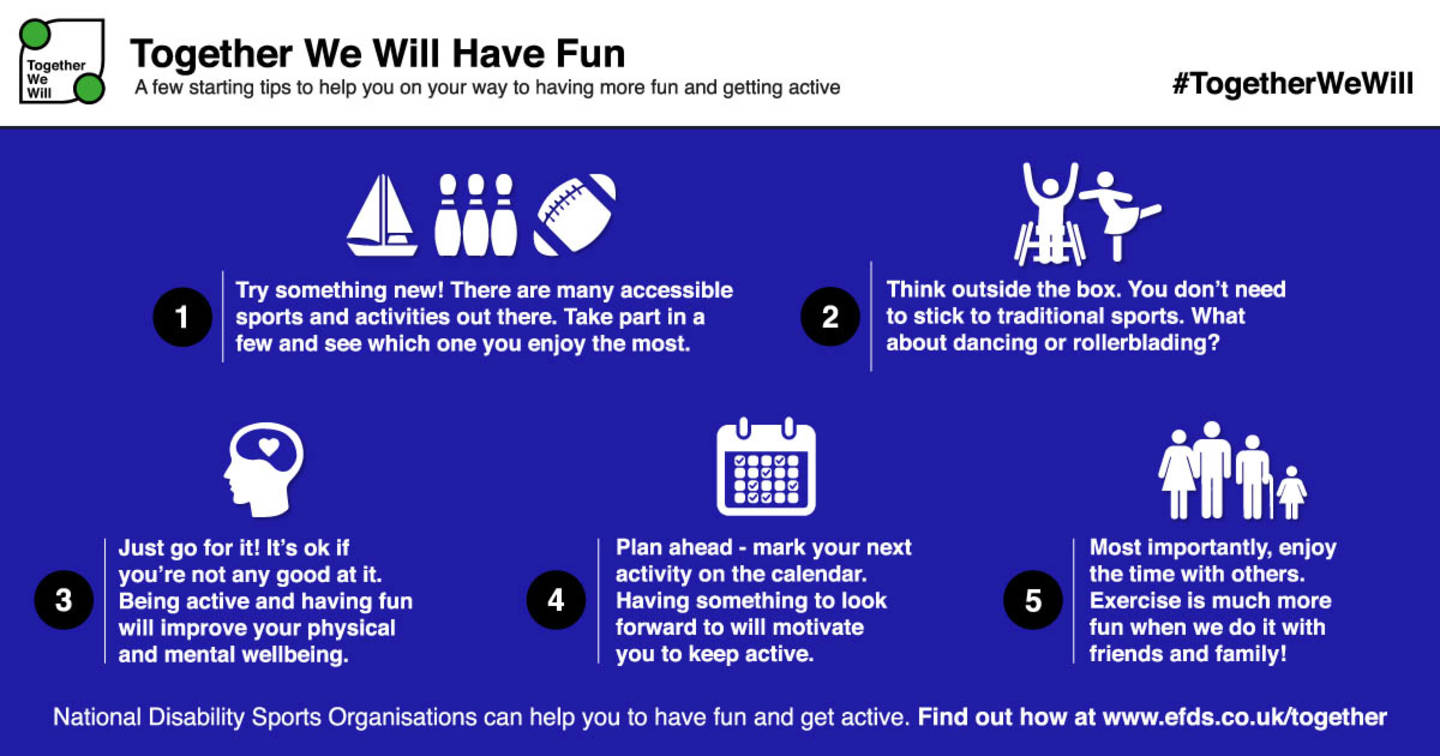 This summer, Together We Will is encouraging disabled people to become healthier, stronger and have fun being active with friends and family.
As part of the campaign, the National Disability Sports Organisations (NDSOs) and English Federation of Disability Sport (EFDS) have published five tips to support disabled people to have more fun and get active.
Together We Will...have fun top tips are:
Try something new! There are many accessible sports and activities out there. Take part in a few and see which one you enjoy the most.
Think outside the box. You don't need to stick to traditional sports. What about dancing or rollerblading?
Just go for it! It's ok if you're not any good at it. Being active and having fun will improve your physical and mental wellbeing.
Plan ahead – mark your next activity in the calendar. Having something to look forward to will motivate you to keep active.
Most importantly, enjoy the time with others. Exercise is much more fun when we do it with friends and family!
The Together We Will campaign is brought to you by the NDSOs and EFDS, with backing from Sport England. It looks to address the low number of disabled people who regularly take part in sport or exercise as highlighted in the most recent Sport England Active People Survey.
According to Sport England's Active People Survey (2016) disabled people are currently half as likely to be active as non-disabled people. As one in five people in England have an impairment or long-term health condition, disabled people make up a large proportion of everyone's community.
Research highlights that often disabled people don't know where to go to find the right information about becoming more active. This can take away all the fun sport and exercise brings and you may choose not to take part. However, other insights shows disabled people are keen to involve family and friends when being active. With having fun being highlighted as a key motivator for disabled people.
Together We Will runs from July to September, as the nation embraces a summer of sport.
The campaign shares first-hand experiences from people with different impairments or health conditions, about why being active is important to them. So others can learn more from the information and make choices about the activities they want to try. It also brings together useful information and support from the NDSOs on how and where you can begin getting active.
In addition to Together We Will have fun top tips, we've also created a handy frequently asked questions (FAQs) guide to being active. So if you're not sure how being active can help you, or don't know where to start, click here to read Together We Will be more active FAQs.
The Together We Will campaign has now come to an end, but you can continue to find lots of information about the National Disability Sports Organisations, support available and opportunities to be active here.
Together We Will was brought to you by the National Disability Sports Organisations in partnership with EFDS and was supported by Sport England.