Paralympians invite everyday superheroes to join their teams
On Tuesday 15 November, a host of Paralympic gold medallists helped launch the Superhero Series, the UK's only mass-participation sports series for everyday superheroes. Sophia Warner, Marc Woods, and Team Captains Sophie Christiansen, JJ Chalmers, Sophie Morgan, Anne Dickins and Megan Giglia attended the launch event at Beany Green in Paddington and called on the public to sign up and get involved in this unique event.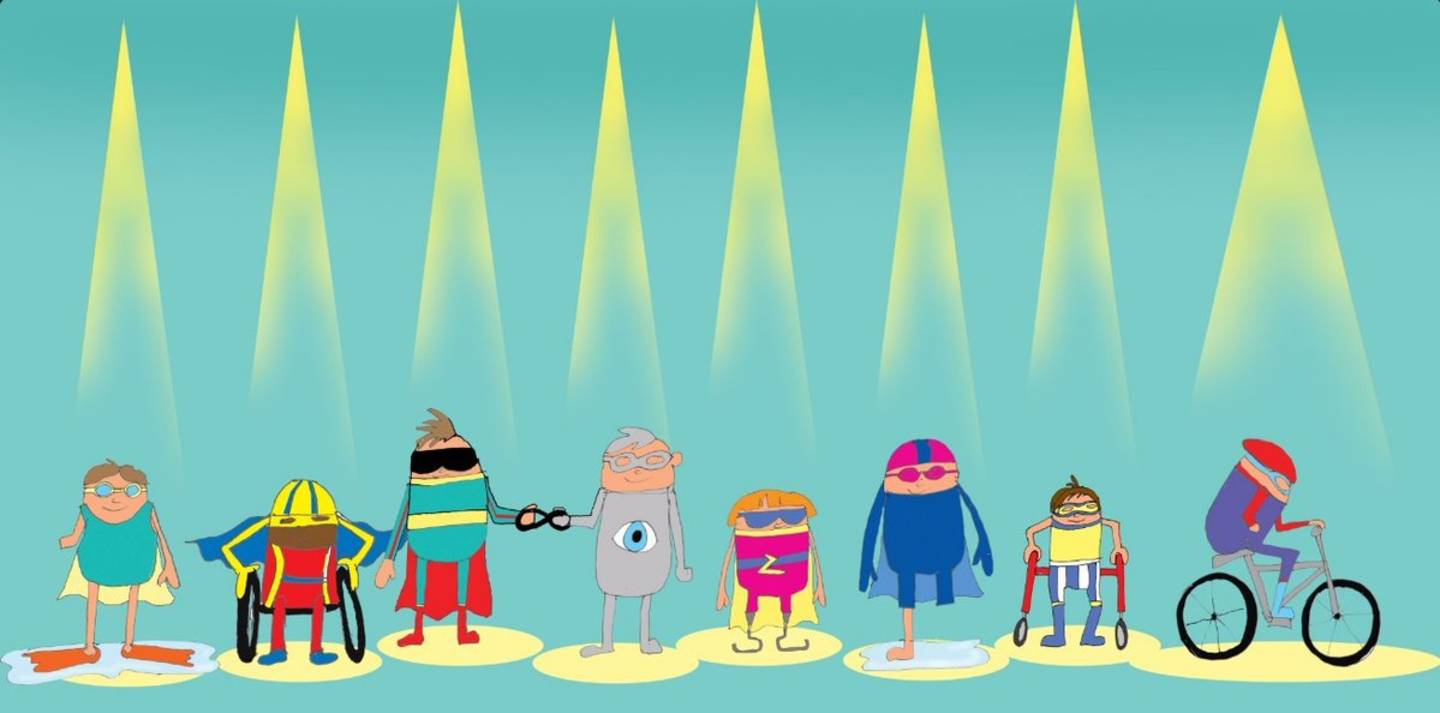 The Superhero Series is the only mass-participation sports series dedicated to the everyday superhero – the UK's 12 million disabled people [1] – and their friends and families
Launched by Paralympian Sophia Warner and supported by celebrity Team Captains: Sophie Christiansen, Kadeena Cox, Dave Henson, JJ Chalmers, Sophie Morgan, Anne Dickins and Megan Giglia
Team Captains are calling on the public to join their team for the Celebrity Superhero Tri, one of several sporting challenges designed to inspire people to have a go
Building on the momentum after the Rio 2016 Paralympic Games and ParalympicsGB's 64 gold medals, the Superhero Series aims to increase the number of disabled people taking part at all levels. The series will remove restrictive rules and regulations often imposed in mass-participation events.
Team Captains will be taking on one stage of the Celebrity Superhero Tri (150m swim, 3k bike, 1k push/run) and are calling out to the nation (disabled and non-disabled people) to complete their relay team.
To enter the competition, head to www.superheroseries.co.uk and say in your own words why you should be picked for a Celebrity Superhero's team and which stage of the triathlon you would like to do.
Big, bold and gusty, Superhero Series gives total beginners through to elite athletes the chance to find their inner superpower and achieve an inspirational goal. The debut event is on 19 August 2017 at Dorney Lake, Windsor.
Alongside the Celebrity Superhero Tri, the debut event will hold three triathlon challenges over three distances. Participants don't have to take on all three stages, opening up four popular sports.
Three ways to take part:
Team up – do one stage each. Unite with family and friends (disabled and non-disabled) to share the work and the fun.
Grab a Sidekick – a world 1st! This a unique chance for a Sidekick (a Superhero helper) to tow a friend or loved one in the water and push or pull them around the bike and push/run stages.
Fly solo – for those who want to take on all three triathlon stages. Everyone entering a solo event must consider themselves to have an impairment or health condition. Details of an elite race will be announced January 2017.
The three distances:
Sprint Superhero Tri: 150m swim, 3k bike, 1k push/run
Half Superhero Tri: 400m swim, 10k bike, 2.5k push/run
Full Superhero Tri: 750m swim, 20k bike, 5k push/run
There will be 20 Team Captains in all, with the first to be announced being:
Sophie Christiansen, OBE, eight-time Paralympic Gold Medallist, Paraequestrian (also a Superhero Series Ambassador)
JJ Chalmers, former Royal Marine and Channel 4 Rio 2016 Paralympics Presenter
Sophie Morgan, TV Presenter, artist and model, and part of Channel 4 Rio 2016 Paralympics presenting team
Anne Dickins, Paralympic Gold Medallist, Paracanoeing
Megan Giglia, won Britain's first Gold Medal in Rio 2016, in C1-3 3,000m cycling race
Kadeena Cox, Paralympic Gold Medallist in Rio 2016 in C4-5 cycling time trial and T38 400m sprint
David Henson, MBE, Rio 2016 bronze medallist in 200m sprint and inaugural Invictus Games team captain
The Superhero Series prioritises the sporting interests of the everyday superhero, so they are also proud to announce four ambassadors:
Sofia Crockett, 12-year-old Sofia lost her leg through Meningococcal disease at the age of two and regularly competes in sport, often with her family
Team Williams – Mum Jenni (swimming), Dad Steve (cycling) and 'Tiny Tornado' Eve, 4 years old (walking hand in hand with her Sidekick Mum for the final leg). Eve has a rare chromosome condition that causes global development delay and epilepsy
Stephan and Chloe Couture – father and daughter duo who have tackled many sporting events together and will be participating in the Sprint, Half and Full Sidekick triathlons at the Superhero Series
Sophie Christiansen – also a Team Captain. Demonstrating elite sportspeople also want the opportunity to come together and compete for fun.
Sophia Warner, Paralympian and founder of the Superhero Series, said:
"I have been involved in disability sport for 25 years, and am thrilled to be launching an event that unites people of all disabilities, and gives the one million people with disabilities who regularly do sport the chance to come together, compete and challenge themselves."
Team Captain Sophie Christiansen said:
"I cannot wait for people to share their superpower and get involved in the Superhero Series. I am really looking forward to reading all the stories and being part of a team of everyday superheroes."
Superhero Series ambassador Eve Williams is taking part in the Sidekick Tri with her Superhero family.
Mum Jenni, said:
"The Superhero Tri shows what is possible when given the opportunity and allows us to work towards and enjoy a great sporting challenge as a family. Eve is such an adventurous and determined little tornado and what a way to encourage and channel these amazing qualities."
[1] Sourced from the Family Resources Survey 2014/15