Blog: "Don't be afraid to try sport because it could change your life"
The English Federation of Disability Sport (EFDS) website features a blog post every Friday through the year. In 2017 we'll be sharing the experiences of disabled people on their journey to being more active. This week, Tia Ruel from Wokingham, writes for us. Tia, 19, plays boccia for the England squad and is passionate about being active as well as getting others involved.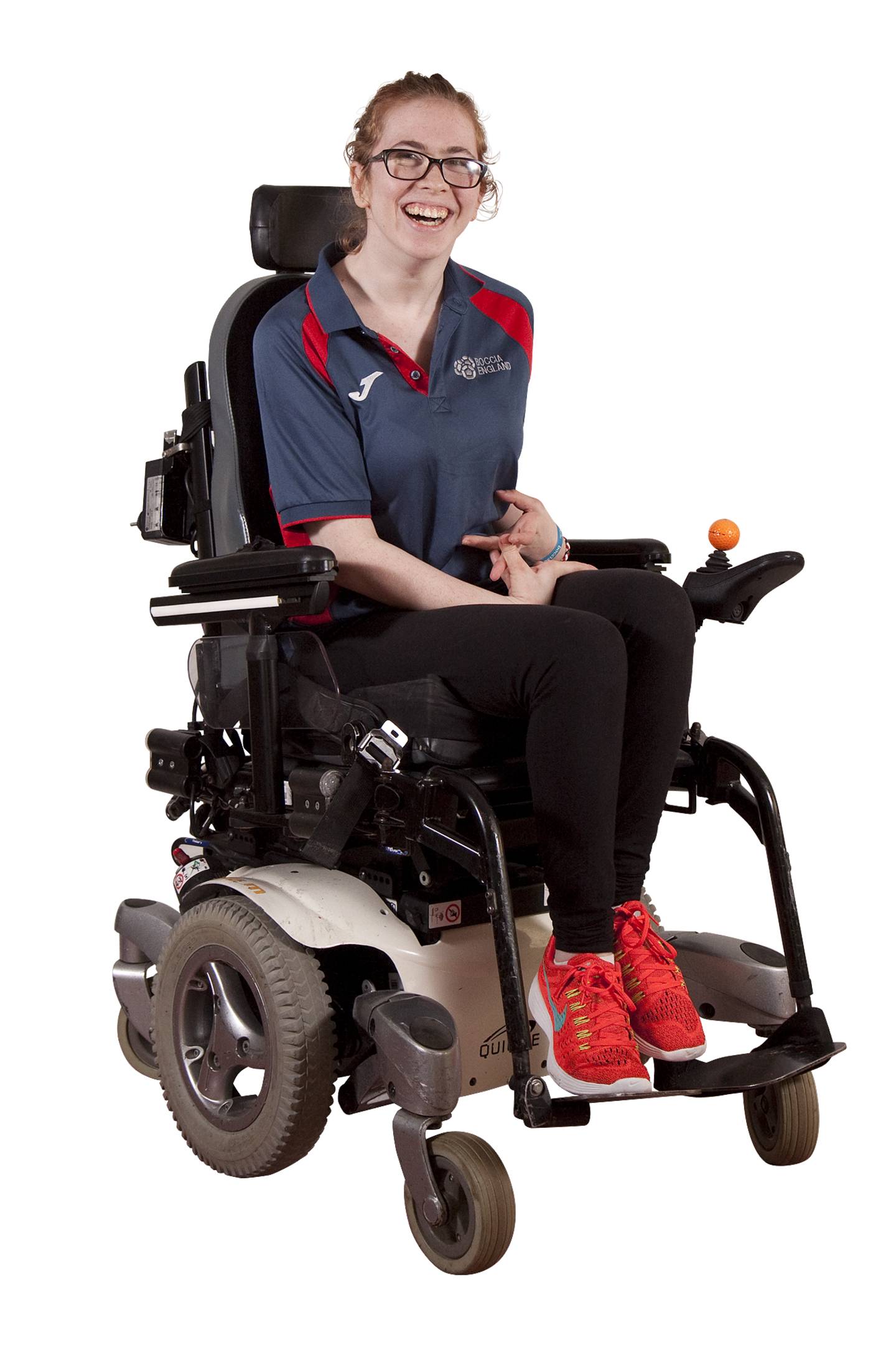 I am a BC1 Boccia England Squad member and have been in the squad since June 2016. Prior to that, I was on the England talent pathway and in the England Lions squad, the England 'B' team. As I have Cerebral Palsy, which affects all of my four limbs and my speech. To play boccia, I use a powerchair and need full time care and sports assistants.
I train four times a week on my own and then we have monthly Academy and training camps as well. Thanks to the Talented Athlete Scholarship Scheme (TASS), which is a Sport England funded partnership between talented athletes, education institutions and national governing bodies of sport, I also attend regular strength and conditioning and physio sessions at Surrey Sports Park. This Scheme helps athletes in education, who are 16 and above to get the very best from their sporting and academic careers without having to choose between the two.
I train with my personal assistants during my private sessions (as part of my membership at either SportsAble or Bisham Abbey). Then once a week, I train with the regional and national level players at SportsAble. When I am at the Academy, I train with my England teammates plus players on the talent pathway. When I am at England camp, I train with my teammates. We all have different classifications from BC1-BC4.
I have first rounds of the Boccia England Cup ('the nationals' basically) coming up throughout the spring. Last year I came fourth and this year I want to medal. I am also hoping to get selected for internationals in Slovakia, Czech Republic, Russia and maybe some more. At my first official international wearing my England shirt I played in a tournament in Poland and came home with a bronze medal. That was fantastic and I hope to do that and more this year.
I was the only wheelchair user in my mainstream primary and back then, aged eight, I was incredibly interested in sport but I was often unable to fully take part at play time and PE lessons. That element of fun and achievement was always missing and I was desperate to find something to do.
We were introduced to boccia at that age but it was for an inter-school competition that took place once a year! Imagine telling a footballer that he could only play once a year and train for just half an hour a week in the six weeks running up to that competition! That's what happened to me.
So, my Mum got involved and helped us to train more. One of other Mums found SportsAble and we became members. It was a life changer. We started playing boccia regularly then and I also found a love for field athletics (distance club throwing) and we swam on a Sunday night as a family, but just for recreation.
Then I joined Treloar's School aged 11 where I learnt more about boccia and was coached by the best in the country at the time.
When I graduated from Treloar's College in July 2016, my physiotherapist signed me off from treatment and said that as long as I stay active and play boccia regularly I won't need intensive physio until I am much older. That was good news to me!
My family are really supportive. They all come to competitions at home and they always watch out for my results if I am playing away. They help me train as well. Boccia is a really sociable game and in the past I've played 'beach boccia' with my younger cousins when on holiday (using a retired set of balls, of course!!)
When I am playing boccia it's the one thing that I am in control of. It's mine. Boccia is my passion and pretty much the only thing I do! It gives me confidence, independence, it helps me focus and get a routine going and it also helps me to find and make friends. If I didn't have boccia I wouldn't have any of those things. I feel like I have achieved something.
I would say to other disabled people- don't be afraid to try sport because it could change your life. Try one sport and if that doesn't suit you try another. There's something for everyone. Even if you don't see yourself as a typical 'athlete' it doesn't matter. You will surprise yourself as sport brings out things in you that you didn't realise were there.
You can do sport at somewhere like SportsAble just for fun, for laughs, to get out of the house. Just don't let yourself become a telly addict or couch potato!
If you would like to play boccia, visit Boccia England's website.
Image: Ian Legge Photography