Special Olympics GB National Games mural unveiled in Sheffield
A special piece of artwork and outdoor mural to celebrate Special Olympics National Games in Sheffield in August 2017 has been unveiled today (14 February) in Sheffield City Centre.
An exciting collaboration between professional Sheffield digital artist Greg Harris, local art students with intellectual (learning) disabilities and athletes from Special Olympics GB, sees famous Sheffield landmarks combine with images of local icons and Special Olympics Sheffield athletes.
The artwork is 8ft tall and 16ft wide, and will be erected in a prominent position in Sheffield Centre across from the train station until the end of the Games in August 2017. The art is a modern, uplifting and passionate piece that embodies the spirit of sport, humanity, the Special Olympic movement and Sheffield.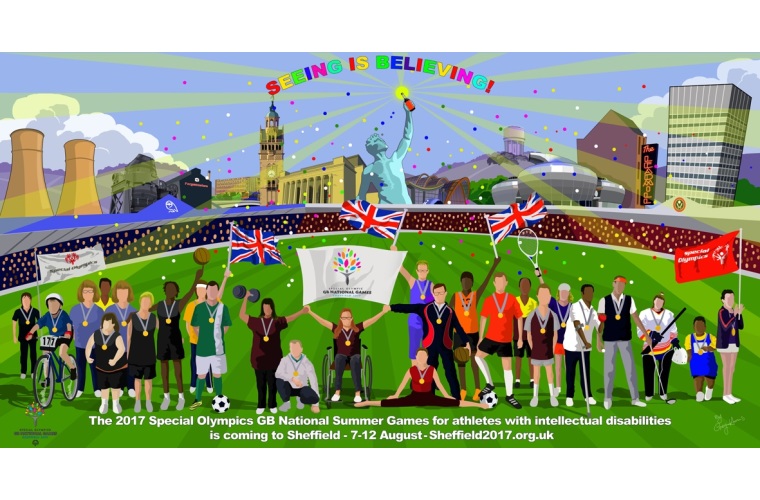 Special Olympics GB thank greatly Loop Print from Harvest Lane in Sheffield for kindly donating their services to print the mural, and also to The University of Hallam for allowing the mural to be erected opposite Sheffield Train Station.
Local digital artist, Greg Harris said:
"I sat down with Special Olympics athletes and art students from Art Works in Sheffield who informed me of their thoughts and ideas and also what characteristics and passions they wanted to see in the piece of outdoor art.
"The Art Works students also produced outstanding pieces of work which demonstrated what the Special Olympics Games means to them and that inspired me and this final piece.
"The quality of the initial art completed and displayed by the local students with learning disability to inspire our piece of work to celebrate the Special Olympics National Games in August 2017 demonstrated real talent, passion, vibrancy and inspiration from people with disability.
"I am very excited about this and I believe this outdoor city centre art mural between people with and without learning disability will be extremely engaging and I am so honoured to be involved.
"I wanted to pay a tribute to Special Olympics' athletes, Sheffield and these iconic landmarks."
Chris Gray, from Loop Print said:
"We are delighted to be associated with Special Olympics GB National Games and support this piece of artwork. It is terrific that such a prestigious event like this is coming to Sheffield and a great advert for the city and all it has to offer."
Liz Carrington, from Art Works said:
"We feel privileged to be a part of such a special project and event. The members of Art Works are full of excitement for our collaboration with the athletes and Greg Harris. After our session with the Special Olympics athletes and Greg the student artists were overflowing with inspiration and ideas. We are all really looking forward to the 2017 Sheffield Games."
Special Olympics National Games 2017 sees 20 sports take place across over a dozen venues in Sheffield and South Yorkshire during August 2017. A spectacular Opening Ceremony on 8 August at Sheffield United's Bramall Lane Stadium followed by four days of sport.
Special Olympics GB National Games, held every four years is the biggest disability sports event to take place in the country in 2017. 2,600 athletes with learning disabilities from across England, Scotland and Wales are set to take part.
To find out more about National Games 2017 and Special Olympics Great Britain, please visit their website.