Blog: "Personal training has strengthened me in ways I didn't imagine"
The English Federation of Disability Sport (EFDS) website features a blog post every Friday through the year. To mark MS (Multiple Sclerosis) Awareness Week 2017 (24-30 April), Jess tells us how she keeps active and how this helps with her MS.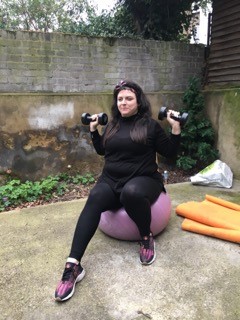 My name is Jess, I'm 30-years-old and I live in Tulse Hill, London. I have multiple sclerosis, and keep active through rollerblading, boxing and personal training. I've got a personal trainer, Dom Thorpe, a special personal trainer for disabled people who gives me advice and keeps me motivated.
It was a friend last July who first suggested I try out some new activities. It's been a great way of being social and making new friends. We usually keep it simple and exercise in the park. The support I get from my friends is incredibly important – it really matters to me that my peers are patient and take the time to understand my disability.
One of the things I enjoy most about being active is the way it leaves me feeling good, and releases endorphins. After exercising, I feel happy – like I can achieve things, and it also means I can eat without any guilt!
I've felt benefits to my health too. Due to my MS, some days I can barely walk but sport has improved that. Personal training has strengthened me in ways I didn't think possible – I've achieved things I never thought I'd be able to manage. I've lost almost six stone as a result of exercise.
My goal for 2017 is to rollerblade without help from another person. I'm also hoping to start horse-riding again.
If anyone is thinking about getting more active, but are not sure because of a disability, my advice is to just do it. It's the best thing I've done, and it's helped my mood massively. Setting goals is also very important and I've gone from not being able to walk for more than a minute to being able to walk 5k without too much trouble.
For useful information about lifestyle, diet and fitness, visit the MS-UK and MS Trust websites.
If you'd like to get active but are not sure how to get started, visit the EFDS webpages for information including a guide, local opportunities and a list of inclusive gyms.