Hamer hammers home victory on final night
On the final night of the British Para-Swimming International Meet the men's 200m Freestyle proved to be one of the most exciting events of the night as Britain's Tom Hamer swam to victory.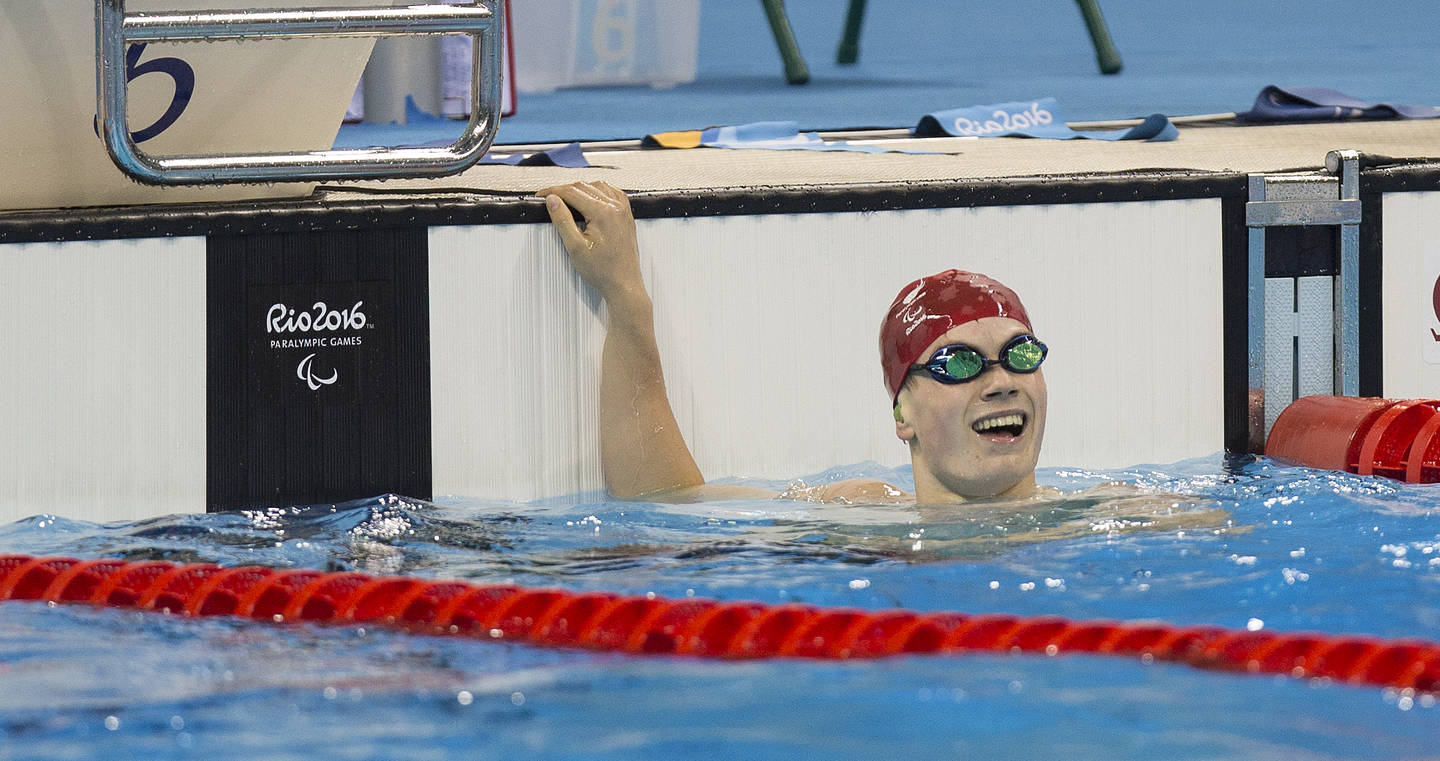 Paralympic silver medallist Hamer (S14) took the race out hard and at the half way point he held a body length lead over the field.
In the last 50m, Wai Lok Tang (S14, Hong Kong) pulled back the lead but the Brit had the win in the bag with a time of 1:58.11 and a score of 954.
"I'm feeling really happy with that," Hamer said. "This morning I cruised the heats to just get into the final. I am happy with the time although I do wish I had gone a little bit faster. But there's room for improvement.
"I've enjoyed this meet altogether. It's been a really good meet for me. The Skins was a great experience for me to do all of those strokes. All of those 50s and all of those strokes have helped my Individual Medley."
Silver was taken by Tang in a time of 1: 59.27 and a points total of 953. Bronze was claimed by Jordan Catchpole (S14) in 2:01.74 and a score of 871.
Bethany Firth secured her first gold medal of the competition after she stormed to victory in the 200m Freestyle.
Paralympic Champion Firth (S14) swam a controlled race and touched with a three second lead.
She touched in 2:04.31 to score 947 and said afterwards: "That was quite a hard race for me. I've been training really hard so I think that was why. I was happy with it. I like racing Jess [Applegate]. She's good to race.
"I'm really happy to have got the gold medal but I prefer to look at the time than the medals."
Jessica-Jane Applegate (S14) won the silver medal with a time of 2:07.97 and a score of 868. The bronze went to Sweden's Pernilla Lindberg with a score of 740 after touching in 2:14.96.
Czech Republic's Arnost Petracek (S4) won gold in the 50m Backstroke in a world record time of 42.22 and a total of 1035. Andrew Mullen won silver in 775 points after finishing in 38.04.
USA's Rebecca Meyers (S13) won the gold in the 400m Freestyle with a swim that saw her show her true class during the swim. She touched in 4:31.17 to claim 877 points. Paralympic Champion Ellie Robinson (S6) secured the silver in a time of 5:47.79 with a total of 806. Bronze went to Maisie Summers-Newton with a total of 740 and a time of 5:47.79.
It was Dmitriy Horlin (S12, Uzbekistan) that took the win in the 400m Freestyle after securing 936 points and touching the wall in a time of 4:11.41. Brit Lewis White (S9) won his second medal of the competition with silver after scoring 830 points in 4:25.86. Jacob Leach (S8) took bronze with a time of 4:40.52 and a score of 813.
Peggy Sonntag (S5, Germany) swam to gold in the 50 Backstroke with a time of 53.94 and a score of 658. Tammy Cunnington (S4, Canada) won silver with a total of 283 and a time of 1:12.62. Yuki Omukai (S3, Japan) took bronze with a score of 124 after finishing in 1:37.03.