Blog: "The confidence boost that you get is priceless"
The English Federation of Disability Sport (EFDS) website features a blog post every Friday through the year. In 2017, we'll be sharing the experiences of disabled people, and those who support disabled people, on their journey to being more active. This week, Debbie Squance, who appeared in Sport England's This Girl Can video earlier this year, tells us about the different ways she keeps fit and what keeps her motivated.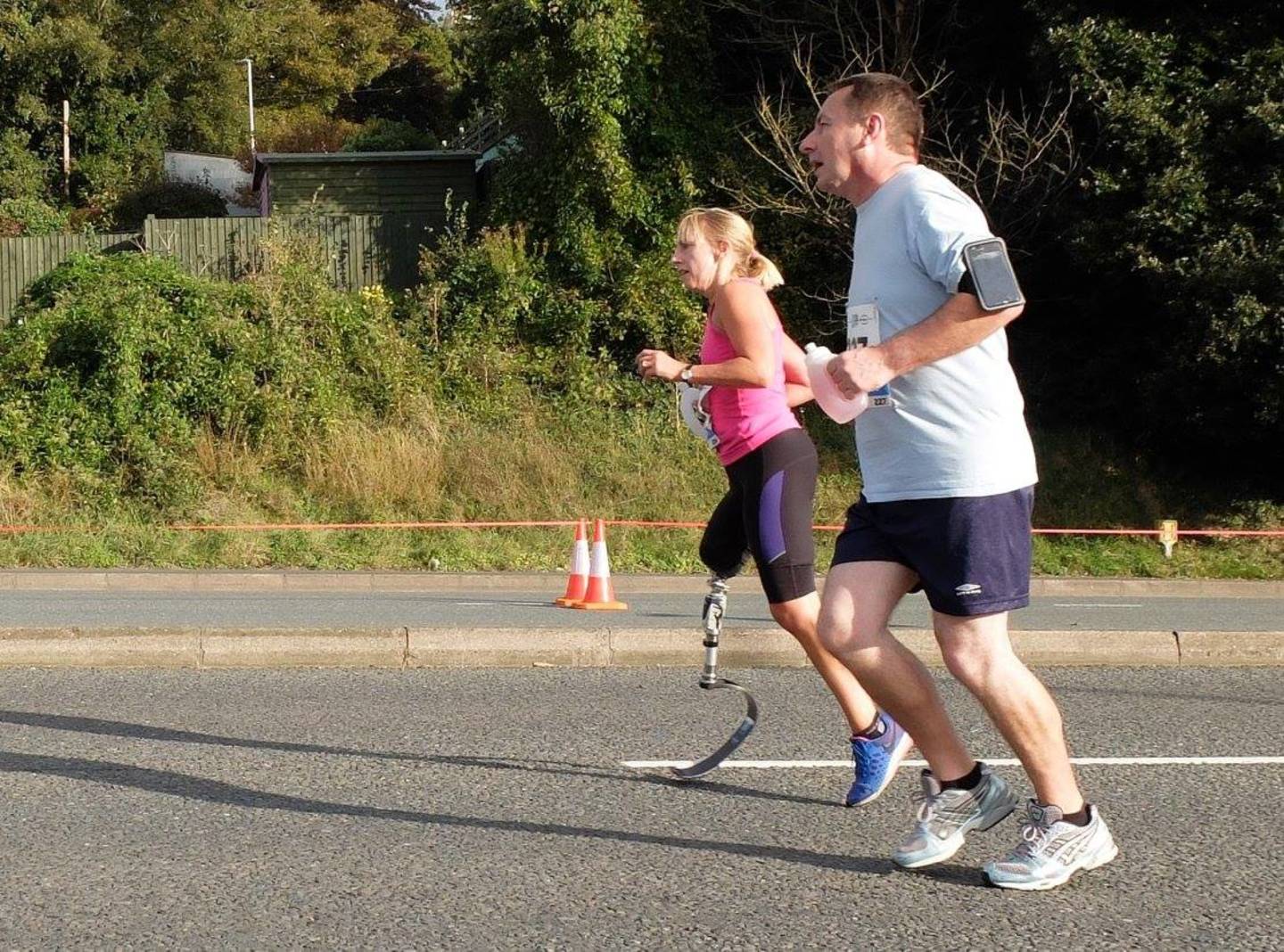 My name is Debbie Squance. I am a 52-year-old above-knee amputee from Plymouth. My main interest regarding sport and exercise is running but I also do an intense gym workout once a week, incorporating rowing, cycling, circuits and weights. I have a trike that I cycle on about once a week too. I swim once a fortnight if I can fit it in!
I usually do all my exercise on my own, but on occasions I have run with a friend, when we have a running event coming up. I have a personal trainer in the gym who pushes me hard and assists me with equipment, as a disability makes some activities difficult to do.
I took up running in my late 30's when I still had two legs, after seeing a poster advertising a running club in my gym and I decided to try it.
I enjoy the feeling of being able to move through my own efforts and how energised and uplifted I feel afterwards – after the exhaustion has gone! I also love the fact that I can exercise from my own front door and not have to travel to a gym or track to do it. Taking in the scenery makes it far more interesting and time passes quickly. The weather is never the same day after day, so that keeps things fresh. I want to stay as healthy as I can, as well as enjoy treats without feeling too guilty!
Being active has helped me in everyday life as I rarely feel tired or lethargic, and as an amputee, it would not be unusual to feel that way at times.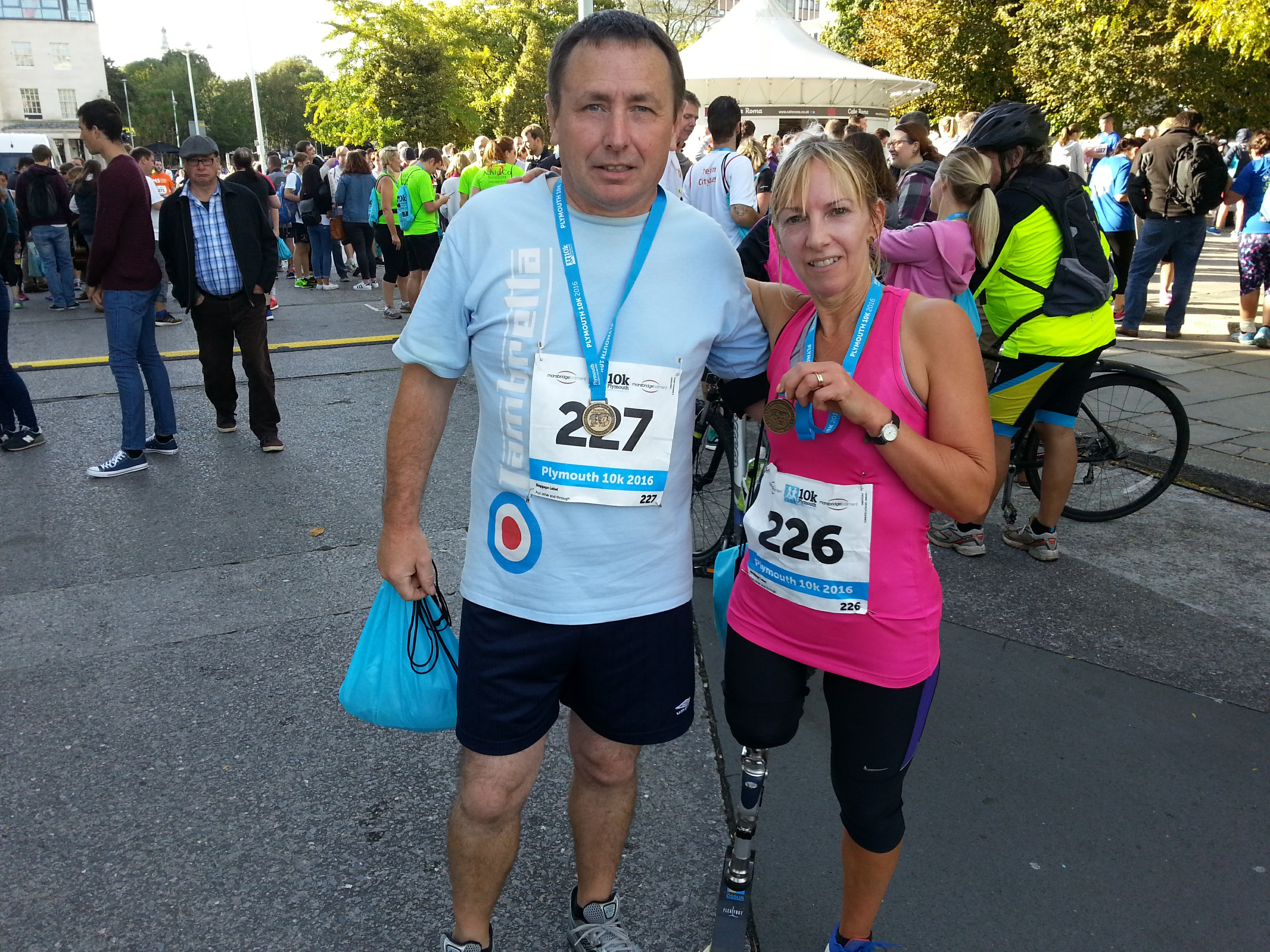 Often I can feel quite apprehensive before a run, on my blade, but once I am up and running, especially after the first 10 minutes, it starts to feel easier. Although I get some blisters, I feel so proud of myself afterwards – especially if I have reached a new distance, even if it is only a few metres. I love the feel of the endorphins after an exercise session, which keeps me on a high for the rest of the day.
My family and friends are very supportive of me, especially my husband Tony, who has absolute faith in my abilities. That support is crucial to the confidence I have in myself.
My events this year are the Cancer Research UK Race for Life in June, a 5 miler in September and a 10k in October. I hope to improve on my times in all these events.
To anyone with a disability who is thinking about taking part in sport or exercise I would suggest having a go at everything. The confidence boost that you get when you do something that you thought impossible is priceless. There are so many sports and opportunities around for anyone with a disability now, it is just a case of try and see what you can do. I have surprised myself so many times by doing something that I thought was out of my reach, and I would never have known if I had not given it a go. I continue to surprise myself and would love to take part in other sports if I had the time. When I cannot run anymore, I will probably give something else a try.
If you are interested in being active, find out how to start. Or contact us to share your story.