Inclusive Community Training supports the Into Sport Project
Earlier this month, EFDS in partnership with London Sport delivered a Sainsbury's Inclusive Community Training workshop at the Castle Leisure Centre in London. The workshop was arranged as part of the Into Sport project and was attended by 18 participants, the majority of whom were disabled people.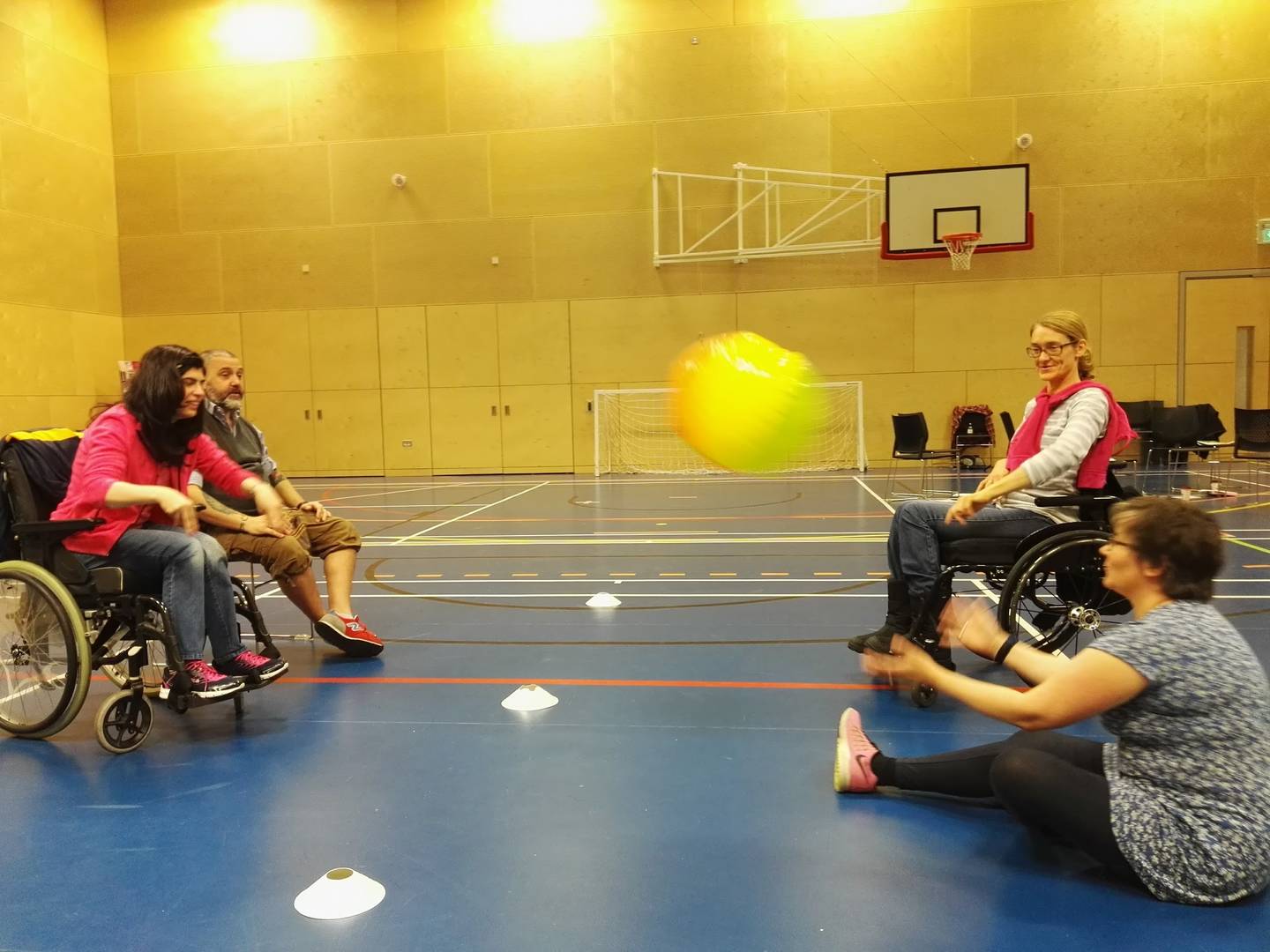 The Into Sport project is funded through the Sport England Inclusive Sport Fund and aims to support disabled people in five London boroughs to engage in sport and physical activity. The project is managed by Inclusion London and works with Deaf and Disabled People's Organisations (DDPOs) in the boroughs of Barnet, Greenwich, Lambeth, Southwark and Richmond.
The Sainsbury's Inclusive Community Training provided an ideal opportunity to upskill some of the participants of the Into Sport project; giving them the chance to develop skills to deliver inclusive physical activity in their boroughs.
During the three-hour workshop, the participants were introduced to practical tools they could use to deliver inclusive activity, such as the STEP framework and Inclusion Spectrum. For many of the workshop participants it was the first time they had received any training in how to deliver physical activity sessions and so initially confidence levels were low. However, by the end of the workshop all of the participants were feeling more confident and had new ideas they could take back to their communities.
Kate Budd, London Sport's Disability Development Officer, who supported the workshop said:
"This is an excellent workshop for anyone currently supporting or looking to support disabled people into sport. During the workshop, our disabled participants learned how to adapt activities and create new games that allowed them to fully include deaf and disabled people in physical activity.
The workshop was tailored to meet the learning needs of our group, with adapted versions of the workbook for our visually impaired participants and those with learning difficulties, which made for both inclusive course content and an inclusive learning environment."
As part of the training, the participants worked in smaller groups, ensuring every participant had the opportunity to contribute to the creation and modification of inclusive activities. However it also enabled an increased awareness of different impairments and the challenges other individuals face when being active.
Abs Tripp, Disability Advice Service Lambeth's Into Sport Project Officer, who also attended the workshop said:
"For me, the best part of the workshop was trying different activities and then working together to create new ones. With such a mixed group of people with different impairments it really helped to see how you can adapt activities to make them work for all."
Kate added:
"A key message that sits at the forefront of the Sainsbury's Inclusive Community Training is about including everyone whatever their level of experience is. This was certainly achieved in this workshop and it has really helped build confidence of both the project staff and participants to support disabled people in physical activity."
The Sainsbury's Inclusive Community Training programme is currently being delivered until the end of September 2017, meaning there is still time for you to join the 7,750 people who have already benefitted from this unique training opportunity. If you support disabled people of any age in the community and would like to attend a workshop you can either come along to one of over 100 workshops planned nationwide or arrange a bespoke workshop for your staff and volunteers. Contact EFDS today to find out how. We look forward to hearing from you!
Read more about how the Into Sport project is engaging disabled people in sport and physical activity.
For more information, to find out about workshops in your area or arrange a bespoke workshop, please contact EFDS on AK4A@efds.co.uk / 01509 227751.