Blog: "When I am kayaking, I feel in control of my body for a change"
The English Federation of Disability Sport (EFDS) website features a blog post every Friday through the year. In 2017, we'll be sharing the experiences of disabled people, and those who support disabled people, on their journey to being more active. To mark National Go Canoeing Week, Mayo tells us why she enjoys kayaking and canoeing.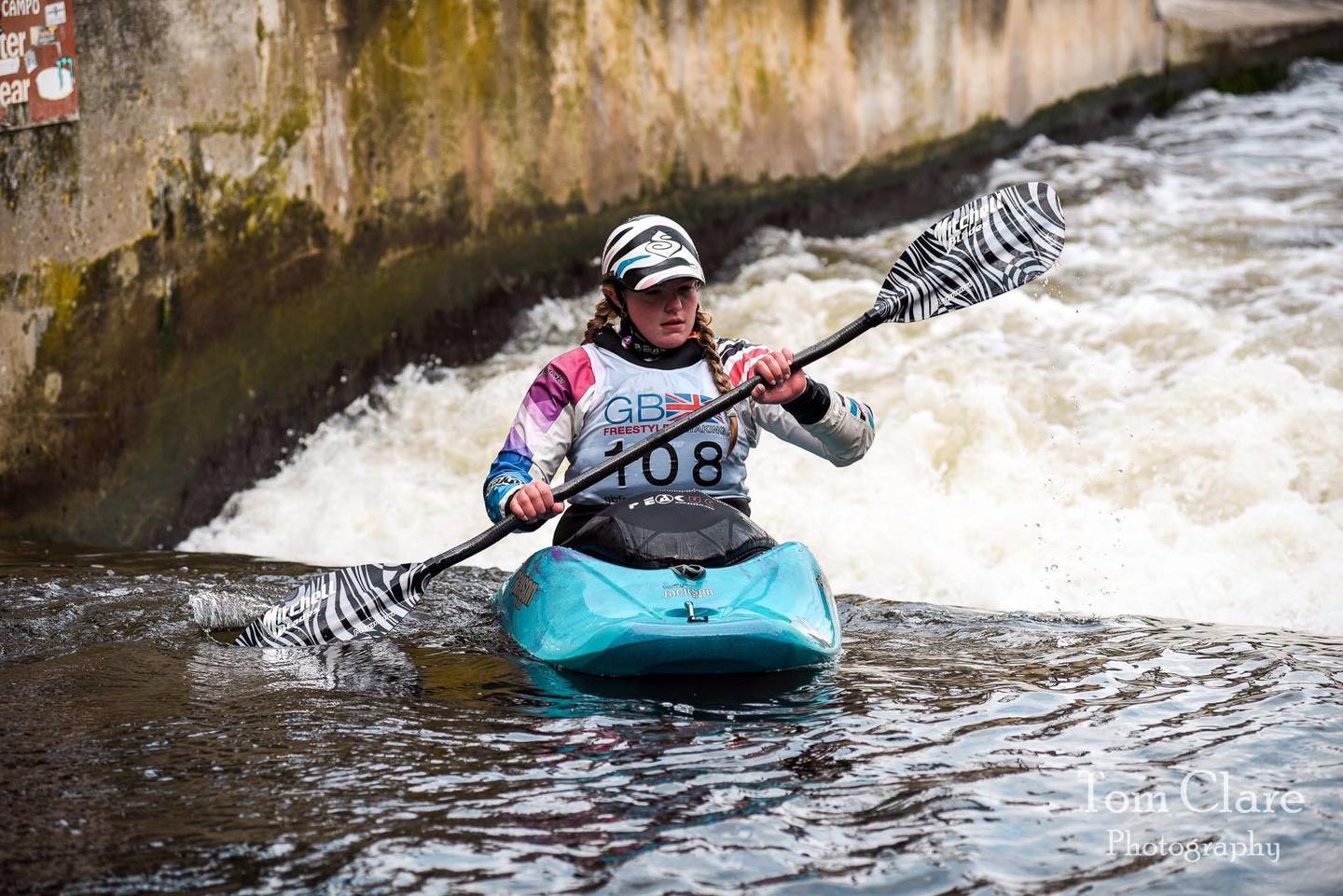 My name is Maya-Ray, but most people call me Mayo. I am 16-years-old, and I am a kayaker. I mainly do freestyle kayaking, but I do also do river running, open canoeing and some climbing when I can.
I have a few health conditions. Firstly, I have a genetic condition called Ehlers Danlos Syndrome (EDS) 3, hypermobility type, which affects my tendons and ligaments. This means my joints have a greater range of movement, making them unstable and prone to sprains and dislocations. EDS also affects my inner organs, and it causes chronic pain, chronic fatigue and even makes my skin stretchy. The mascot for EDS is the zebra, and I have personalised my Peak UK kayaking kit with zebra stripes on it to raise awareness. I also have a personalised Zebra stripped Pyranha kayak on order.
Dyspraxia was known at one time as 'clumsy child syndrome', and yes I fall a lot and walk into things a lot especially doors! Dyspraxia is an umbrella term used to cover many small issues that build into a bigger picture and covers more than just co-ordination issues. Unfortunately, I tick a lot of boxes including anxiety, fears and Asperger's. I have recently been diagnosed with another condition that affects the vertebrae in my spine, called Scheuermann's Disease, which has caused me severe back pain for as long as I can remember. I am having to use my crutches more often at the minute. Another of my conditions is the extremely rare and funnily named Blue Rubber Bleb Syndrome, both my dad and I have it so it's his fault! It causes painful vascular lesions that can be all over the body and internally. I have them in my hands, feet and back. I have to go into hospital regularly for treatment to lessen the swelling and the pain, and it may mean surgery in the future.
There lots of other niggly conditions that I have, but too many to mention. I have to deal with them daily but I adapt and get on with things, I won't let them stop me.
My mum and dad take me to all my kayaking events and places, as I need them there in case anything goes wrong. I paddle with all the great friends I have made while kayaking – it is such a close knit community, and everyone looks out for one another. I spend a lot of time at Holme Pierrepont National White Water Centre in Nottingham, where I see lots of my friends. They have become like an extended family and that makes kayaking even better.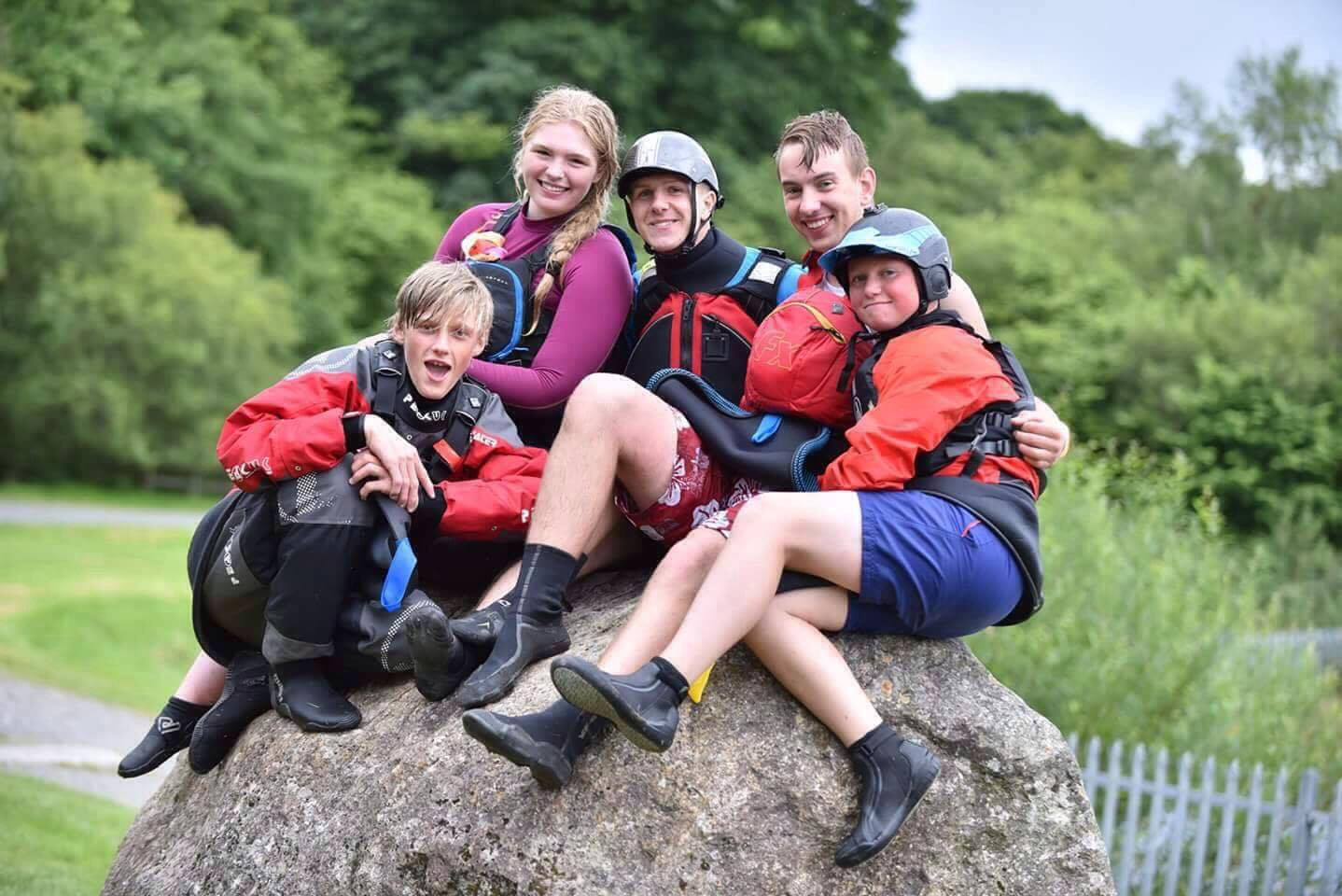 I started kayaking when I was about 7-years-old at a local club and I haven't looked back since. I enjoy being active and kayaking because it gets you out socialising, I get to spend time with my friends and it takes my mind off things. I get to see things from the water that non-kayakers don't. Being outdoors in the fresh air and seeing the wildlife gives me a good feeling.
Kayaking helps me because I use it as a kind of physical therapy (let's be honest, everyone hates doing the normal boring physio). It strengthens the muscles around my joints and there are mental health benefits, it lifts my mood and gives me something else to think about. When I am playing in the top hole at Nottingham, I feel in control of my body for a change. I feel a bit safer on the water as I am sat in my boat and at less risk of falling over! When I get off the water I am usually in more pain but that is to be expected. Even though I am sore and aching afterwards I look back on what I did and ask myself two questions: "Did I enjoy myself?", and "Is it worth the pain?". As long as the answer to those questions is yes, I know I have had a good time and I make every day count.
We have lots of events booked in the calendar for this year, including festivals, competitions, Team GB training and lots of summer fun on the water. Sometimes I am unable to paddle, but still go to the centre to see my friends. My main goal for 2017 is to go to the International Canoe Federation FreestyleWorld Championships at the end the year, but that depends on whether I have made it onto this year's GB Freestyle team. I have my fingers crossed.
To other disabled people out there who fancy trying a new sport, I would say give everything a go. There is something out there for everyone to enjoy from the likes of kayaking, climbing and swimming to lots of other sports. As more awareness is raised around disabilities, more sports are being made accessible. Anything is possible when you believe in yourself and have people by your side encouraging you to accomplish your dreams. No matter what, don't let your disability drag you down. I say let's show what we are made of and enjoy it.
Mayo keeps a blog of her kayaking activities on Facebook – visit and like her Can u kayak? page for updates.
For more information, support and news about EDS, visit the Ehlers-Danlos Support UK website. For more information about dyspraxia, visit the Dyspraxia Foundation website.
Interested in canoeing? Visit the British Canoeing website to find out more about the sport. Mayo filmed a video with British Canoeing last year – watch it below.