Father's Day blog: "Disability sports are not about the disability"
Happy Father's Day to all dads out there! Today, we celebrate the dads who balance being a parent and being active. We are shining the spotlight on Nick Coombs, co-founder of the Dorset Destroyers Wheelchair Rugby Club and father of two.
Read on to find out what motivates Nick, and what being sporty means for his family life.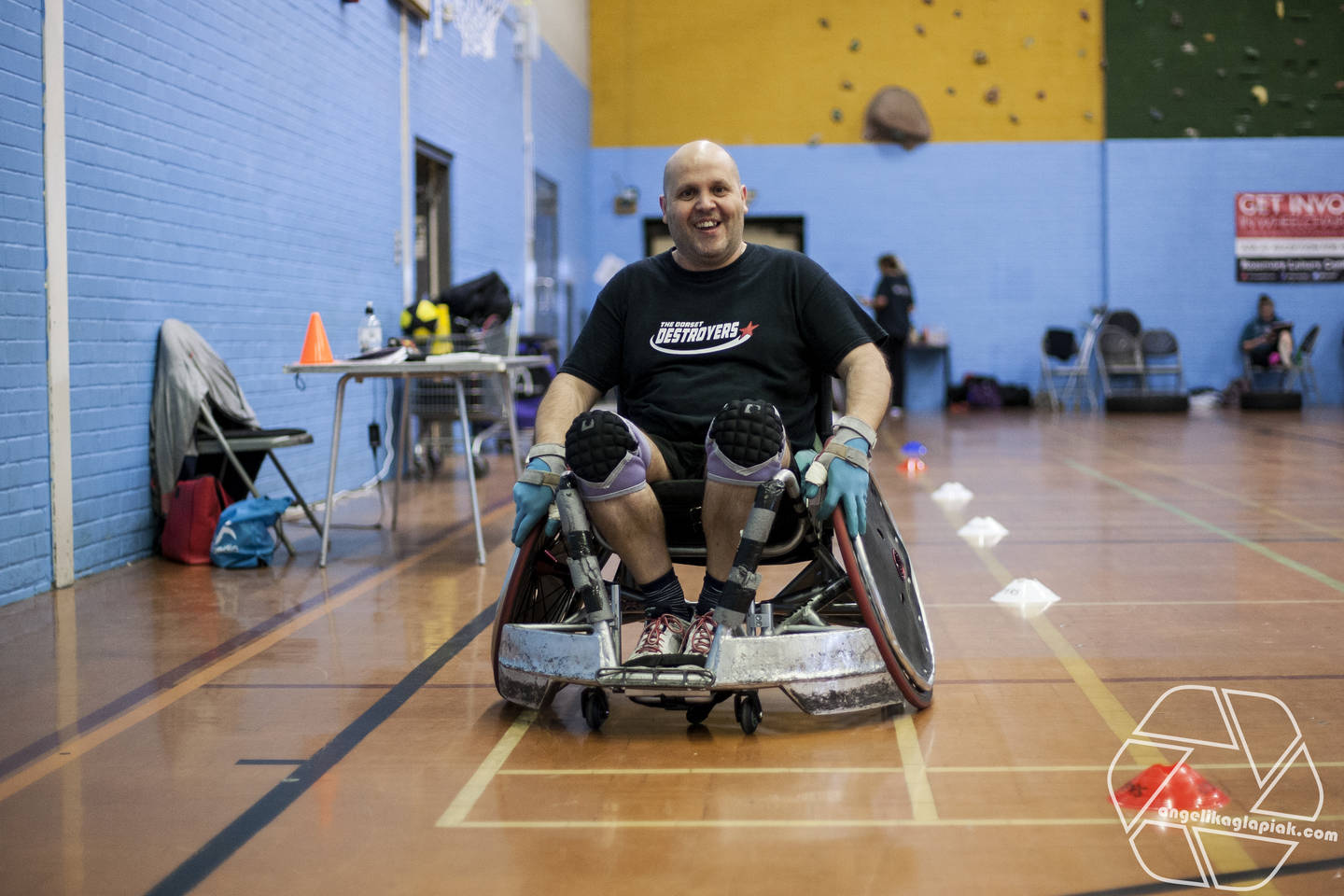 My name is Nick, I'm 52-years-old and live in Poole, Dorset. I have had 43 operation due to constant breaking bones, and had both kneecaps removed and not replaced. Among other things, I've had a fracture to the left hip, which is untreatable and Reynaud's Disease.
I've got two children, Jenny and Tom, who are 23 and 17 years old respectively. I take part in many sports – wheelchair rugby, wheelchair tennis, wheelchair badminton, wheelchair self-defence, disability shooting and wheelchair target sprint.
I got started when I was playing wheelchair basketball one night, and the club we were at was not very well organised. There were no coaches sometimes for weeks, so I just said to my wife Sue and friend Paul, "shall we set up a wheelchair rugby club?"
It was a rather bonkers idea, as we had no experience of the sport (apart from playing for ten minutes 20 years earlier, which I hated), no idea which chairs or balls to use, what the rules were or anything. But we did it. We now have 21 players and 21 chairs, with more to come. Other sports clubs were also set up by myself, Sue, Paul and our committee who are so fantastic – John, Lindsey, Dave, Nathan and Feri.
I enjoy the camaraderie of being active the most. I enjoy the fact that although I am a bit rubbish at playing certain sports, I enjoy playing them; the fact that although the clubs are all disability sports, it's not about the disability. It's about just being you. We remind players to leave their disabilities at home. After all, the disability is only 5% of you, and we want to have a laugh, train hard, enjoy what we do and then have a bite to eat (on the wheelchair rugby days)!
It has been difficult balancing my sporting interests with being a dad, especially for our son Tom. We had to take him everywhere at the beginning and because the equipment was so heavy, he couldn't help. He'd sit and play games on his phone at first, but then he started to take some photos and videos which helped us enormously to become more known. All he ever heard for the first two years was wheelchair this, or disability sports that…
At first, Tom wasn't interested in sports himself, but as we got the disability shooting club up and running he got involved in that. He wants to join the RAF or the police. He also sometimes plays a bit of wheelchair badminton or tennis with us.
We are playing Team GB Invictus on Sunday 2 July at the Rossmore Leisure Centre in Poole, as part of their build up to the Invictus Games in Toronto. We are also doing a sponsored cross country push on Sunday 30 July at Holton Lee Livability Spinal Unit to raise money to keep us going. It's a good opportunity for the patients at Holton Lee to see that life doesn't actually stop after injury. We have ten players who have spinal injuries, who play various sports including wheelchair rugby. Some are very new to their injury (within six months) so the quicker we can get people back on the road, the better.
My advice for disabled parents who want to get more active is to just do it. If you're rubbish at it, at least you tried. And who knows, it may lead you onto the sport that you really want to play. The first step is hard, but there are millions of us who have had to take that first step and it has been such a shock for people to come along to our club and straight away be treated as one of the gang. Because whatever happens… life just keeps going on around you.
Find out more about the Dorset Destroyers Weelchair Rugby Club on their website. You can also find them on Facebook, Twitter and YouTube.
Nick also runs Disability Sports Dorset with his team – which includes wheelchair shooting, badminton, tennis, self-defence and more. Visit the Disability Sports Dorset website and Facebook page to find out more.
Photo credit: Angelika Glapiak