GB Men's Squad announced for 2017 European Championships
After a gruelling two weeks of international and national competition where the GB men have triumphed in Poland and Worcester, Haj Bhania today announced his starting 12 for Tenerife.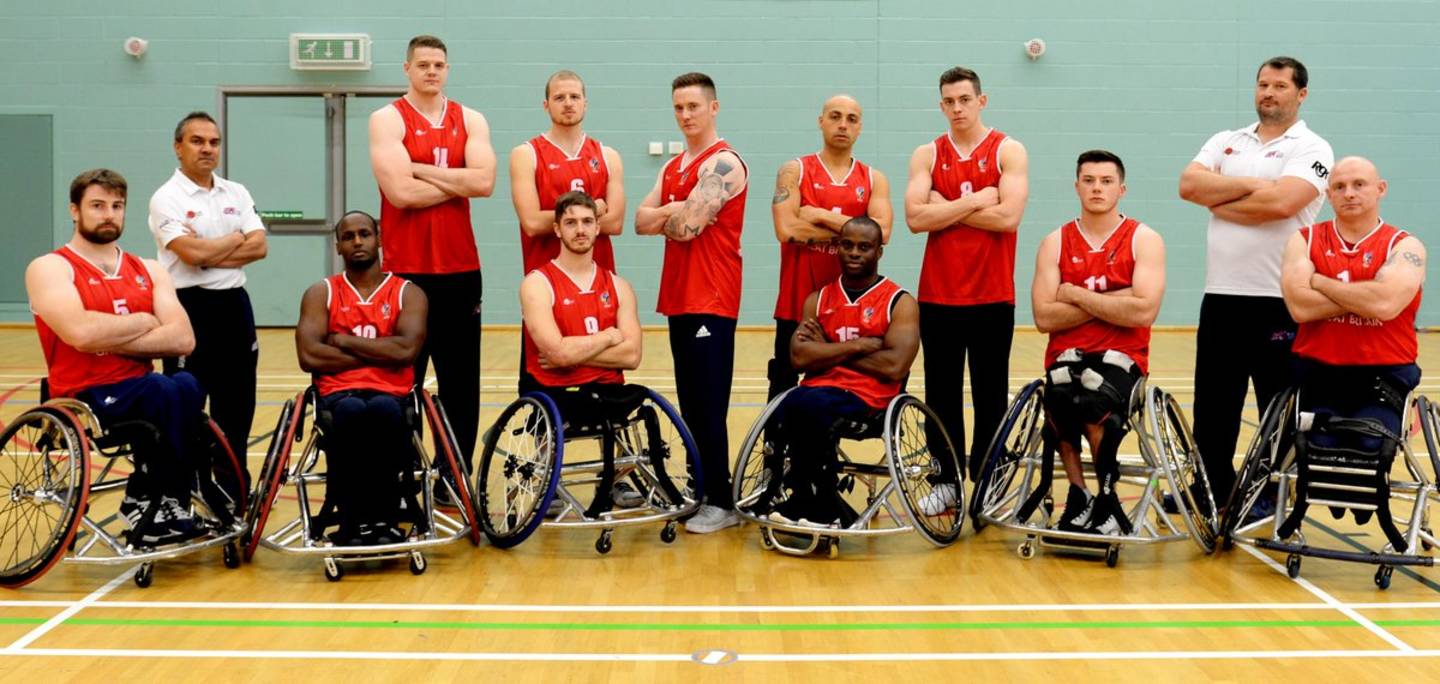 A short 10 months on from Rio and the bronze medalist squad remains largely intact as the team prepares to defend its impressive three time European Championship title.
Notable additions to the team are Rio reserves Mark Fosbrook and George Bates. Fosbrook, an accomplished international athlete and Paralympian, has represented Great Britain in standing volleyball and Wheelchair Rugby, and holds records for rowing and swimming. He is also an Engagement Advisor for the English Federation of Disability Sport, supporting key strategic partners including County Sports Partnerships and National Governing Bodies across the West Midlands and South West. His work supports these partners to be more effective in enabling more disabled people to be more active in sport and physical activity.
Fosbrook's selection marks his return to the GB squad, with the 1 point player having previously represented GB at the 2015 European Championships and 2014 World Championships.
Emerging wheelchair basketball superstar Gregg Warburton is also included in Haj Bhania's team. Potentially a surprise selection, Gregg is currently captaining the GB Junior Men at the World Championships in Toronto and will return to the UK shortly before the championships begins.
A player to watch during the GB European campaign is Rio debutante Lee Manning. Now a regular selection to the GB men's senior team, Manning has honed his skill and ability over the last year and will be a force to be reckoned with in Tenerife.
Head Coach, Haj Bhania, is quietly contemplative about the forthcoming Championships:
"The final European's squad has a mix of experienced seniors and athletes who have emerged through our development pathway, a sign of the depth of the programme.
"The European Championships is highly competitive with European teams challenging for the top places at World level, as seen at the Rio Paralympics.
"Our priority at the European's is to qualify for the 2018 World Championships, a key tournament in our calendar. The changes to the GB team will enable us to field different line ups and develop our style."
Paul Davies, Performance Director for British Wheelchair Basketball, add:
"The standard of competition in Europe is amongst the best in the world. European teams claimed silver, bronze and fourth place at the Rio Paralympics – demonstrating just how tough the 2017 European Championships will be.
"GB has some of the best in the world within our Tenerife starting 12; Bywater, Orogbemi, Jama and Choudhry have phenomenal reputations are rightly feared by their European counterparts."
GB Squad
Abdi Jama, Class 1.0, Liverpool, Lancashire
Mark Fosbrook, Class 1.0, Oswestry, Shropshire
Simon Brown, Class 2.0, Kingsbury, Middlesex
Kyle Marsh, Class 2.0, Wolverhampton, West Midlands
Gregg Warburton, Class 2.0, Leigh, Greater Manchester
Ade Orogbemi, Class 2.5, Liverpool, Lancashire/London
Harry Brown, Class 2.5, Halifax, West Yorkshire
Phil Pratt, Class 3.0, Cardiff
Gaz Choudhry, Class 4.0, Ealing, Middlesex
Terry Bywater, Class 4.5, Redcar, North Yorkshire
Lee Manning, Class 4.5, Peterborough, Cambridgeshire
George Bates, Class 4.5, Leicester, Leicestershire