Blog: "I wanted other partially-sighted people to discover tennis"
The English Federation of Disability Sport (EFDS) website features a blog post every Friday through the year. In 2017, we'll be sharing the experiences of disabled people, and those who support disabled people, on their journey to being more active. This week, Wendy Glasper, Darlington, writes about playing visually-impaired (VI) tennis and setting up her own club.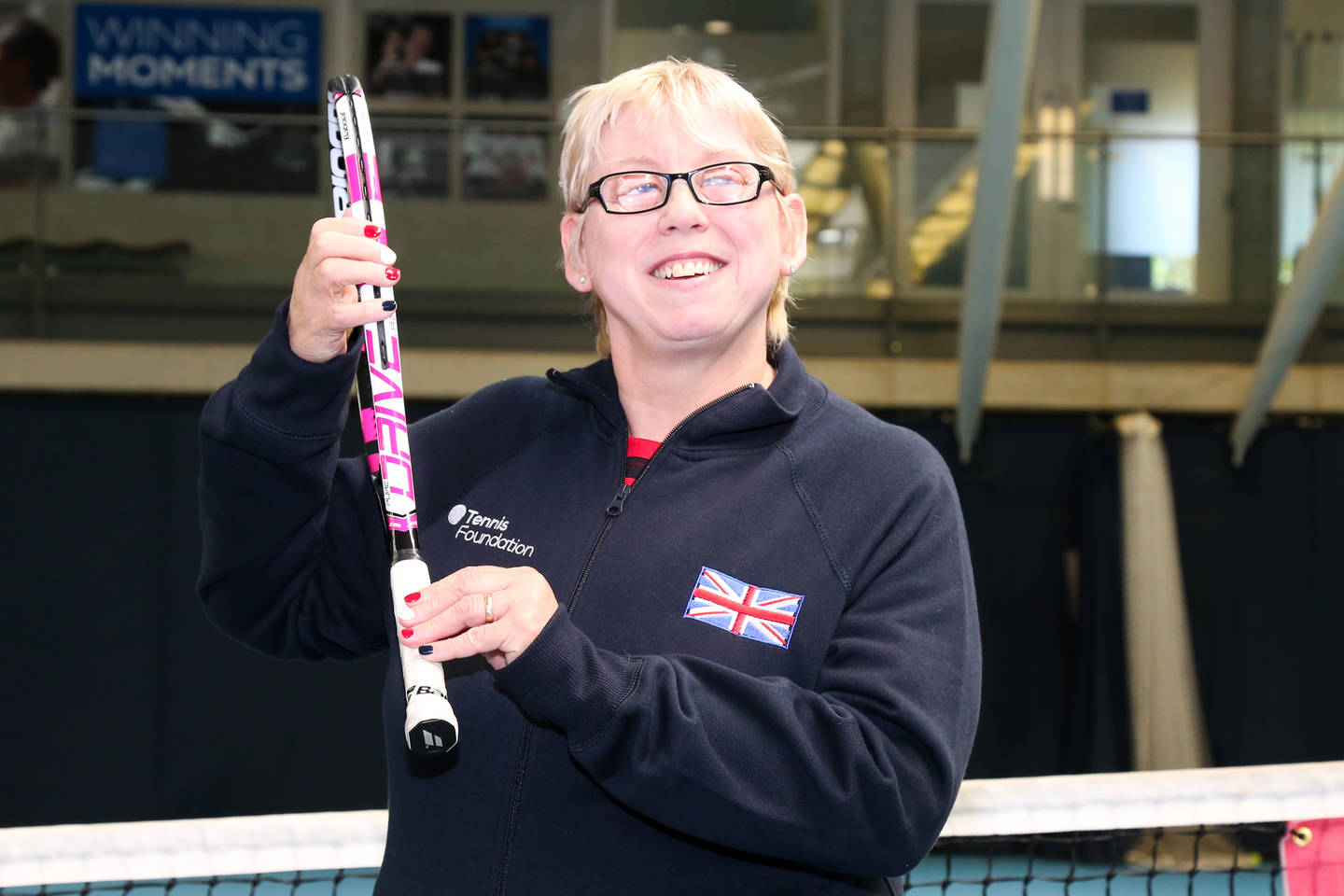 My name is Wendy, I am 57-years-old and I am visually-impaired.
I play VI tennis with friends, and I'm a member of the North East Visually Impaired Tennis Club (NEVITC). I play at the Northumberland Club in Jesmond in Newcastle, Sunderland Tennis Centre and Tennis World Middlesbrough. I also coach at the Splash Leisure Centre Stockton and sometimes at the other venues too.
I first found out that blind and visually impaired people could play tennis in 2007. I didn't know anything about the sport, and it took me two years to find out where to order the right balls from. This is because VI players use a foam ball with a bell inside so that we can hear the bounce of the ball.
In 2010 I played in my first tournament, and was buzzing after the experience! I was then inspired to set up the North East Visually Impaired Tennis Club, as I wanted other partially-sighted people to discover tennis as I had. This was one of the first tennis clubs set up for blind and partially sighted people in the country and I work hard to keep it continually growing – we have over 30 members now. I am secretary of the club and a Level 2 Coach, so I run coaching sessions and help organise and run various tournaments throughout the year.
Being active gives me energy and confidence. Playing tennis allows me to move around the court and hit the ball like anyone else, which is one of the reasons why I really enjoy it.
If I wasn't physically active, I wouldn't be as motivated and keen to do other things. It has helped me lose weight and also helps me with breathing as I have asthma. I have more energy to do things like the housework! It gives me more confidence to do other things in my life.
I love to learn new things. When I am playing sport, it gives me lots of energy. I get a real buzz out of playing tennis.
The support my family gives me is very important. They support me in what I am doing and if I didn't have this I would feel guilty about not being around in the house more, and doing other things like cooking, cleaning and looking after my grandchildren. They help me balance my life.
This year has already been a great year – I was selected by the Tennis Foundation for the Great Britain team to compete in the first ever Blind International Tennis Tournament in Spain, and this week I won the Volunteer of the Year at the British Tennis Awards at Wimbledon! There is lots more still to look forward to - I'm planning to abseil down the Transporter Bridge in Middlesbrough to raise money for Tees Valley Sound Tennis and NEVITC. I'm also going to compete in the Tennis Foundation regional tournaments and the Nationals Championships at the end of the year. On top of this, I'm going to do some roller skating when I can fit it in!
My best advice for other disabled people who are thinking of trying a sport is to find something you really like to do, find somewhere you can do it and just do it!
If you don't do it, you'll never know. I used to be very quiet but I have so much confidence now through playing tennis. Don't let anything stop you.
Find out more about the North East Visually Impaired Tennis Club on their website.
Feeling inspired by Wimbledon? If you're thinking of trying tennis, you can find guidance, local sessions and information on the support available for disabled people on the Tennis Foundation website.