Blog: "Parallel London allows me to be at my best with my daughter"
The English Federation of Disability Sport (EFDS) website features a blog post every Friday throughout the year. In 2017, we'll be sharing the experiences of disabled people, and those who support disabled people, on their journey to being more active. This week, Nicki Donnelly, Parallel London ambassador, shares her story.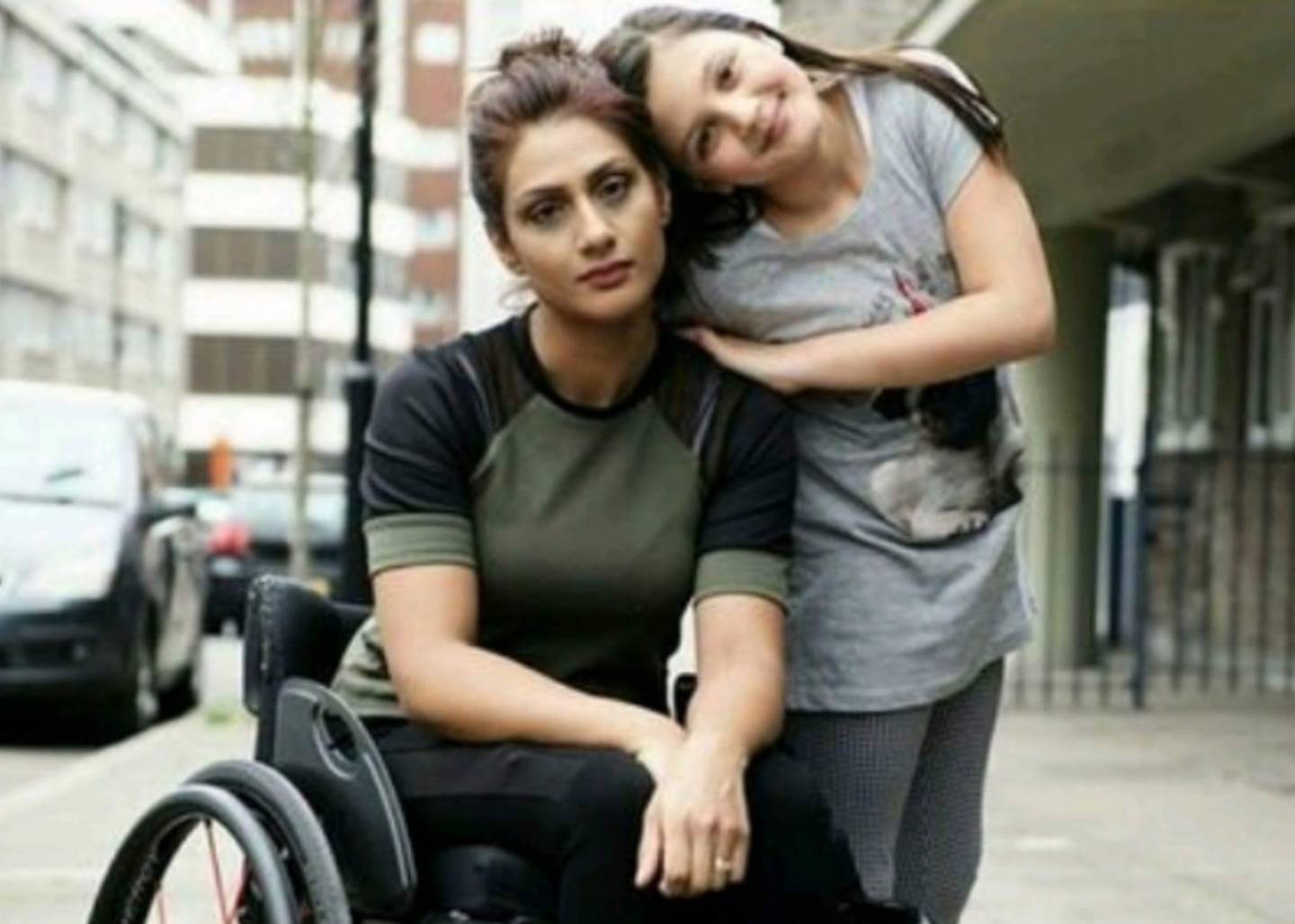 I am a former bravery honoured police officer, motivational speaker, life coach and fitness model. I set up my own fundraising webpage because I decided take my power back and be in control – and no longer be turned down for work because I am 'disabled'.
Right from childhood I've faced physical challenges to be where I am today. I was born with the degenerative bone Scillocis and joint disease Elhers Danlos Syndrome (EDS), a connective tissue disease and progressive debilitating condition impacting on mobility. At a later stage I was also diagnosed with postural tachycardia syndrome linked to severe stages of EDS. Having an invisible disability meant I could hide my pain and adapt my physical appearance to avoid being treated differently.
Physical activity and tasks were painful. Being told by medical specialists I would not have a normal life and be the same as other children was degrading to hear as a child. I wanted to prove to everyone I was not going to hide and waste away. PE lessons motivated me and were the next step up from rehabilitation sessions. When I improved, I thrived in many sports activities. I became the sports girl of the year, something I was told I'd never be good enough to achieve. I was recognised for my improvement when training in the Junior Olympics competitions.
I joined the police force at the age of 18 and went from strength to strength, testing my body with physical and mental endurance. Being a police officer is not an easy job – it's a 24/7 responsibility but rewarding. During this time I completed fitness trainer and nutrition trainer courses at levels 3 and 4. I knew my degree in Child Psychology and CBT wouldn't be enough to educate myself more on the importance of health and fitness.
Unfortunately, in 2009 I was hit by speeding car and injured while on duty. I sustained a host of injuries that led to two years living away from my 3-year-old daughter, in and out of brain and spinal injury specialist hospitals and rehabilitation private units. I had a fractured shoulder, collar bone, wrist, jaw, hip and pelvis, and suffered a broken back. Ultimately this left me paralysed from the chest down with a T4 spinal cord injury. I was retired from the West Midlands Police force with six bravery commendations and received a medal of exemplary bravery for having served my country.
My life changed completely. I was given a second chance to live with my daughter. I now work with charities and initiatives such as the Disabled Police Association, which helped me transition to civilian life. I may not be a police officer any more, but I keep helping in any way I can. As a wheelchair user, I still have to fight for my rights to be included and seen as a human being. I appeared as a wheelchair racer in the iconic Paralympic 'Yes I Can' advert on Channel 4. Unfortunately I was no longer able to compete professionally due to a life-threatening condition. This didn't stop me from pursuing all the impossibilities society put on me that I made possible.
I am told I am a wonder woman on a mission! My wheelchair doesn't limit me when it comes to believing in myself to be a role model. I must be taken seriously by sharing all my passions to inspire others. I even became the first British Indian Catholic wheelchair-using model to win the title of Mrs Birmingham British Empire 2017. In August I went on to win and become Mrs British Empire 2017, breaking barriers for disability inclusion in the beauty industry. The pageant's mission statement supports the empowerment of women, which is why I decided to take part and exercise my right to be included too.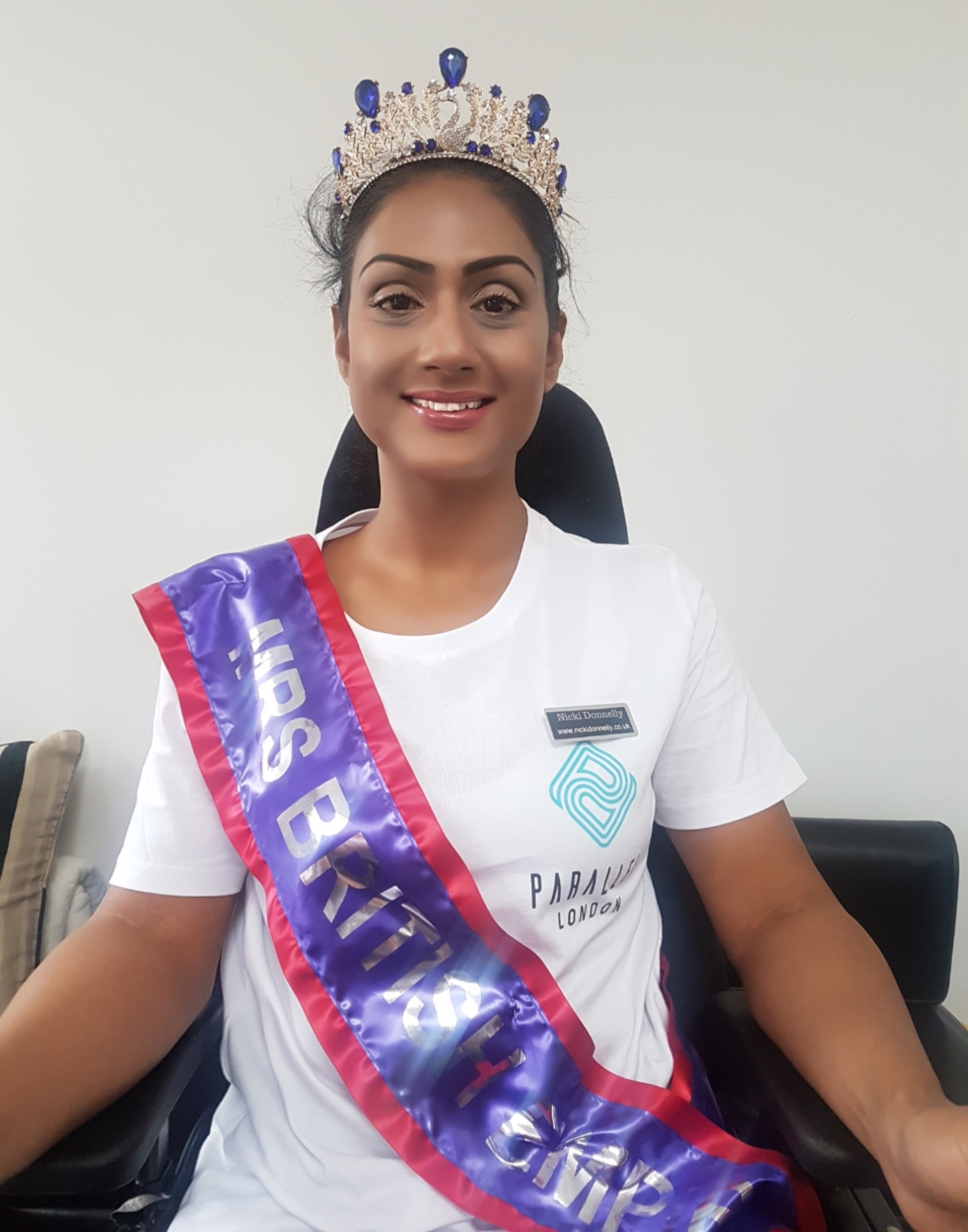 At the 2016 Parallel London Race, I became the first police officer in the UK to race the event in a bionic suit. Due to my fitness training, I was able to walk in under seven weeks in the exoskeleton. This enabled me to make my daughter's 10th birthday wish come true by walking with her in the Parallel London race. We both walked together in the 1k race, and it took me 50 minutes – but it was important to me to show everyone that anything is possible and that being disabled doesn't make you weak.
Unfortunately I have since hit another obstacle, and have been diagnosed with a life-threatening heart condition resulting in me no longer being able to use the bionic suit. This condition means I only have 15 years to live. My health may be deteriorating and I may have lost my life insurance as a result of using the robotic legs, but these hiccups remind me of the importance of my bond with my daughter. We have struggled, but our love is shared with everyone.
This year, I will be taking part in Parallel London in my wheelchair with my daughter. I'll be raising awareness for spinal cord injury, and my daughter will raise awareness for invisible disabilities. Parallel London has become a mother and daughter tradition. For my daughter, she wishes to continue to celebrate her birthday and in return, she gets the gift of having her mum race with her and raise the funds for her mum to live. I take this opportunity to share the impacts of my police scars story to raise awareness for injured police officers' welfare, as part of the Police Federation campaign 'Protect the Protectors'.
My daughter's kind act encourages me to show others the difference the young generation can make, and that it's ok to ask for help because people really do come together when we need support. I may not be the fittest and race long distances anymore, but what matters is taking part no matter how small. The 1k race allows me to be at my best with my daughter. Parallel London's ethos motivates me and my daughter because we are included, just like you.
Parallel London takes place is a fully accessible fun run and free family festival at Queen Elizabeth Olympic Park on Sunday 3 September 2017.
For more information about Nicki's life and how you can donate to her cause, visit Nicki's website. You can also find her updates, motivation and fitness inspiration on Facebook, Twitter, Instagram and YouTube. Nicki is also planning to release a book about her experiences at the end of this year.
If you want to be more active but aren't sure how to start, visit our dedicated webpages for advice and useful resources.