Blog: "I'm getting stronger and pushing the limits of my disability"
The English Federation of Disability Sport (EFDS) website features a blog post every Friday throughout the year. This month, November becomes "Movember" to raise awareness of men's health. In support of Movember, EFDS is featuring a series of blogs from active disabled men, who share their experiences of being active. This week, strongman Leigh Bland tells us how lifting heavy weights helps him to manage his mental health.
My name is Leigh Bland, I live in Loughborough and I am a below knee amputee. I served in the Royal Air Force from 1998-2016. In 2009, I sustained an injury and after a series of medical complications, I made the difficult decision to have my lower right leg amputated. This affected me greatly and I struggled with depression, anxiety and post-traumatic stress disorder.
In 2014, I competed for Great Britain in archery at the first Invictus Games in London. After the Games, I was invited to try out for the Paralympic Archery Academy and set my sights on Tokyo 2020. However, 12 months ago I discovered strongman competitions and everything changed.
I am now a competitive strongman and compete in both non-disabled and disabled competitions. I train six days a week at my local gym, Fosse Fitness 365. My trainer is Brad Cretten, a fellow strongman - he follows my progress online, keeps me motivated and makes sure I train at a high level all the time.
I was introduced to strongman style training in 2016 and I enjoyed it straight away. I noticed that not only did it benefit me physically, it helped me mentally too. I came 2nd in my first major competition, Britain's Strongest Disabled Man – which qualified me to compete at the World's Strongest Disabled Man in the same year.
The thing I enjoy most about strongman is the support from my fellow competitors and the crowd. When I train and compete, it's almost like any pain I have goes away and helps me to manage my depression and anxiety. I feel happier and more confident. When I get a new personal best on a lift, I'm on a high all day long!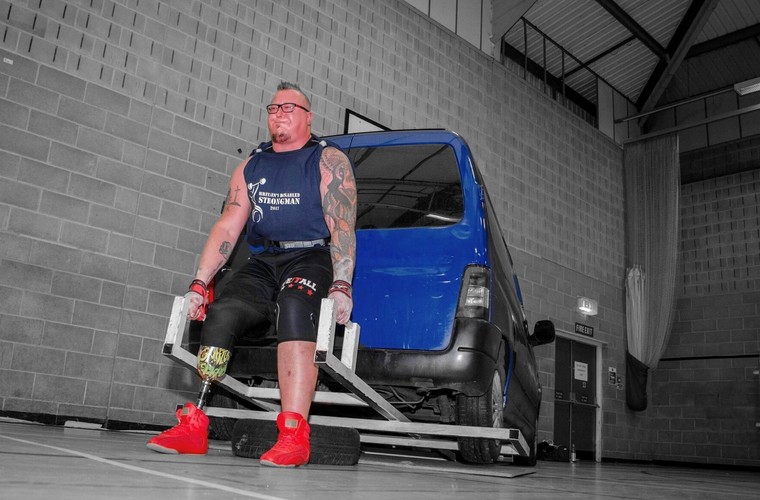 I have one more strongman competition in December. Then it's on to 2018 and the events I am planning to compete in are England's Strongest Disabled Man, Britain's Strongest Disabled Man and World's Strongest Disabled Man.
I have big ambitions for my strongman career. I want to be the strongest below knee amputee in the world. One day, I hope to compete at the Arnold Strongman Classic in Ohio, USA.
Anyone that wants to try disabled strongman/woman competitions can give it a go. Lots of people with different impairments take part and there are groups for standing and seated competitors. It doesn't matter how strong you are, everyone has to start somewhere and it's not all about winning. It's about enjoying yourself, pushing your own limits and breaking those physical and mental barriers. When I started I could only deadlift 60kg, and now I can deadlift 240kg. I'm getting stronger and pushing the limits of my disability. Anything is possible!
I highly recommend that people find a sport or activity they enjoy and take up regular exercise. I'm positive it will make you feel better. Don't let a disability hold you back, or bring you down. Embrace it and show the world what you can do!
If you want to be more active but aren't sure how to start, visit our dedicated webpages for advice.