Blog: "Representing my country is such a great honour"
The English Federation of Disability Sport (EFDS) website features a blog post every Friday. This year, we'll be sharing the experiences of disabled people involved in sport and exercise at all levels, finding out what impact being active has on their lives. Today, GB Para fighter Joseph Lane, offers us a glimpse into the life of an elite athlete and shares his ambitions for Tokyo 2020.
My name is Joseph Lane, I am 19-years-old and currently studying at the University of Salford. I am a below elbow amputee.
I started Taekwondo at the age of 12, after getting a toe injury from playing football. I decided to join Hogan's Taekwondo Club with my best friend and his dad - who already did the sport. I fell in love with it straight away!
I was encouraged to take Taekwondo up as my main sport in March 2017. At the time I was playing football for Great Britain amputee squad. I really enjoyed football and had ambitions of competing for GB, but unfortunately amputee football isn't a Paralympic sport. It was by chance that I came across the confirmed sports for the Tokyo 2020 Paralympic Games and saw that Taekwondo was on the list. I immediately got in touch with GB Taekwondo and changed my focus.
I love that Taekwondo is an individual sport and that it is down to you to perform your best on the day. I also like that it is quite fast-paced and the sessions are always high in intensity. Not to mention, the challenge of having to re-teach myself the techniques and self-discipline that is required.
I usually split my training between Tigers Taekwondo Club in London and the National Taekwondo Centre in Manchester. Training in Manchester is quite intense, we train once a month - for a full week in the lead up to major competitions. The sessions are led by our brilliant coach, former GB Taekwondo athlete, Andrew Deer, and we all train together. Being surrounded by such talented athletes like Para World Champion, Amy Truesdale, two-time Olympic Champion Jade Jones and Rio 2016 Olympic silver medallist Lutalo Muhammad motivates me every day and helps to push me further.
Training as an elite athlete makes me feel great. I love the lifestyle, eating the right foods to fuel my body and waking up every day looking for ways to continuously improve. The support from my friends, family and teammates is extremely important too, it helps me to keep motivated.
I have recently represented Great Britain at the Para Asian Championships and the World Para Taekwondo Championships. The feeling I get when representing my country is something else! It's such a great honour for me.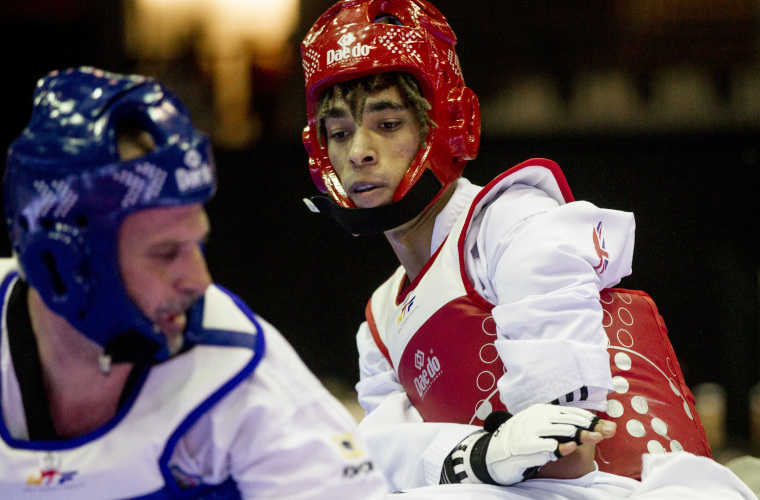 It would be my dream to become a professional full-time athlete and compete for Great Britain in Para-taekwondo at the Tokyo 2020 Paralympic Games. I will continue to work hard and improve as much as I can as a fighter, both mentally and physically.
After my sporting career, I would like to be a clinical psychologist and I am currently studying sport psychology at university to make this happen. I want to give back and use my story to inspire others.
I wouldn't be training as an elite athlete without the support and encouragement I received from so many people over the years. From everyone at GB Taekwondo, to my football coaches and my P.E teacher, Mr Lawson - who introduced me to sport and made me realise that I could pursue a career as an athlete. A big thank you to you all, especially my brother, who watched all of Bruce Lee's films with me growing up and made me fall in love with martial arts.
To anyone who is thinking of becoming more active or taking part in a sport, just try it and aim to be the best you can be in that activity, no matter your age. I think everyone should enjoy some form of sport or exercise, as the benefits are tremendous. Take me for example, it has completely changed my life and made me who I am today!
Find out how you can get involved in Para Taekwondo, visit British Taekwondo website.
If you want to be more active but aren't sure how to start, visit our dedicated webpages for advice.
Photo credit: GB Taekwondo