Blog: "I got here with strength and willpower"
The English Federation of Disability Sport (EFDS) website features a blog post every Friday. This year, we'll be sharing the experiences of disabled people involved in sport and exercise at all levels, finding out what impact being active has on their lives. Today, 14-year-old Isabelle Weall, a quadruple amputee, tells us how she found a love for trampolining.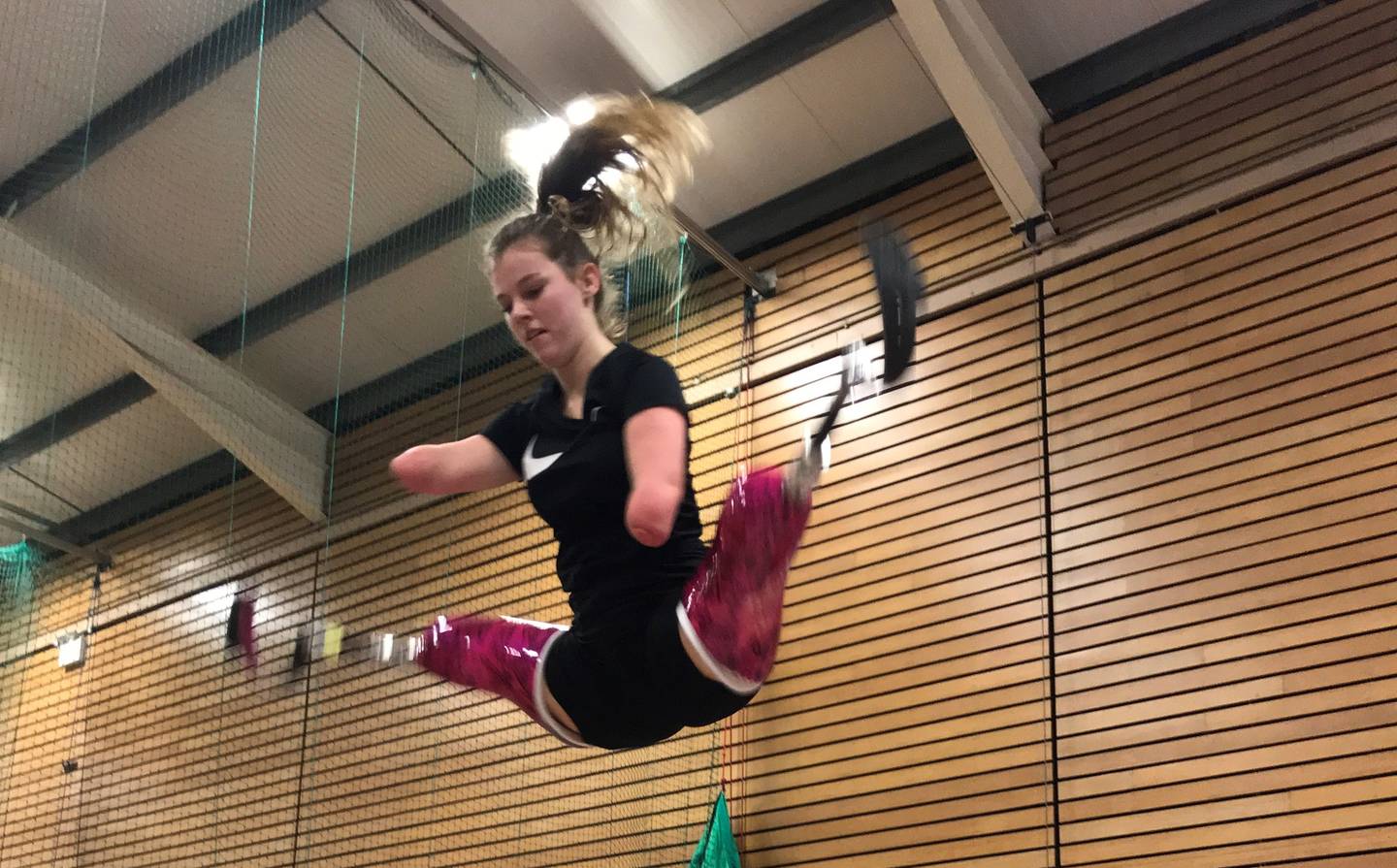 My name is Isabelle Weall, I'm 14 years old and I live in Derby, England. When I was 7-years-old I contracted meningitis and had to have parts of my arms and legs amputated, making me a quadruple amputee.
I don't let this stop me. I still take part in PE classes at school, and trampolining, which I compete in, and in 2016 I was crowned National Champion in my category.
I train once a week at school with members of the school team. This is a lot of fun as my friends go to this training session too. I also train outside of school at a leisure centre with my coach.
In 2014, at the start of secondary school, I started trampolining simply because there was a club already offered there. A lot of my friends were also taking part, so I decided to give it a go myself. It wasn't until I first competed that I realised I was quite talented.
I love trampolining! I think it's really fun and energetic but it's also something no-one would expect an amputee like me to do. Therefore I really like proving my capabilities to everyone.
Being active definitely supports me in my daily life. I walk on prosthetics and it's essential for me to keep fit to make walking as easy as possible. I also use up more energy just completing daily activities, so being active helps my body keep up with me. I think that physical exercise also makes you feel better mentally, which is an added bonus.
I really enjoy sport and taking part in it makes me really happy, especially when I've accomplished a new move because I know how hard I have worked towards it.
The encouragement from my family is great and is important to me. My parents are really supportive and take me to training sessions and competitions. Also my PE teachers have been very supportive since I first started trampolining – they have taught me everything I know now.
After trampolining for three years, my newest challenge is working with Team BRIT to teach me how to motor race. I can't wait for this but firstly we will be making the adaptations needed to the cars to allow me to drive.
To anyone else who is thinking of becoming more active, just give it a go. Even if you try and don't succeed, in the end you will achieve your goal. I never thought I'd be where I am now but I got here with strength and willpower, as well as a being too stubborn to give up.
If you want to be more active but aren't sure how to start, visit our dedicated webpages for advice.