GB Junior Women crowned U24 European Wheelchair Basketball Champions
GB wheelchair basketball U24 Women's squad have delivered an outstanding tournament in Bordeaux and clearly laid down their world class credentials on the European stage as they defeated Germany in a dramatic final game 48-27 to retain their European title.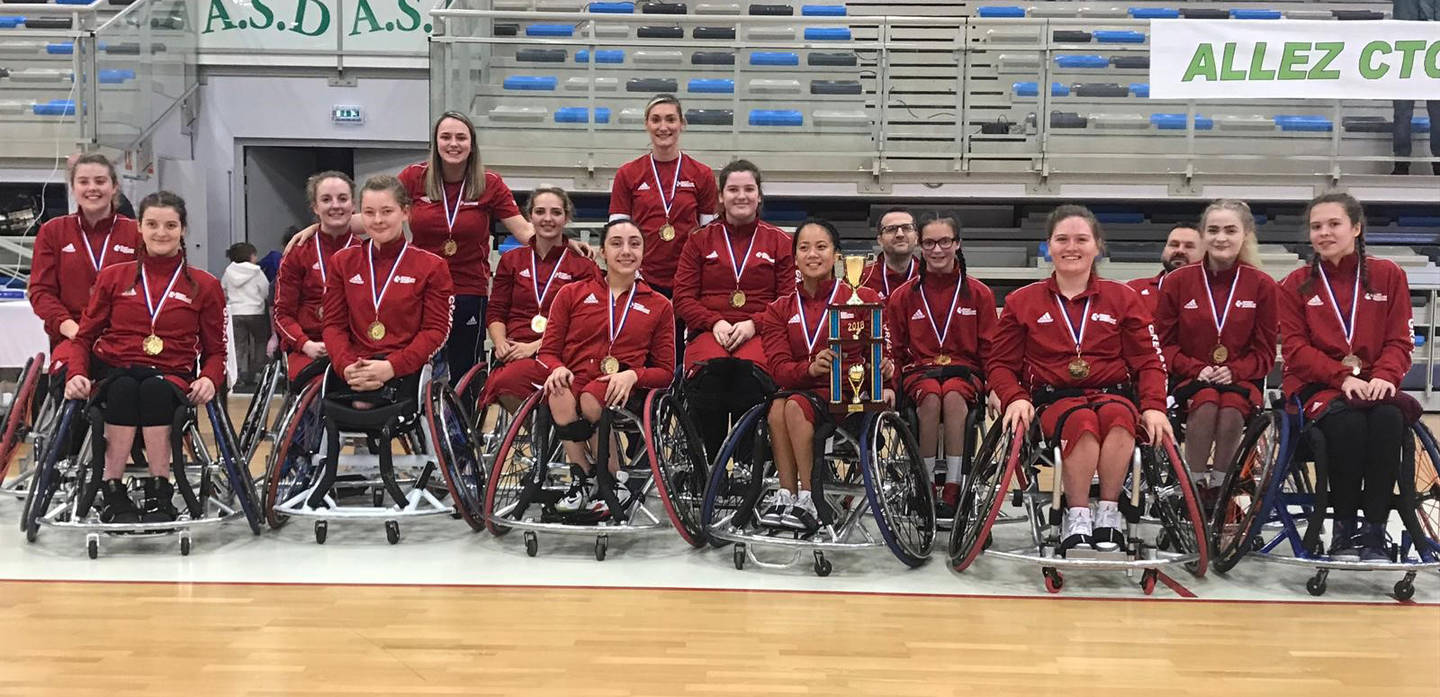 Undefeated throughout the tournament, the 2018 European Championships witnessed the GB Women dominate the courts of Villenave-d'Ornon as Great Britain, France and Germany all battled for the coveted title.
As reigning U24 European and U25 World Champions, GB was undoubtedly the team to watch during the tournament. The game statistics speak for themselves with Captain Joy Haizelden delivering the treble double in the second GB v Germany clash, with 11 points, 11 assists and 11 rebounds.
Three of the GB U24 Women's Team were also named in the tournament All Star five: Maddie Thompson, Joy Haizelden and Charlotte Moore.
Testament to the strength of the talent pathway in the UK, the European Championships saw a staggering seven GB Junior Women make their international debut for GB. The mix of established senior players and new squad members was clearly a winning combination.
Following the Gold Medal game, GB U24 Captain Joy Haizelden commented:
"This tournament saw everyone working together as a team; some of the newer girls being integrated with some of the older ones with more experience which has helped us so much – they are learning from us and we are learning from them as well."
Delighted by his team's win, GB U24 Head Coach Dan Price echoed Joy's sentiment and added:
"We are two time defending U24 European Champions – I could not be more proud of the group that we have played in France. As Joy mentioned it's a mixed group with some senior members and some junior members, and the integration of those two working together is key.
"We've only been together for a very short amount of time, we still have a lot to learn about one another - we are still very raw but this is just the tip of the iceberg and we are very excited for the journey going forward. We still have a lot of work to do going into World Championships but we are looking forward to getting back to work."
Wheelchair Basketball is a fast-paced and fast-growing sport that allows non-disabled and disabled people to compete together in its domestic leagues and competition. For more information please visit British Wheelchair Basketball website.