Blog: "Being active has helped me become more independent"
Activity Alliance features a blog post every Friday which shares the experiences of disabled people involved in sport and exercise at all levels. In this blog we continue this theme and hear from Mind Over Matter Fitness founder Rob. He tells us how being active has helped him become more independent.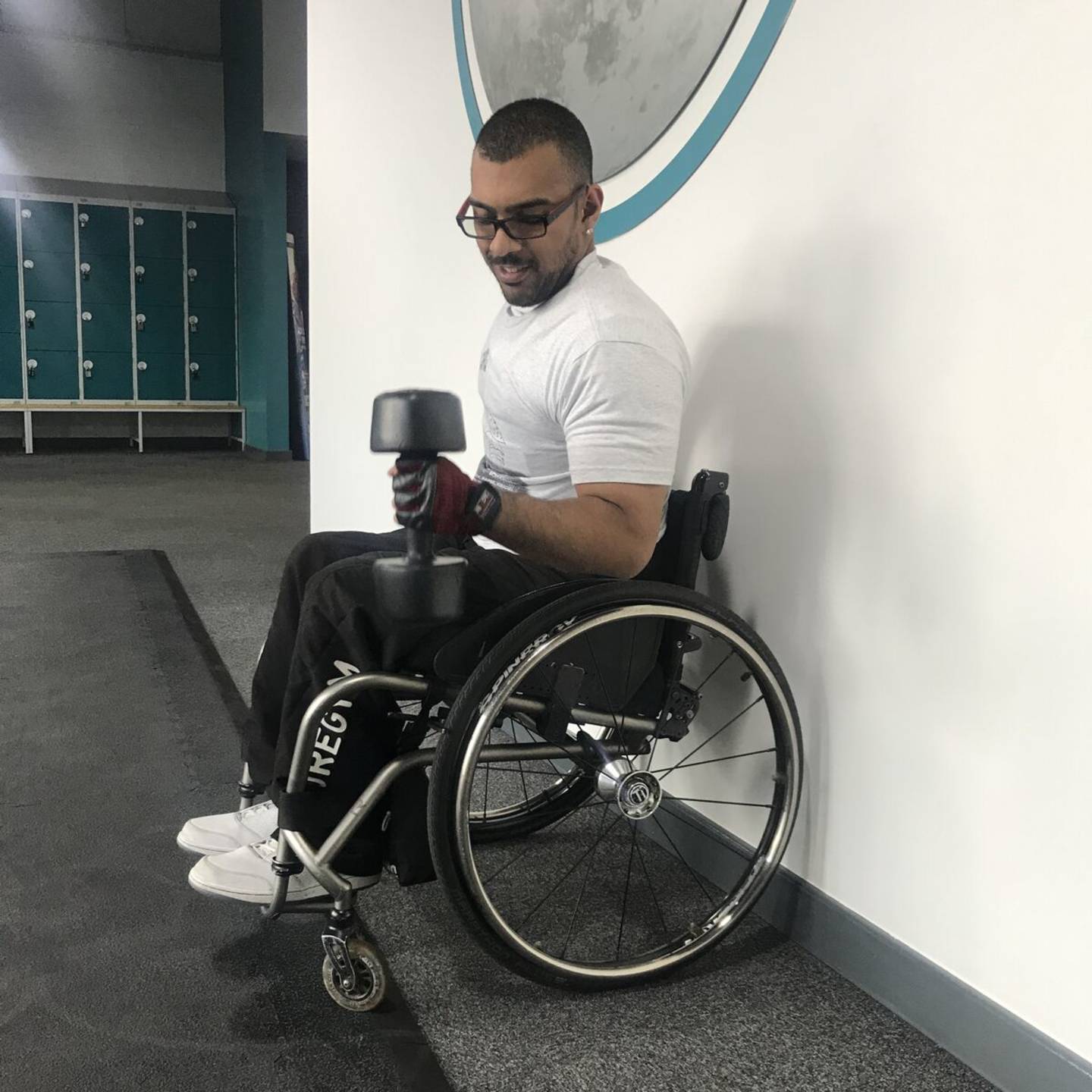 Hello my name is Rob, I'm 27 years old, I live in Nottingham and I'm a regular gym goer and founder of Mind Over Fitness - a company dedicated to helping people reach their desired fitness goals, and in the process, better their lives, regardless of their ability.
I have T2 spinal cord injury which came from being in a car crash at the age of 10 months old – leaving me with paralysis from my armpits down.
I regularly use the gym, about four to five times a week, and train myself. I also box once a week and participate and coach in two hours of basketball – my club is called Nottingham Lions Wheelchair Basketball Club.
As well as coaching basketball, I coach tennis to people who have a range of impairments for three hours a week, I coach these tennis sessions on behalf of Nottingham City Council in association with ActiveAce. I also play tennis on a weekly basis recreationally although I was previously semi-professional.
I've always enjoyed being active from as long as I can remember. Whether that be swimming at school, or play-fighting with my siblings when I was growing up (although it didn't feel like it was playing sometimes). I participated in the local Youth Games when I was 12 and won a gold medal in athletics. I then did the Youth Games the following year but this time taking part in Zone Hockey, and won a bronze medal. The following year I did my first season of wheelchair basketball.
The year after that, at age 15, I did the Youth Games again in Zone Hockey but this time I won a gold medal. Once I started college I began playing wheelchair tennis and going to the gym regularly. I also started competing on the tennis circuit between the ages of 18-21.
I had put my racquet down as a player at age 21 due to having a string of injuries, but also because of beginning university at that age too.
Due to my love of tennis, I began coaching the next generation of superstars and still do this today. In 2015 I began coaching and playing my university's wheelchair basketball club and won the national championship with that team. Off the back of that success, Nottingham City Council helped set up the city's first wheelchair basketball club in nearly 30 years. In 2015 I also became a personal trainer - mostly specialising in working with disabled people and people with injuries. Throughout all of this, I have maintained staying active in the gym too.
I really enjoy being active, and for me physical activity is my stress-reliever. It helps me feel more positive and relaxed, as I find that any negative energy I've accumulated has disappeared. The best thing about physical activity is not just the physical benefits, but the emotional and mental benefits too. I also enjoy the social platform of meeting people through shared interests.
Being active also supports me in my daily life. I first realised when I was younger the more regularly I played sports, the fitter and stronger I became. Also, my day to day activities become easier. Things like getting dressed, showering, transferring out of my wheelchair and pushing my chair. The less I relied on being cared for it all became much less time consuming and much more efficient. This in turn gave me more time in the day to spend doing activities I actually wanted to do. Physical activity was the first step in helping me become as independent as I am today.
Taking part in activities allows me to switch off from all my daily struggles. I'm a textbook over-thinker but for those hours I spend being active my focus is 100% spent on trying to push through my limits.
The support of my friends is really important to me. Without my friends I'd struggle to maintain as active as I am today. I've always taken pride in surrounding myself with people that encourage me to be better and I try to do the same for them. I owe a lot to all of my inner circle.
My future goals include building as much of a social media platform as possible. To me, I still find that disability is somewhat of a taboo. So, I'd like to be a public figure who challenges the current taboo to help the world realise that it's okay to be different, whilst also influencing changes to make the world a little more accessible.
Through the work that I do as a personal trainer, basketball, and tennis coach, I want to continue to inspire and pass on my own knowledge to improve the quality of lives of others. The more renowned I become, the more people I can help!
My advice to other disabled people who are thinking about being active or taking up a sport but not sure is - being active will improve your mental, physical, and emotional state and drastically improve your quality of life. I would like to tell not just all disabled people, but anyone who is fighting a daily struggle, that a positive change in mind-set will change your life. Sometimes all we need is a little guidance, a little support, and a little inspiration to focus on what we can do, and taking control of our own path in life. My business is called "Mind Over Matter Fitness" for a reason. I live by those words on a daily basis.
Find out more about Mind Over Matter Fitness via www.movmfitness.com.
If you want to be more active but aren't sure how to start, visit our dedicated webpages for advice.
If you would like to share your story on being active, or you are starting a becoming more active journey, please email our communications team on news@activityalliance.org.uk.