World Records for RaceRunners at Cerebral Palsy Sport event
Rafik Solaiman and Thomas Talbot are celebrating new World Records following the recent Cerebral Palsy Sport Athletics Series in York. They achieved the Senior RR3 Male 200m and the Under 16 Male RR2 1500m respectively.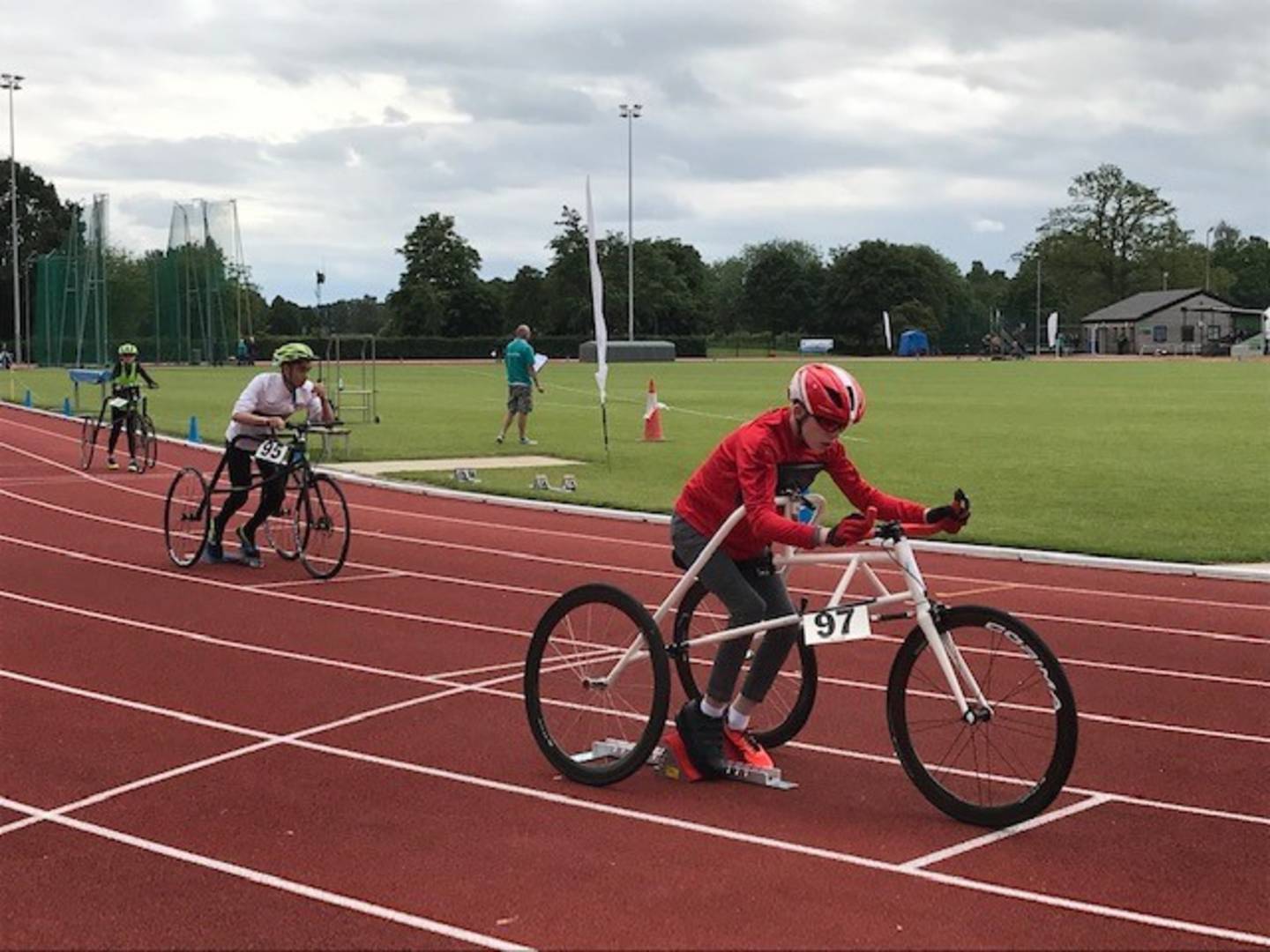 At the event on 15 July, Rafik (Rafi), 19, from City of Sheffield and Dearn AC coached by Phil Fleetwood, broke the previous record of 38.15 seconds held by Gavin Drysdale, setting of new time of 35.99 seconds. Thomas, 15, from Lincoln Wellington AC coached by Lee Troop, established a new World Record of 7.15.35 minutes, the first RR2 U16 to set this record.
It was the third event in the Cerebral Palsy Sports Athletics Series this season and a full programme with many races on the track, both in ambulant and RaceRunning events. The field programme saw the largest range of events this season. There was tremendous support from family and friends for all the competitors and provided a great atmosphere for the event.
RaceRunning is a fast growing sport, and is being included at the highest levels of competition globally and is now part of the Paralympic pathway. Cerebral Palsy Sport provide opportunities in the sport from grassroots to competitive level.
Both Rafi and Thomas represented Team CP England at the CPISRA World Games in Barcelona in 2018 and regularly compete in Cerebral Palsy Sport athletics events and the British Athletics Parallel Success events.
After establishing the World Record, Thomas said;
"I'm really pleased to have created a new World Record for the Under 16 Male RR2 RaceRunning 1500m event. RaceRunning has given me so much and it was a hard race but I'm so happy. I have not done this alone so a big thank you to my all family, my club Lincoln Wellington Athletics Club, my coach Lee Troop, to CP Sport for providing such great events and to the many supporters who have helped me so much since I took up RaceRunning. Congratulations also to Rafi who also broke the Senior RR3 Male 200m world record. What a day for our RaceRunners! "
Rafi added;
"Racerunning has filled in the empty space in my life. It has made me new friends and got me to places and milestones that were once unthinkable"
The last event of the Cerebral Palsy Sport Athletics series this season is in Derby at Moorways Stadium on Saturday 10th August. This is followed by the National Championships in Doncaster on Saturday 21st September. Spectators are welcome.
Find out more about the Cerebral Palsy Sport athletics programme, or contact Cerebral Palsy Sport's Athletics officer: Adi.fawcett@cpsport.org