Blog: "Athletics has helped my confidence grow"
Activity Alliance enables organisations to support disabled people to be active and stay active for life. So, this year we are sharing great stories from both sides – how organisations are working to make active lives possible, and the direct impact their work is having on individual disabled people. Today, we hear from North East athlete, Ellie, on how the support of Smile Through Sport, Activity Alliance and her friends and family has helped her become the athlete she is today.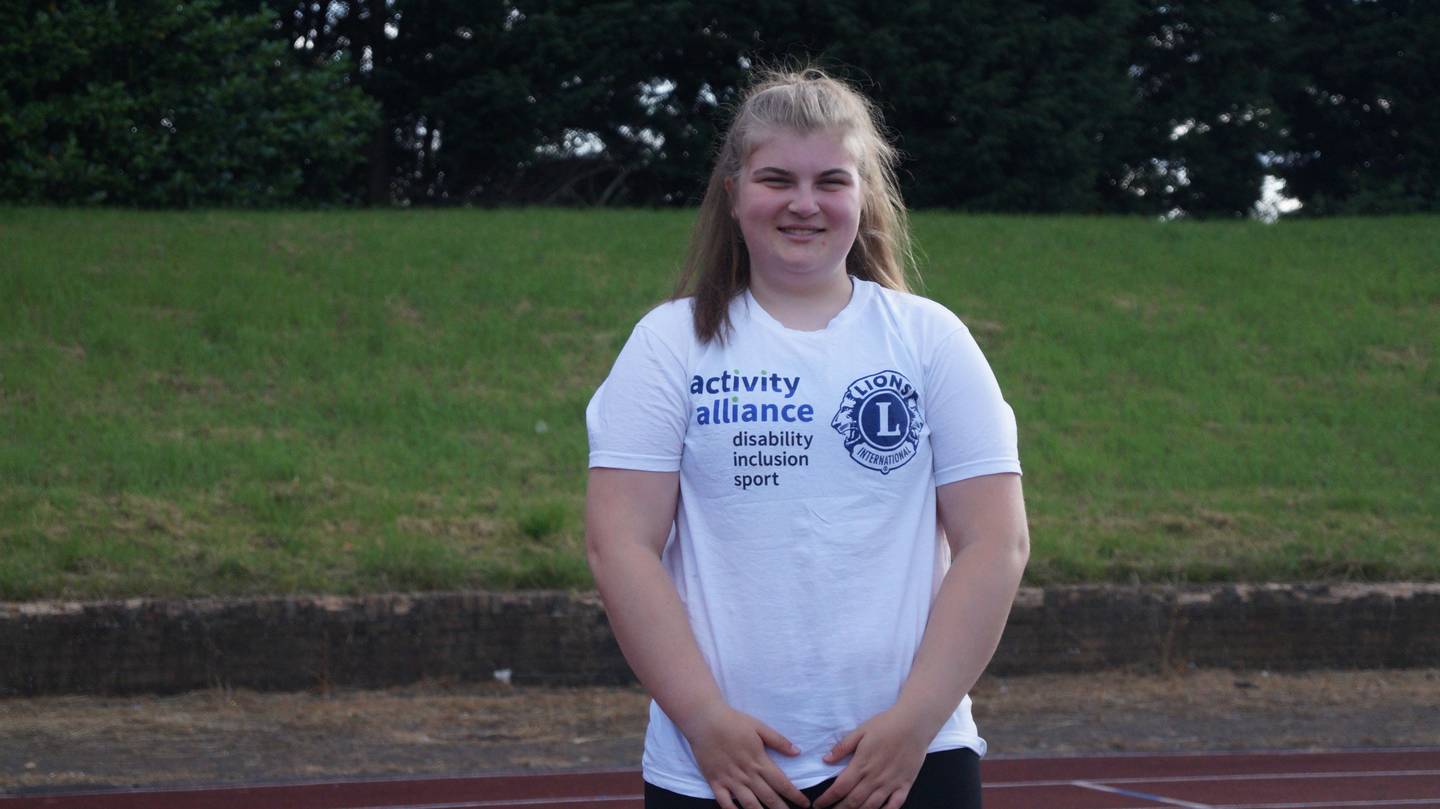 Hi! My name is Ellie, I am 15 years old and live in Tyne and Wear. I am an athlete and I have represented both the North East and North of England teams in Activity Alliance's Junior Athletics Championships. I have right hemiplegia, which is a form of cerebral palsy.
I train three times a week, as well as attend weekly strength and conditioning gym sessions at Jarrow and Hebburn Athletics Club. I also attend inclusion sport and leisure scheme sessions during the school holidays. These sessions are great as it enables me to participate in sporting activities such as basketball, swimming, and trampolining.
I first tried athletics at the age of five. Although I struggled to keep up with other children at times, I found it was something I enjoyed. It also helped me alongside my physiotherapy sessions for my hemiplegia.
I then moved onto trying other sports while at primary school, such as rugby, hockey, dancing, swimming and karate. However, I found myself being drawn back to athletics, specifically throwing events. I really loved the fact my teachers never made an issue of my cerebral palsy, and praised my ambition to feel included.
My ambition and enjoyment of athletics carried on into secondary school and in 2015 I attended my first Regional Junior Athletics and then Activity Alliance's National Junior Athletics Championships. I won two gold medals and one silver.
This encouraged me to join Jarrow and Hebburn Athletics Club. My coach Andrea Fyall and my team coaches are all fully supportive and understanding of my abilities, and how to adapt training to meet my needs. I have been given the support, and encouragement to progress and improve my technique in most disciplines of athletics. I love shot put and discus.
I have also received support from Rachel Miller at Smile Through Sport, which led to my classification. My family have been the biggest support and this has allowed me to get to both local and national level competitions. Competing has also given me the opportunity to do some officiating, coaching and leadership courses. All of which have increased my confidence and understanding of athletics.
Training and competing has given me independence and makes me feel included with my friends. Attending events such as Activity Alliance's National Junior Athletics Championships allows me to compete with others on a similar level, without being judged. It has also allows me to make friends from across the UK who fully understand me and have similar sporting interests.
My message to disabled children who want to get into athletics is - there is always a way to adapt your sporting choices to meet your goals and ambitions. Some days it may come easy and be the perfect conditions to achieve a personal best and some days it may take a bad performance. But it's about setting goals and taking steps to reach it. Most importantly enjoying your choices in sport.
Thank you to everyone who has been there to get me to where I am today in athletics. As well as all those involved in making events, like the National Junior Athletics, available to young disabled people.
Visit Smile Through Sport website
to find out how they can support families across the North East to be active.
Cerebral Palsy Sport (CP Sport) is the country's leading national disability sports organisation supporting people with cerebral palsy to reach their life potential through sport. Visit the

CP Sport website

for more information.