Blog: "Handcycling enables me to explore my hometown"
During this uncertain time, Activity Alliance remains committed to ensuring disabled people can be and stay active. We are especially mindful that there will be even more disabled people and people with long-term health conditions, who feel isolated and less active. Our #StayInWorkOut blogs will explore the different ways disabled people are moving and staying active, while at home.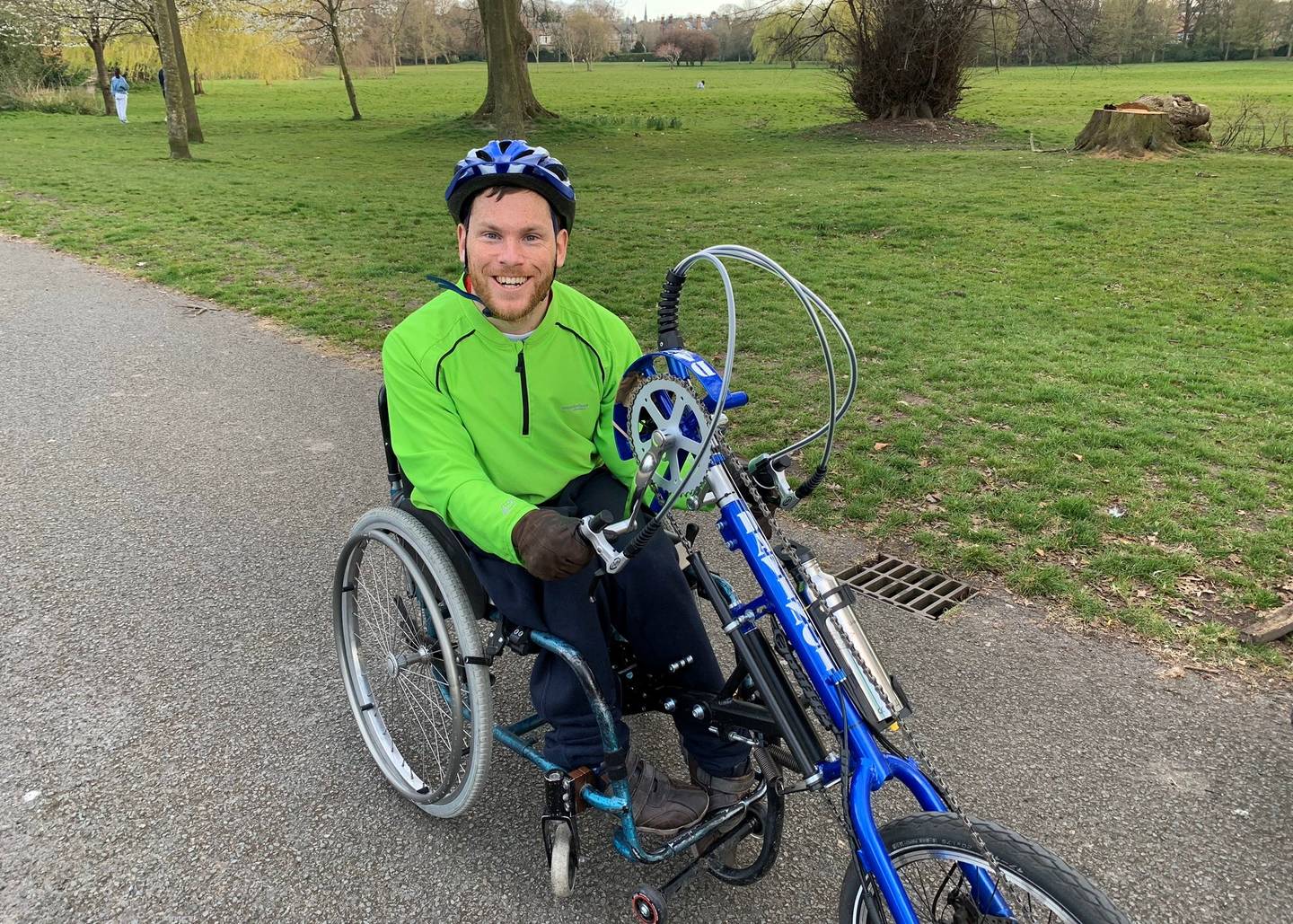 Activity Alliance is proud to support Sport England's new Join the Movement campaign. It gives people fun and creative ideas on how to get active in and around their home.
There are many ways to continue enjoying an active lifestyle. This includes adapting activities so everyone in the household, disabled and non-disabled, can take part together, or on their own. We'll be sharing ways people are making the most of their space and equipment at home.
Today we hear from keen cyclist Ellis. He tells us how his handcycle is keeping both him and his dad active.
Ellis's blog
Hi, my name is Ellis and I am seeing out the current coronavirus (Covid-19) lockdown with my parents on the Wirral Peninsula, having moved back from London, where I usually work.
My usual fitness routine involves weight training at the gym and boxing sessions every couple of days. But, for obvious reasons these activities have stopped. Luckily, I ordered a handcycle back in January from local Merseyside Company, Da Vinci Mobility. It is a clip-on version and attaches directly to my wheelchair. It has helped me to maintain my fitness over the last few weeks.
Growing up (and in fact until a few weeks ago), I used to look at cyclists and think, "Man, I wish I wasn't disabled and I could do that". I can't do anything about the non-disabled part, but my handcycle has certainly changed things. It has enabled me to get out and explore my hometown with my dad.
Watch Ellis's video on hand-cycling
My dad is a football commentator and, currently unemployed as there's no matches. So, he decided to join me on my bike rides. It has been great for our physical health during this difficult time. It has also been good for my dad's mental health. He is now focussing on the positives of coaching me, rather than moping about a lack of work. He's even taken to filming and commentating on me on my bike! Watch Ellis's cycling commentary on Twitter.
Cycling is helping me to improve my over-movements and upper-body control. More than that though, I've always wanted to be able to cycle - so, the handcycle has made me realise that with the right assistive equipment and support anything is possible!
The lockdown restrictions are having a big impact on everyone's lives. As disabled people, we are a pretty resilient and innovative bunch when it comes to coping with the barriers that society puts in our way. Both in a literal manner, physically, and in a figurative sense, metaphorically.
Perhaps the Covid-19 pandemic will give non-disabled people an insight into the barriers disabled people face in society and in the workplace. I hope it leads to more reasonable adjustments and accommodations to make society more accessible for all of us.
Support on being active at home
If you are not as active as you would like to be or you know someone who isn't, visit our being active at home page to find a list of exercise advice, workouts, videos and activity guides for disabled people.
Join the movement and share your own experiences of being active at home:
Use the hashtag #StayInWorkOut on social media to share your accessible exercises
Don't forget to tag us in on Twitter, find us at - @AllForActivity