Blog: "I always find I feel my best after a nice few hours outside"
As the sport and activity sector gets ready to open its doors again, Activity Alliance remains committed to ensuring disabled people can be and stay active. We are especially mindful that there will be even more disabled people and people with long-term health conditions, who feel isolated and less active. Our blogs explore the different ways disabled people are moving and staying active, while at home.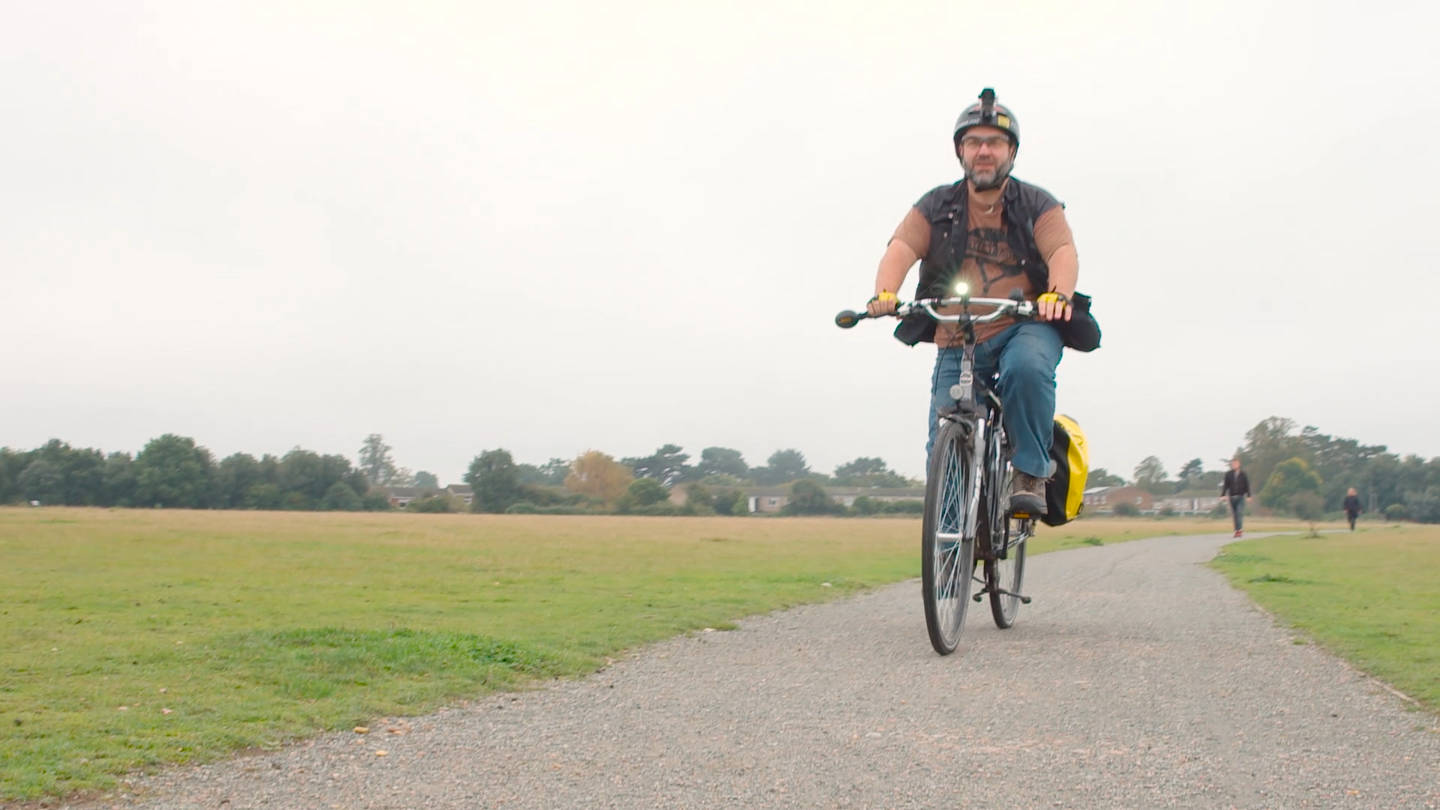 Until the sport and activity sectors open back up, there are many ways to continue enjoying an active lifestyle. This includes adapting activities so everyone in the household, disabled and non-disabled, can take part together, or on their own. We'll be sharing experiences of disabled people and how they are staying active during this time.
Today we hear from Wolf. He tells us how cycling really get his blood pumping and the different ways he stays active.
Wolf's blog
Hi I'm Wolf and I live in Essex. I do not do much exercise as in what people see as exercise. After an operation on my leg and months of rehabilitation I have been able to return to cycling a decade ago. This is my main form of exercise. It is also main form of transport. I also like to go for walks. I get a lot of exercise at work too as I'm on my feet all day and I move around a lot.
I have a long-term disability which has recently been linked to a damaged spinal cord in the lower back. This has caused neurological problems from the waist down and makes walking painful.
I find it tough to do any workout, like the gym stuff. But I do other things that work my muscles in the same way. Squats to clean out the litter tray, DIY work which gets me to bend and twist the body. This helps keep my body flexible. Sanding and painting really gives a me a good workout too and really gets my arms aching.
Cleaning the flat is also a good workout for me. Standing, twisting, stretching and bending to clean surfaces all work. I can only do small amount at a time or I aggravate the back, and that stops me to do anything the next day.
I live in an upstairs flat, so I can't do too much exercise as downstairs will hear it. But when I can, and can't go outside to cycle, I have a turbo trainer I can fix my cycle to. I often do this while watching TV to make it less boring.
I also use my kitchen worktop to help build my muscles. I lean back against the worktop and twist the upper body to the left, then right and hold it there a few seconds before turning the other way. I also use the recliner by pushing down the footrest from recliner position to upright and work on the core and leg muscles. It is a bit like sit ups but a lot more comfortable to my back. But most of all I tend to move around a lot in the flat and play with my kittens to exercise the legs. I find sitting too long is not good for my back.
I have been enjoying getting back to cycling after a three month break due to an operation on my spine in September 2019. Most trips are to the shops and using a pedal assisted cycle I built during recovery. Despite using a pedal assisted cycle, I still find cycling really gets my blood pumping and makes me ache in a good way. Since lockdown we've had much quieter roads and bouts of good weather, so it's been lovely going out to walk and cycle. (Wolf was a part of our 2015 Me Being Active videos which highlight individual disabled people's stories of being active. Watch his video below.)
Watch Wolf's Me Being Active video
I do most of my exercises alone. I prefer this as I can do them when I feel up to it and not feel pressured to do so if I arranged. I do get moral support online through social media from others who are in similar situations as me. Seeing others cycling to nice places does make me want to go out more and enjoy the nature spots.
Exercising really benefits me. It keeps any disruption caused by my disability to a minimum.
Even if I still struggle walking and cycling, it is still better than not to do the exercises. It keeps me out of a wheelchair and more mobile too. Doing my chores, DIY projects and little exercise routines have helped build the muscles up in my legs and torso. This has slowly improved my walking and cycling. I get a real sense of achievement when I get something done in the flat. Equally, if I have enjoyed a lovely but tiring walk or cycle. In return this has benefited my mental health.
Each person's impairment is different and unique. But a piece of advice I can give to other disabled people to move more while at home is to use your surroundings to incorporate everyday workout routines.
One of the things I did was look at the exercises I was given by my physiotherapist before lockdown. I worked out how to do them at home and worked them into my everyday routine. I also spent time working out how to do them while using the furniture I have in my flat. If you require weights, use what's around the flat or make your own by filling an empty milk bottle with water. Tin pots of paint and even a bag of cat litter will do.
I do have an 'outside the box' way of thinking and I always find ways to exercise without upsetting my condition. The best one I can recommend, if you can during this current lockdown, is to try and enjoy being outside alone or with family. I always find I feel my best after a nice few hours outside.
Support on staying active
As the sport and activity sector make plans to open back up, there's lots of ways to stay active at home. If you are not as active as you would like to be or you know someone who isn't we have complied a list to support you to be active at home. Visit our Get Active at Home page to find a list of exercise advice, workouts, videos and activity guides for disabled people.