Blog: "Zumba is a great way to kick start the day"
As the sport and activity sector gets ready to open its doors again, Activity Alliance remains committed to ensuring disabled people can be and stay active. We are especially mindful that there will be even more disabled people and people with long-term health conditions, who feel isolated and less active. Our blogs explore the different ways disabled people are moving and staying active, while at home.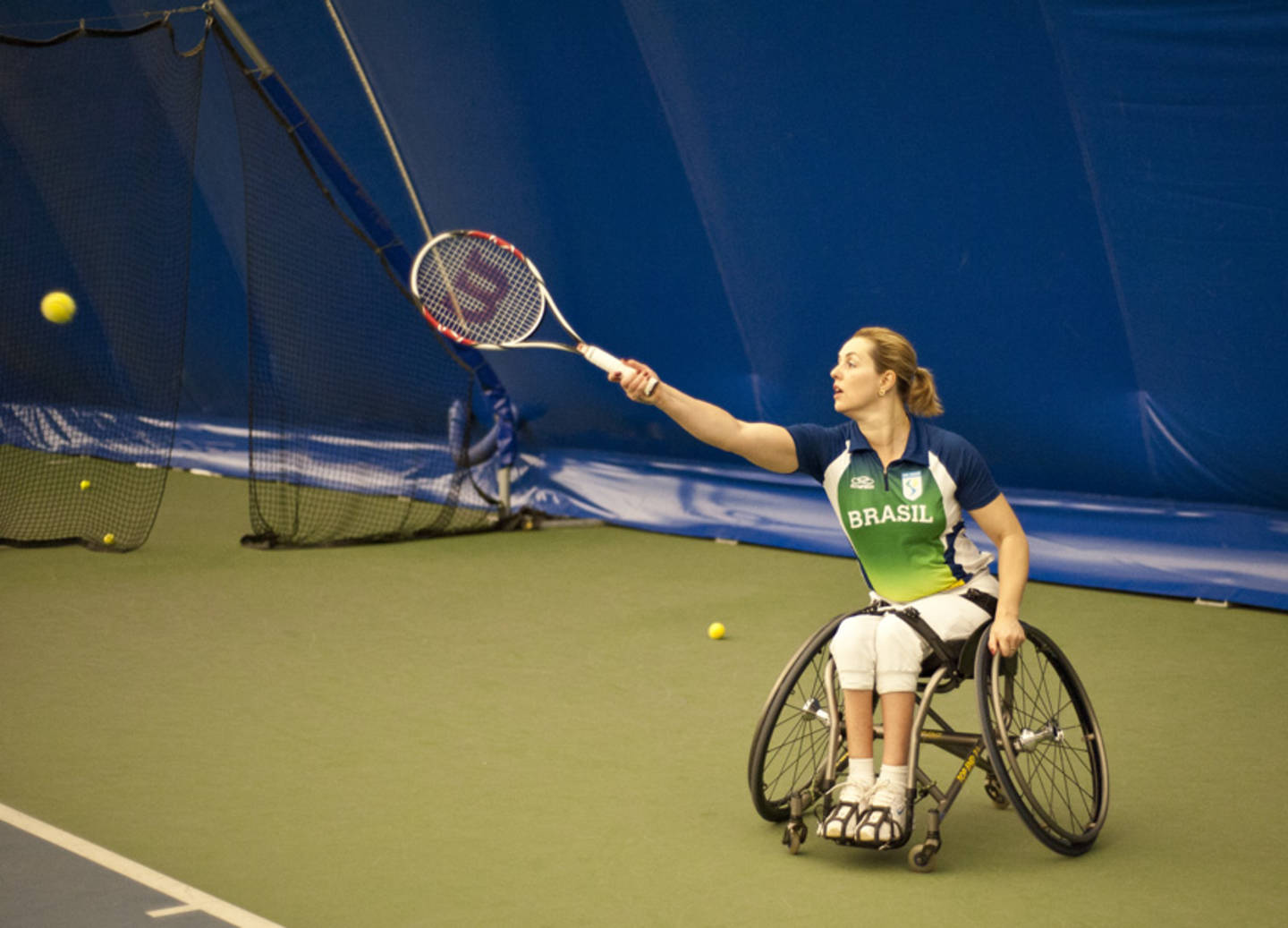 Until the sport and activity sectors open back up, there are many ways to continue enjoying an active lifestyle. This includes adapting activities so everyone in the household, disabled and non-disabled, can take part together, or on their own. We'll be sharing experiences of disabled people and how they are staying active during this time.
Today we hear from Samanta Bullock. She tells us how exercising helps to improve her mood and keep her more mobile.
Sam's blog
Hi I'm Sam, I live in London and I'm a wheelchair user. I'm a very active individual. I normally swim and do Zumba three times a week. I cycle a lot, and I go to the gym. I play tennis twice a month too – I'm the former number one wheelchair tennis player in Brazil.
I love being active. I Zumba and cycle – especially now the weather is better. I do a lot of yoga and I love to stretch out to WheelPower's Adaptive yoga sessions hosted by Nina. I also have my own adaptive yoga video on my YouTube channel showing wheelchair users how to practice yoga. Sometimes I used my video, sometimes I use WheelPower's. I love to do yoga before I go to bed so I feel more relaxed.
Zumba is done online, and I just put my phone in the kitchen and dance! I love starting the day with Zumba. Zumba is a great way to kick start the day. I love the music and dancing, it makes the rest of my day feel lighter too.
Since we have been allowed to exercise and do sport outside, I have been playing tennis with my husband too.
Lockdown hasn't really affected the way I do exercise. I normally do much of my exercise at home anyway. The only thing that has really bothered me during lockdown is that I've not been able to swim. Swimming is a great stress reliever for me.
Being active is one of the main things I do every day. It helps me to release tensions and it improves my mood. It eases muscle tightness and I'm much more relaxed and mobile than when I don't exercise.
My husband joins me with my yoga practice and Zumba too. We go out for a push/walk a lot together too. This is a nice time for us as a couple to get together, hold hands and talk about our day.
Exercising is really beneficial for me. It makes my muscles stronger and helps my breathing too. It's quite nice when you're pushing yourself up a hill to have that extra air in your lungs – it's really good exercise. Another thing I strongly believe is to eat healthily, while exercising, so I can manage my weight. As a wheelchair user I'm pushing and moving all of my body with just my arms, so, strong arms are needed.
My advice to other disabled people I think if you really want to do something you find a way to do it. You can do yoga/stretch in your bed. You can dance in your kitchen. You're going to have some space in your home, so use it. Even in your corridor. I meditate daily and this keeps me focussed on what I need to do. I think you can do what you can with what you have. You can get some exercise bands and sit on your sofa. I do this while watching TV.
A list of Sam's adaptive workout videos can be found on her Bullock Inclusion Sport YouTube playlist.
Follow Sam's inclusive and sustainable fashion shop
Sam also has a passion for fashion and has dedicated her life to improving the lives of disabled people through striving to improve the visibility of disabled people in the fashion industry and to enhance the clothing that is available. Follow her inclusive and sustainable fashion on Instagram.
Support on staying active
As the sport and activity sector make plans to open back up, there's lots of ways to stay active at home. If you are not as active as you would like to be or you know someone who isn't we have complied a list to support you to be active at home. Visit our Get Active at Home page to find a list of exercise advice, workouts, videos and activity guides for disabled people.
Image credit: Lesley Brewin